Ticketer x Go-Ahead Case Study: Multi Operator 'Tap On, Tap off' Scheme Reaches 1 Million Transactions in Just 4 Months
Brighton & Hove and Metrobus buses, who are part of the Go-Ahead Group, have announced that in the 4 months since its introduction of Ticketer's 'Tap On, Tap Off' technology in October 2019, the scheme has reached an impressive 1 million transactions. It was the first use of 'Tap On, Tap Off' capped contactless fares outside of London and it seems that passengers have fully embraced the technology.
Commercial Director of Brighton & Hove Buses, Nick Hill, said:
"'Tap On, Tap Off' contactless has made it even easier to use our services without passengers needing to know the fare or how many journeys they'll make. This is reflected in the strong take-up locally and the fact that fewer people are paying by cash on the bus than ever before. In turn, that can make boarding quicker, helping to make everyone's journey a little bit smoother."
The Challenge
Brighton & Hove and Metrobus wanted to give their passengers a more convenient way to travel as well as offer best value fares, regardless of which buses they use. Due to the services that are run between the two operations, the use of a simple zonal capping scheme was not going to be appropriate and both Brighton & Hove and Metrobus wanted to retain their existing fare structures which meant knowing, not just where the passenger boarded, but where they alighted. Due to the overlapping and interoperable nature, it was vital that a multi-operator solution was available to ensure that passengers received the best value cap should they use both sets of services.
The Outcome
Passengers on either Brighton & Hove or Metrobus services now always pay the best fare possible and both operators now know exactly how much the journey has cost the passenger. In addition to collecting information about not only where passengers are boarding, but where they are getting off, they are also able to gather invaluable data which then helps to improve the service. In just four months, 34,400 passengers have experienced savings as a result of fare caps.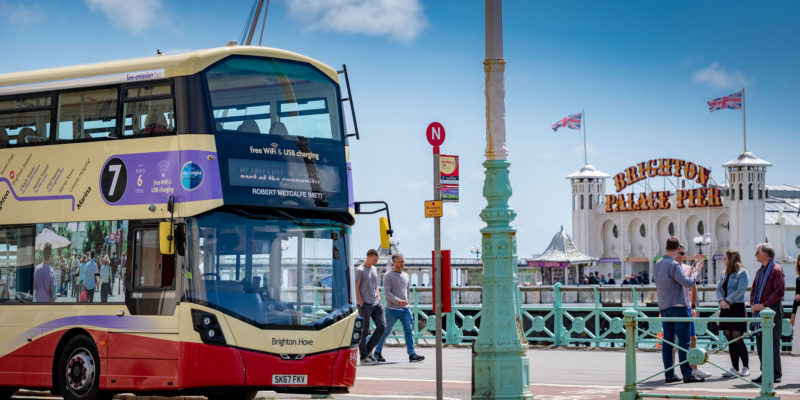 Background
Brighton & Hove Buses were already using Ticketer ETMs to offer contactless payments and they wanted to offer another mode of travel that allowed the passenger to simply tap and travel, but in such a way that worked for their graduated fare routes as well as more zonal services. After looking at different options, they decided to implement 'Tap On, Tap Off' technology and introduced a new capped value ticket which could be used throughout Sussex, Kent and Surrey.
Our Approach
Using Ticketer ETM Technology involving 'Tap On, Tap Off' readers and Littlepay's payment processing platform, Brighton & Hove Buses and Metrobus were able to provide a daily cap on fares regardless of the type of ticket requested by passengers.  The fares are capped at the cost of the best value day ticket, meaning if a passenger did forget to tap out, the ticket price is automatically capped.
CEO of Littlepay, Amin Shayan, said:
"The contribution our 'multi-operator capping' technology brings to transit payments makes it simple to pay for using several services without pre-planning, always getting the best value fares. We look forward to bringing multi-operator, multi-modal ticketing schemes to cities across Europe and globally, so that many more passengers can benefit from this seamless payment experience."
What This Means for Brighton & Hove and Metrobus Fleets
Seamless Payment Process
Passengers simply need to tap their payment device on the reader when boarding to tap on and again when exiting the bus to tap out. Journeys are calculated by the system and are capped to the price of a day ticket.
Accessible and Convenient
Passengers now have a completely accessible and convenient way of paying for travel. Boarding times are reduced, and passengers are experiencing cost-savings benefits.
In Demand
Enthusiastic uptake by passengers since the launch of  'Tap On, Tap Off' contactless has confirmed strong demand for fast, frictionless payment experiences.
Over 1 million 'Tap On, Tap Off' transactions completed – 75,000 per week and rising
34,400 passengers experienced savings as a result of fare caps from Oct 2019 – Jan 2020
'Tap On, Tap Off' used to pay for 31.8% of on-bus payments*
Less than 10% of passengers on Brighton & Hove buses are now paying with cash
*Based on data for one week – WC 9 February 2020
This article was originally published by Ticketer.