The Challenge
Brighton & Hove and Metrobus wanted to give their passengers a more convenient way to travel as well as offer best value fares, regardless of which buses they use. Due to the services that are run between the two operations, the use of a simple zonal capping scheme was not going to be appropriate and both Brighton & Hove and Metrobus wanted to retain their existing fare structures which meant knowing, not just where the passenger boarded, but where they alighted. Due to the overlapping and interoperable nature, it was vital that a multi-operator solution was available to ensure that passengers received the best value cap should they use both sets of services.
The Outcome
Passengers on either Brighton & Hove or Metrobus services now always pay the best fare possible and both operators now know exactly how much the journey has cost the passenger. In addition to collecting information about not only where passengers are boarding, but where they are getting off, they are also able to gather invaluable data which then helps to improve the service. In just four months, 34,400 passengers have experienced savings as a result of fare caps.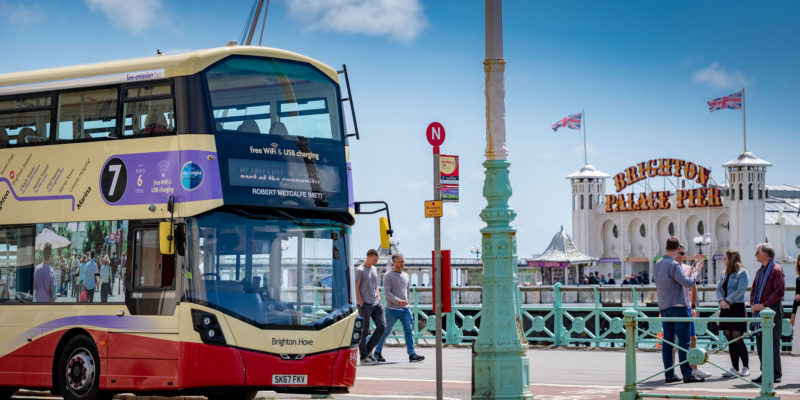 Background
Brighton & Hove Buses were already using Ticketer ETMs to offer contactless payments and they wanted to offer another mode of travel that allowed the passenger to simply tap and travel, but in such a way that worked for their graduated fare routes as well as more zonal services. After looking at different options, they decided to implement 'Tap On, Tap Off' technology and introduced a new capped value ticket which could be used throughout Sussex, Kent and Surrey.
Our Approach
Using Ticketer ETM Technology involving 'Tap On, Tap Off' readers and Littlepay's payment processing platform, Brighton & Hove Buses and Metrobus were able to provide a daily cap on fares regardless of the type of ticket requested by passengers.  The fares are capped at the cost of the best value day ticket, meaning if a passenger did forget to tap out, the ticket price is automatically capped.