The company plans to introduce and promote Golden Dragon city buses and travel coaches in Egyptian market this year. In addition, it will work closely with Golden Dragon to establish a CKD factory in the country and further promote the sales of Golden Dragon buses in some other countries in Africa and the Middle East.
Despite the fast spread of COVID-19, Golden Dragon has overcome a host of difficulties and successfully restored its production.
Located in the northeast of the African continent, Egypt has greatly increased its trade volume with China thanks to the Belt Road Initiative launched a few years ago. Boasting some of the most popular tourist attractions, such as the pyramids, the country attracts hundreds of and thousands of tourists from all over the world each year and thus has a fast growing demand for buses and coaches.
In 2019, Golden Dragon's sales in Egypt grew by 50% year on year. This year, the bus maker will continue to strengthen its presence with an annual growth rate target of 10%. The fast rising popularity of Golden Dragon in Egypt are primarily attributed to the bus maker's high-quality bus products and its unparalleled after-sales services.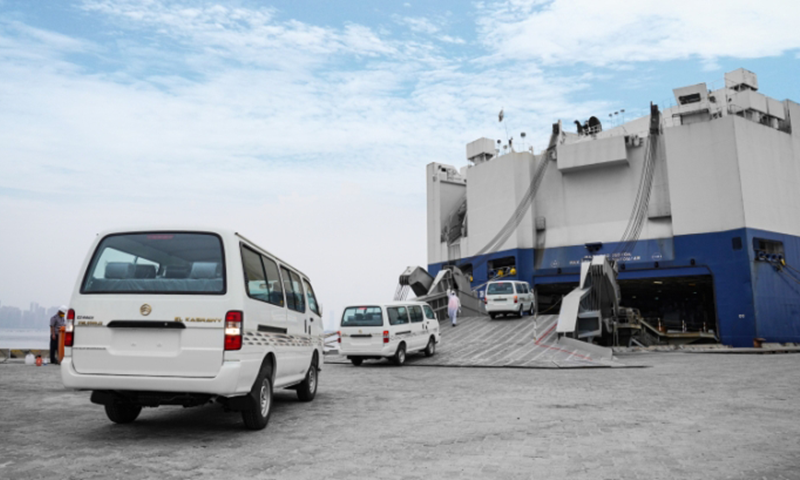 © Golden Dragon
After several rounds of thorough investigations, Golden Dragon has deepened its understanding of local customers' needs and passengers' preferences. Accordingly, it has further optimized the design of its vehicles. In such areas as the stability of chassis, the power performances of engines, the number of seats on buses, and the paint of each vehicle, the bus maker has rolled out special solutions for customers in Egypt. Hiace, specially designed for Egyptian market, is powered by a newly developed engine suitable for the local fuels. The light bus is mounted with 15 seats using particularly durable and comfortable materials, providing more travel comforts for passengers.
In addition, Golden Dragon has established 4S stores and spare parts warehouses throughout Egypt. With a growing number of loyal customers in Egypt, Golden Dragon has also successfully established a solid reputation in other countries around Egypt.
Since the outbreak of COVID-19, Golden Dragon has delivered over 2,900 units buses & coaches to its overseas customers. Over 2,200 units Golden Dragon buses & coaches, still in the making, will soon be exported.