1,000 Units Golden Dragon Light Buses to Arrive in Egypt for Operation
On April 20, 1,000 units Golden Dragon light buses arrived at Xiamen Port, ready for their shipping to Egypt. It marks the first major delivery of buses to the overseas market from Xiamen.
General Manager of Golden Dragon Overseas Sales, An Min, said:
"All the 1,000 units light buses are Golden Dragon's classic model. While ensuring the health of all employees and taking a host of measures to prevent infections, our top priority now is to make sure the timely delivery of ambulance vehicles to the overseas market to help combat COVID-19"
After the arrival of this batch of light buses, the total number of Golden Dragon buses in operation in Egypt will reach 30,000 units, accounting for 45% of the total bus fleet in the country.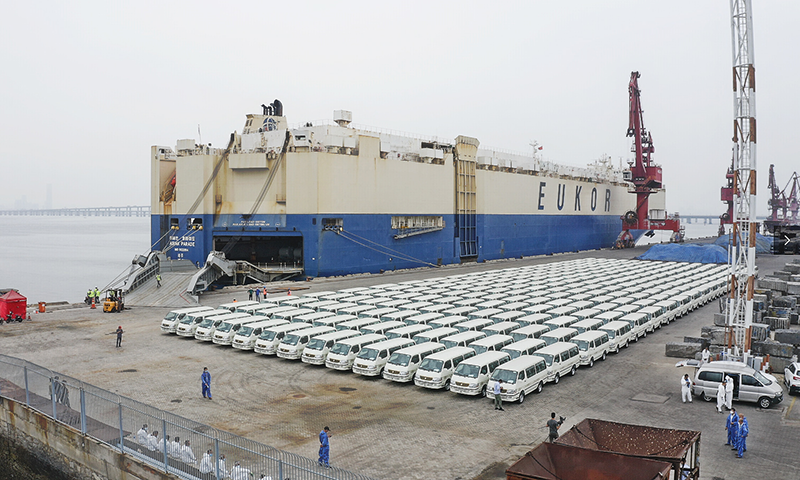 Established in 1970, EI Kasrawy is the exclusive agent for Golden Dragon in Egypt. So far, the two parties have been in cooperation for a decade.
Market Director of EI Kasrawy, Ahmed Hatem, said:
"Golden Dragon light bus has long become the backbone in the transportation market in Egypt, providing unprecedented travel convenience for local people and enjoying a solid reputation in our country. Facing many challenges at this difficult time, we stand firmly by Golden Dragon and will go through all difficulties together."
The company plans to introduce and promote Golden Dragon city buses and travel coaches in Egyptian market this year. In addition, it will work closely with Golden Dragon to establish a CKD factory in the country and further promote the sales of Golden Dragon buses in some other countries in Africa and the Middle East.
Despite the fast spread of COVID-19, Golden Dragon has overcome a host of difficulties and successfully restored its production.
Located in the northeast of the African continent, Egypt has greatly increased its trade volume with China thanks to the Belt Road Initiative launched a few years ago. Boasting some of the most popular tourist attractions, such as the pyramids, the country attracts hundreds of and thousands of tourists from all over the world each year and thus has a fast growing demand for buses and coaches.
In 2019, Golden Dragon's sales in Egypt grew by 50% year on year. This year, the bus maker will continue to strengthen its presence with an annual growth rate target of 10%. The fast rising popularity of Golden Dragon in Egypt are primarily attributed to the bus maker's high-quality bus products and its unparalleled after-sales services.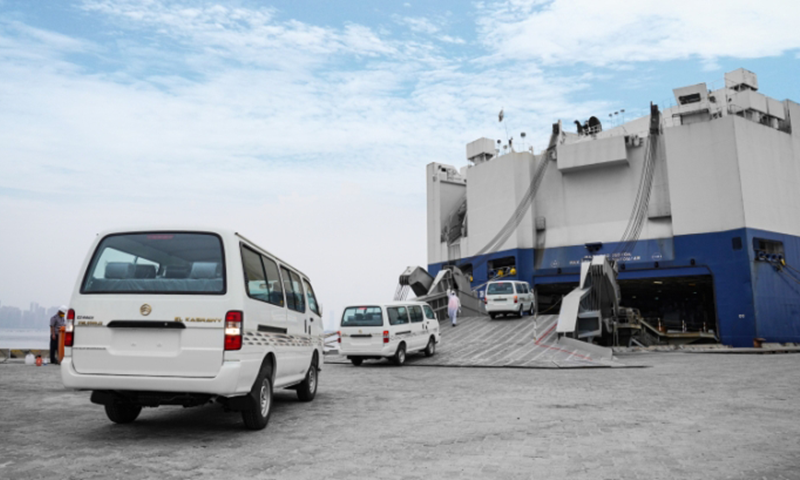 © Golden Dragon
After several rounds of thorough investigations, Golden Dragon has deepened its understanding of local customers' needs and passengers' preferences. Accordingly, it has further optimized the design of its vehicles. In such areas as the stability of chassis, the power performances of engines, the number of seats on buses, and the paint of each vehicle, the bus maker has rolled out special solutions for customers in Egypt. Hiace, specially designed for Egyptian market, is powered by a newly developed engine suitable for the local fuels. The light bus is mounted with 15 seats using particularly durable and comfortable materials, providing more travel comforts for passengers.
In addition, Golden Dragon has established 4S stores and spare parts warehouses throughout Egypt. With a growing number of loyal customers in Egypt, Golden Dragon has also successfully established a solid reputation in other countries around Egypt.
Since the outbreak of COVID-19, Golden Dragon has delivered over 2,900 units buses & coaches to its overseas customers. Over 2,200 units Golden Dragon buses & coaches, still in the making, will soon be exported.
An Min, said:
"We are closely monitoring the changes of the pandemic caused by COVID-19 and are in close contact with our overseas customers. Through introducing a host of new measures, we hope to lower the impact of the pandemic to the minimum"
Not long ago, Golden Dragon delivered 45 units luxury coaches to its customer in Israel. It will soon deliver 60-plus units city buses to Philippines in the second quarter this year, anticipating a total export volume of over 600 units buses & coaches to the country. In addition, it has been in talks with Sierra Lione for city bus delivery and will continue to make bus delivery to Zimbabwe.
Originally published here