No matter how good your tools are, you won't get results if they're not used properly.
That's especially true when it comes to torque tools – precise equipment that needs calibration, adjustment, and a careful control of the settings and forces applied.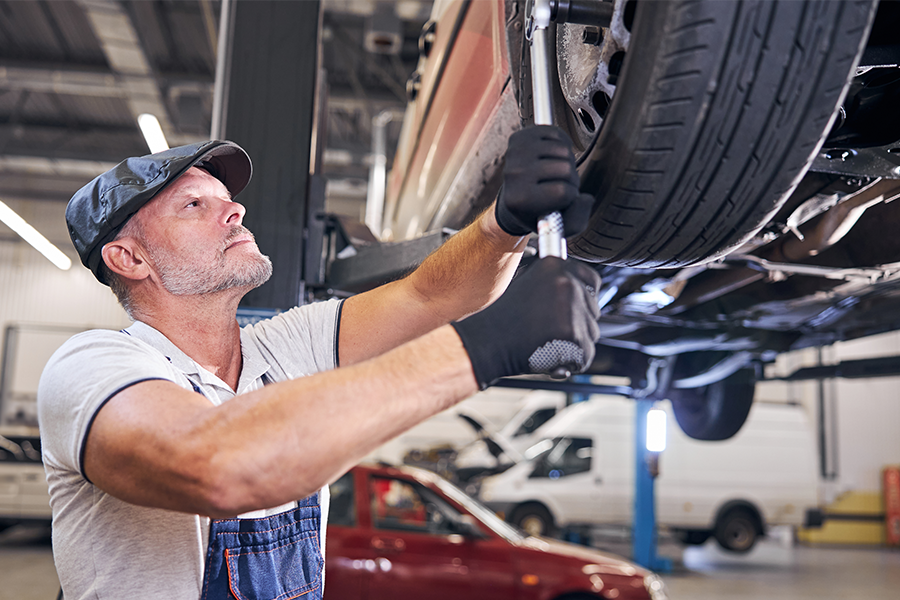 But it's not just a case of being picky about the details. It's about safety on the road, and safety in your workshop.
So to help you and your teams get the best results, we've put together the most common torque tool tips to follow and mistakes to avoid – for the best possible accuracy when you're using torque tools.
1. Stick To the Torque Limit
Your torque tools come with specific torque limits that are specified by the manufacturer – and they have those limits for a reason.
If you push past those limits, your torque wrench won't be operating in the range it was built for. And that means that you won't be getting the accurate results you were aiming for.
In the long term, things can get worse.
Our torque tool tip?  By using your torque tools outside of their recommended limits, you could end up damaging the tool itself, making it less accurate when you use it again in the future.
2. Use the Marked Loading Point
Torque wrenches work on the principle of leverage – a specific force acting at a specific distance from the turning point.
That means the torque you're applying is affected by where you hold the wrench. Our torque tool tip?  For the best possible accuracy, you should always make sure you're using a torque wrench with your hand centred over the marked loading point.
(This is also important when you're calibrating a torque tool. If you don't use the same marked loading point, you could end up with a wrench that's not accurate.)
3. Stop at the First Click
The ratchet on a torque wrench is designed to click at a specific level of torque. But we know from experience that people sometimes keep going past the first click.
You might think that the extra clicks aren't adding any torque – or even that you just need to 'make sure'. But this is a mistake.
Our torque tool tip?  Once you go past that first click, you've already lost accuracy. You don't know exactly how much torque you've applied – and an over-tightened bolt can be just as dangerous as an under-tightened one!
4. Use the Adjustment Lock
Some torque wrenches come with an adjustment lock – like our own Adjustable Nortorque Ratchet.
It's designed to prevent you from accidentally changing the settings if you slip or knock the torque tool. And if you don't put the lock in place, you could end up with the wrong torque – without even realising you've changed the settings.
Our torque tool tip?  For the best accuracy when you're using torque tools, you should always use the adjustment lock – even for the quickest and smallest of jobs.
5. Don't Assume It Works Both Ways
Some torque tools are designed to apply torque in both a clockwise and an anti-clockwise direction – like our own Industrial 'P' Type Ratchet.
But lots of wrenches aren't. And if you're not using a tool that's been designed for the direction of the thread you're working on, you can't guarantee the accuracy of the torque you're applying.
In most cases, the default for a torque tool is a clockwise thread.  Our torque tool tip?  Before you start working on an anti-clockwise thread, you should always make sure you're using a torque tool that's been designed for that specific purpose.
6. Don't Start Guessing at Unit Conversions
If you're working with torque in SI units (like N•m), converting your torque units is usually straightforward.
But when you need to convert to imperial units (like lbf•ft), things can get messy – and it's not a calculation that's fun to do in your head.
Our torque tool tip?  There are handy tools online to give you accurate conversions between almost every unit of torque – like the Norbar Torque Unit Converter, which also has its own app for iOS and Android.
7. Store Your Tools at the Minimum Settings
So far, we've only talked about how to use your torque tools in practice. But how you store your tools can be just as important as how you use them.
If you're storing a fully loaded wrench for a long period of time, it can cause a set in the spring, which means the spring will weaken.
And if you're storing a wrench with the spring completely off-loaded, that can cause the components in the wrench to move – which can affect the accuracy of the tool in the future.
Our torque tool tip?  If you need to put your torque tools into long-term storage, you should always wind it down to the minimum settings on the scale to preserve its accuracy for the next time you use it.
You've Got the Tips – Let's Get You the Tools
Torque jobs can be tricky – with precise settings, exact specifications, and some serious physical forces involved.
So if you want to do the best possible job in the safest possible way, you need the best possible torque tools to help you as you work. Check out our full range of torque tools in our new online shop – from adjustable manual wrenches to high-powered motorised tools.
This article was originally published by Totalkare Ltd.