Cooperation Expanded: AKASOL Receives Additional Long-Term Follow-up Order from a Major European Bus Manufacturer
One of Europe's leading bus manufacturers is again extending its cooperation with AKASOL AG and awarding another long-term follow-up order: From mid-2022 until at least 2024, the Company will supply its ultra-high-energy battery systems for use in the long-standing customer's new electric buses, with a total volume in the high double-digit-million-euro range. Should the extension option for the delivery of further battery systems come into effect by 2027, as already agreed in the contract, the order volume will rise to a low three-digit-million-euro amount.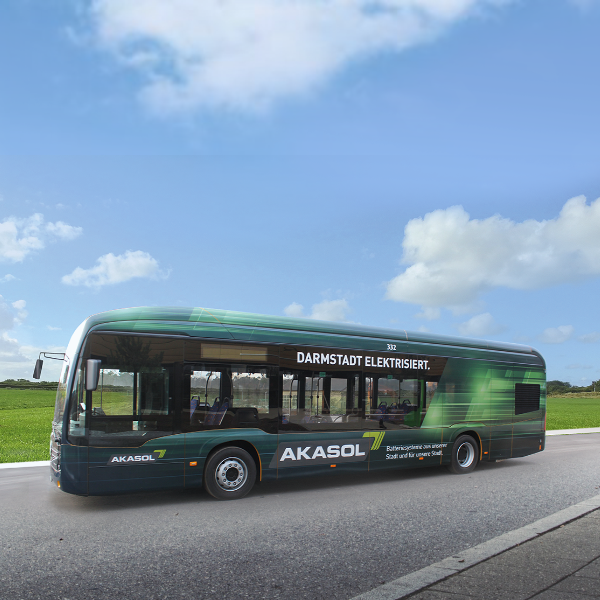 AKASOL CEO Sven Schulz summarized the situation and expressed great pride that AKASOL has established itself as a reliable supplier for the European bus manufacturer and is now expanding its strategic partnership with the extension of the contract.
Schulz, said:
"We are pleased to be able to report such good news about the strengthening of our growth path in the second quarter of the new financial year. The current order represents the second extension of the cooperation between our long-term customer and AKASOL and is at the same time a great vote of confidence in our extensive expertise in the field of powerful lithium-ion battery systems for electric buses.
"Our good and trusting cooperation with one of our first serial product customers has grown continuously since 2015 – not just as a supplier to Europe's largest manufacturer of electric buses, but also as an integrated development partner for what is likely the most important component of the electric powertrain."
From 2022 onwards, AKASOL will deliver its ultra-high-energy battery systems with completely new technology to the major customer as part of the follow-up order that has now been placed. This will significantly boost the mileage range of the next generations of buses, thanks to what is currently the highest serial-produced energy density available on the market for commercial vehicle applications. With approx. 100 kWh per pack, the new ultra-high-energy battery system AKASystem AKM CYC has twice the energy density of the battery system generations previously supplied to the customer. Depending on the configuration installed, the system enables the highest range requirements in real operation of electric buses or trucks.
Schulz, explained:
"For the bus sector, this means in concrete terms that the possible applications for these vehicles will increase significantly. This likely means that every city bus route can be covered with a single charging process per day; but intercity buses and coaches can also be fitted with this technology."
This makes AKASOL's ultra-high-energy battery systems an important key element for rapid implementation of the transformation of the transport sector through consistent electrification of the bus and commercial vehicle segments.
Senior Vice President Operations at AKASOL AG, Klaus-Dieter Nagel, stated:
"The ultra-high-energy battery systems commissioned will be produced on fully automated production lines in our new Gigafactory 1 in Darmstadt. Despite the challenges posed by the COVID-19 pandemic, we are making good progress there with the final construction work. From the middle of this year, we are projected to launch serial production of the new battery system for another customer.
"With the follow-up order, we will gradually increase our production capacities in Gigafactory 1 over the coming quarters. High process efficiency is an essential part of our capability of offering our customers attractive pricing, even in a competitive market environment."
The new Gigafactory has enough space to expand its capacity to up to 5 GWh based on customer demand. Working on the fully automated production lines, up to 70 ultra-high-energy battery systems will be produced daily, each with a storage capacity of approximately 100 kWh. The fully automated work steps are linked on the 100-meter-long production line with Industry 4.0 compatible human-machine manual workstations.
The follow-up order also underscores the growth prospects on the horizon for AKASOL.
Sven Schulz, observed:
"In our market, we are clearly seeing more and more cities and local governments around the world initiating projects to achieve emissions free public transportation.
"We want to make a substantial contribution toward achieving the transformation of the transport sector while continuously expanding our business. With the steps already initiated and communicated to expand our production capacity in Germany and USA, we are gearing ourselves up to realize our growth potential."
AKASOL is optimally positioned to win new customers and to serve as a technologically leading, experienced and reliable partner in these projects.
This article was originally published by AKASOL AG.