Second Production Line Goes into Operation Six Months Ahead of Schedule
AKASOL has commissioned its second serial production line for lithium-ion battery systems at its Langen, Germany, production site – six months ahead of schedule. With the implementation of the second production line, the Company has more than doubled its annual maximum production capacity in Langen, compared to 2019, to up to 800 MWh. This is an important prerequisite to meeting growing customer demand for high-performance lithium-ion battery systems.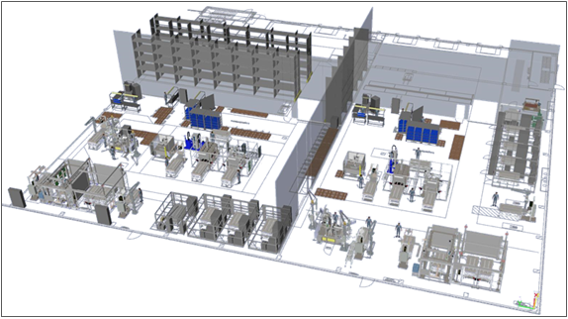 CEO of AKASOL AG, Sven Schulz, said:
"In view of the dynamic market development and the associated expansion of our framework contracts with existing serial customers – as well as promising discussions with potential new customers – it is all the more gratifying that we managed to expand our production capacities with a second and at the same time improved serial production line at the Langen site, six months earlier than announced at the IPO."
To date, the Company has manufactured first-generation high-performance battery systems on its production line, which went into operation in 2017. With the start of production of the second-generation battery systems on its new serial production line (Langen II) while further automating existing equipment, AKASOL is not only increases capacity but also the productivity of its manufacturing operation, decisively carving a path that will continue to drive the Company's dynamic growth.
The Company does not see it's production jeopardised by current developments around COVID-19.
AKASOL AG CEO, Schulz, explains:
"Systematically optimizing organization and processes, with the option of expanding our current, two-shift operation to a three-shift operation, puts us in a position to respond to our customers' needs in a flexible way at all times. Based on the current state of affairs and a continuous review of our supply chains, we expect material availability to remain intact for the upcoming months."
By consistently enhancing its lithium-ion battery systems, AKASOL is responding to the increasing range requirements with regard to the electrification of the commercial vehicle market. The second-generation battery system presents a pivotal expansion in AKASOL's portfolio of high-tech products. From mid-2020 onwards, the Company can supply its serial customers with battery systems that offer over 30% additional energy but with the same weight and the same installation space.
AKASOL's CFO, Carsten Bovenschen, explains:
"Of course, we expect a short-term decline in demand as a result of the steps taken to contain and slow down the spread of the coronavirus. Nevertheless, we expect a strong second half of 2020. With the planned expansion of production capacities in Langen and Hazel Park, Michigan (US), we are already creating a solid foundation for further, sustainable growth this year. Expanding our production facilities also strengthens our leading role as a strategically important partner for the gradual electrification of the commercial vehicle sector."