One of East Anglia's busiest coach operators has increased its in-house maintenance capabilities by investing in mobile brake testing equipment from workshop equipment experts Totalkare.
C & G Coach Services operates a versatile fleet of modern Luxury Coaches throughout Cambridgeshire. Regarded as one of East Anglia's busiest coach operators, the company transports thousands of customers each year throughout the UK.  And now, to ensure the continued availability of its vehicle fleet, C & G Coach Services has taken its brake testing in-house that will offer immediate time savings and considerable cost savings over time.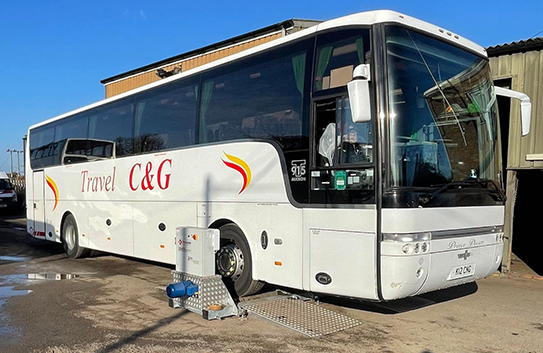 Totalkare has installed a mobile brake tester at C & G Coach Services' Chatteris workshop.  The DVSA-approved brake tester has a simple, yet strong and flexible design, testing up to 16,000kg axle load. Its adjustable feet enable the brake tester to be deployed on uneven ground and still deliver reliable results.
The tablet unit supplied communicates wirelessly with the brake tester, enabling tests to be conducted with ease from the comfort of the driver's seat. In addition, the brake tester is also supplied with a computer, printer, monitor and cabinet, and is connected equipment ready.