HellermannTyton
Global Automotive Products
From One to a Billion in Less than Two Decades
EdgeClip Launched in 2000
Our first EdgeClip was a pragmatic response to a post-production harness fastening issue that occurred on a car already in mass production.
Today, you'll find EdgeClips in virtually every vehicle on the road and around the globe. The success of these specialised plastic cable tie mounts is a testimony to HellermannTyton's position as a pioneer in cable management solutions tailored to automotive needs.
2019 and Beyond
We manufacture millions of EdgeClips for automotive cable harnesses every week. One original part design has evolved into a series with hundreds of variants. Driven by your application needs, the EdgeClip family just keeps on growing.
It's All in the Name
At HellermannTyton we don't just number our parts. We also give them a common Part Description. Why? Well, even though some of our parts are the same design, the same size and are technically identical, they receive a different article number according to which of our 16 factories around the world they are manufactured in.
The common name helps us easily find the current article number for each local variant for you. See below for an example of how to interpret the HellermannTyton common Part Description.
Common Part Description Explained
Take for example our 2-piece EdgeClip fixing tie T50ROSEC5A-PA66HS/PA66HIRHS-BK, pictured on the flap opposite.
This is a black, outside-serrated, heat-stabilised T-Series cable tie with a heat-stabilised, impact-modified nylon mounting clip for edges.
Here's how the name breaks down: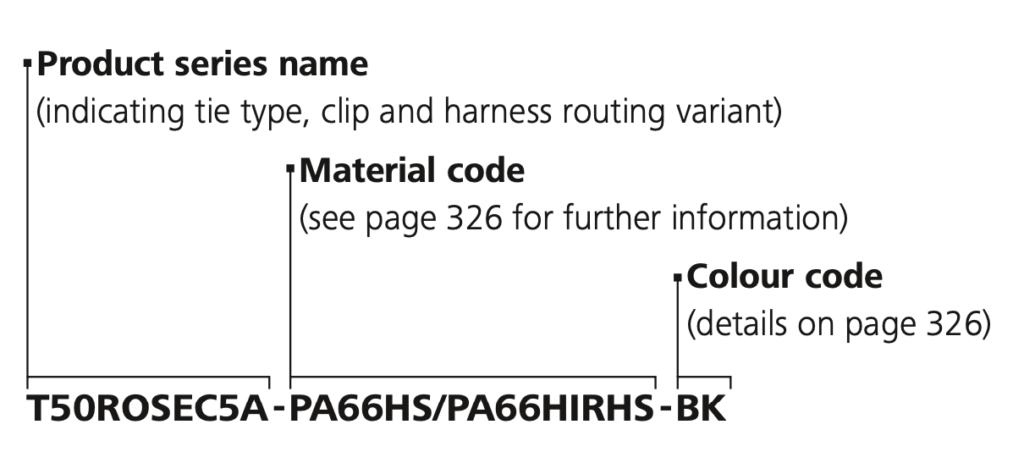 This common Part Description returns five different article numbers in our global systems because we make the same part in Brazil, China, Germany, Singapore and the USA.
HellermannTyton Develops Solutions That Help You Keep Step with All Mobility Trends
Save time assembling the wiring of high-voltage electric vehicles. Take the lead integrating sensitive on-board electronics for autonomous driving. The latest development trends require an evolutionary approach to cable management. As your partner, HellermannTyton will help you react swiftly to changing needs. For example, with products that already fulfil today's requirements for safe and reliable parts in tomorrow's vehicles.