Driver's Extra Pair Of Eyes: ADAS (Advanced Driver Assistance System)
Problem
How to eliminate blind spots and reduce traffic accidents by assisting bus drivers.
Solution
Implement ADAS (Advanced Driver Assistance System) on SINTRONES ABOX-5200G4 allows drivers to analyse and detect vehicles, cyclists and pedestrians et. al. at 360 degrees in real-time.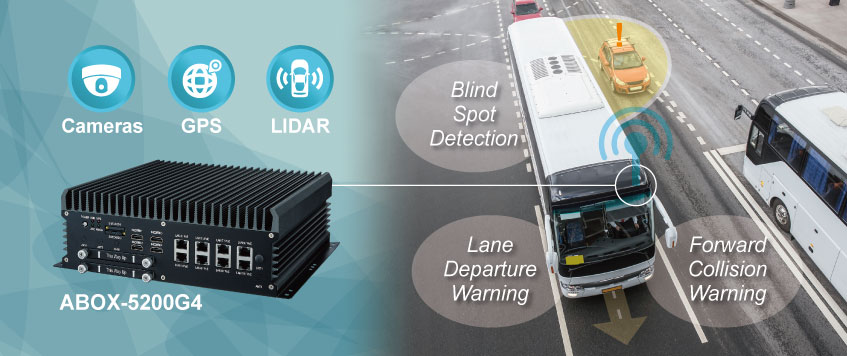 Smart camera sensors and monitors are installed on the bus for the purpose of collision prevention. ADAS performs blind spot detection, lane departure warning and assists the driver with maintaining safe distances from oncoming traffic by transmitting audio and visual warnings to the display panel on the bus driver's dashboard. Additionally, ADAS assists the driver with parking. ADAS effectively reduces the risk of vehicular accidents by warning the driver to take preventive action. The downloadable system performs a communication, surveillance and prediction function by collecting visual images, frequency of warning system triggers and other data-gathering.
ABOX-5200G4 features combined with ADAS can be implemented to autonomous vehicles and mining trucks, as well as driving performance monitoring. It provides an extra pair of eyes and advanced intelligent assistance to monitor and track the traffic, the driving performance for various analytic and management purposes.
Benefit
This solution could achieve real-time vehicle surround view monitoring, effectively reducing the risk of vehicular accident caused by blind spots.
This article was originally published by SINTRONES.