Forsee Power Accelerates Deliveries of Batteries for Hydrogen Buses and Signs New Contract with Wrightbus
Forsee Power, the French specialist in smart battery systems for electric mobility, has been equipping the buses of the northern Irish brand Wrightbus –a pioneer in 100% electric buses for opportunity charging– since 2013. Once again, it has been designated as official supplier, thus pursuing its collaboration with the famous brand. This new contract allows the French company to consolidate its international presence and reaffirm its know-how on new generations of batteries for electric buses and hydrogen buses.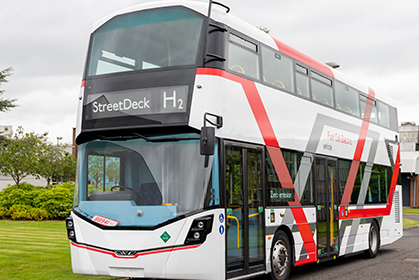 In 2016, the two pioneer partners broadened their cooperation in the field of hydrogen buses, for which Forsee Power has developed the high-power Pulse technology. The success of this cooperation enabled Wrightbus to win the JIVE (Joint Initiative for Hydrogen Vehicles Across Europe) call for tenders, and to register nearly 100 orders for hydrogen buses in major cities such as Aberdeen, London, or Liverpool. The extra-slim format of Forsee Power's Pulse 2.5 modules combined with their very high power frees up the space necessary for the integration of fuel cells, especially in the double-decker Streetdeck buses that cannot integrate batteries in roofing while their consumption is higher than single-decker buses. The Streedeck H2 Buses thus reach a range of 320 km. Hydrogen is now at the forefront of the Wrightbus offer, who announced a plan for 3,000 hydrogen buses in May 2020. The manufacturer aims to become a benchmark in the hydrogen bus market, not only in the United Kingdom but also across the Channel and internationally.
The Bamford Group, new owner of the Wrightbus bus brand, has renewed its long-term partnership with Forsee Power with a contract for several hundred battery systems per year. The equipment of the city of Belfast from 2021 will be a first key project.