City of Lynn, MassDOT, and MBTA Announce Completion of First-Ever Bus Lane in Lynn and a Network of Bike Lanes to Improve Commutes for Thousands of Essential Workers
Collaborative effort among the City of Lynn, MassDOT, and MBTA aims to improve bus speed and reliability for Bus Routes 455 and 426/426W, benefiting nearly 3,000 bus riders daily, as a part of MassDOT's Shared Streets and Spaces Grant and the region's COVID-19 transportation response.
The City of Lynn, MassDOT, and the MBTA have announced the completion of a series of quick-build multimodal road treatments along North Common Street, South Common Street, and Market Street in Lynn, including shared bus-bike lanes and dedicated bike lanes. These quick-build changes are a part of the Baker-Polito Administration's efforts to support safe, sustainable transportation modes in the wake of the COVID-19 pandemic. The bus facilities are in effect immediately.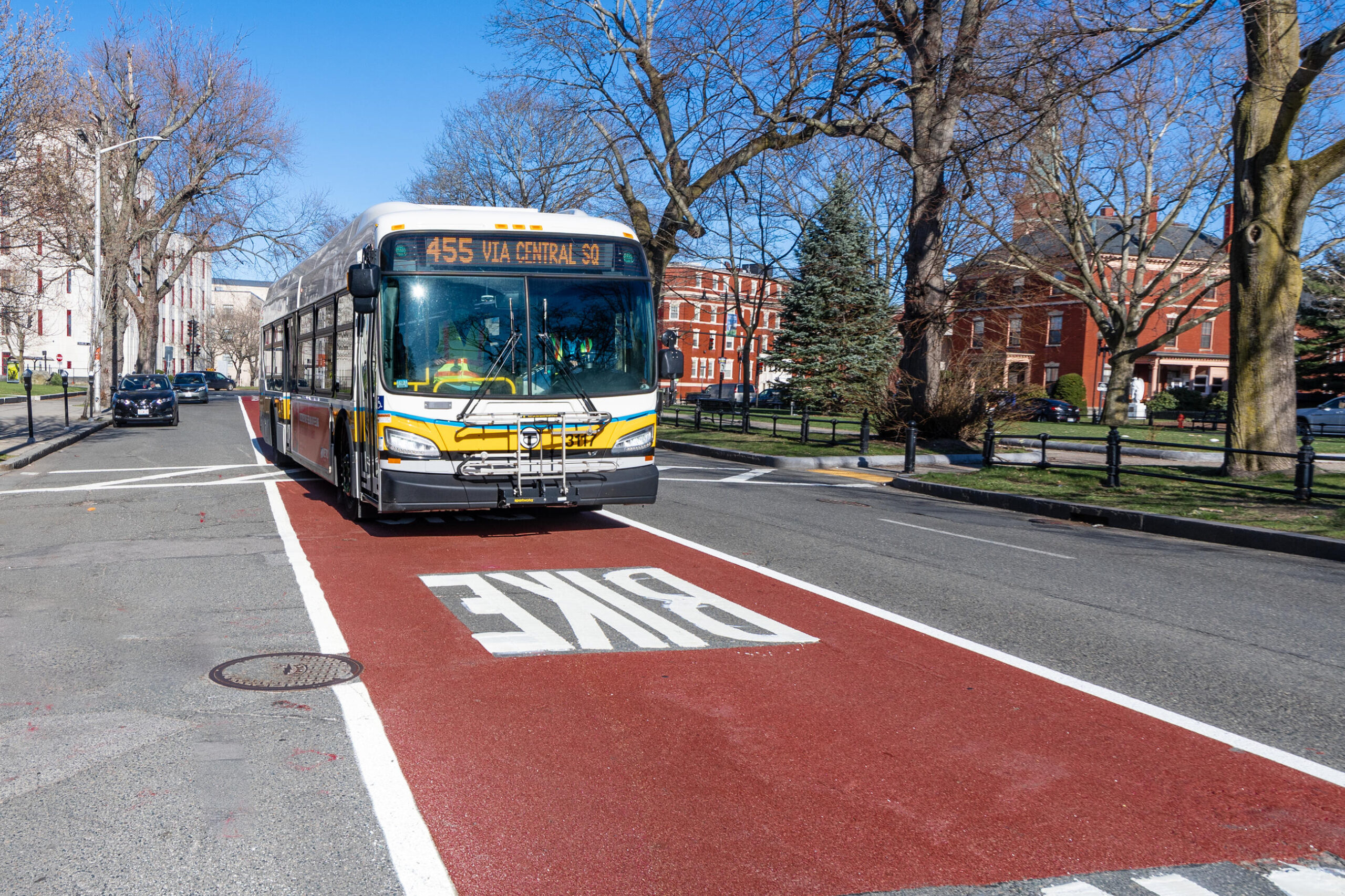 "This is a vital link for moving Lynn residents through their city and to other critical connections, whether it is to the Northern Strand Community Trail or the Blue Line at Wonderland. In 2019, in partnership with the City of Lynn, we launched the Lynn Transit Action Plan to identify strategies to make transit service faster and more reliable for Lynn residents. After the Plan recommended this project, we worked quickly to advance it to design and construction, and thanks to the City's dedication and leadership, Lynn residents will now have faster, more convenient and more comfortable trips on buses and bikes."
The need for bus priority on North Common Street was identified as a recommendation through MassDOT's Lynn Transit Action Plan, an ongoing planning initiative in partnership with the City of Lynn to make it easier for Lynn residents to get where they need to go with public transit. The Lynn Transit Action Plan aims to identify strategies for faster, more reliable transit services for the city, into Boston, and throughout the North Shore through improvements to bus, subway, ferry, and Commuter Rail service. According to MassDOT, at the time of analysis, bus riders experienced delays of up to four minutes during peak travel times along the 0.75 miles-long roadway.
"Ridership on Lynn bus routes like the 455 has been resilient throughout the pandemic. Systemwide bus ridership is around 44% compared to pre-COVID data, but ridership for the Route 455 has been one of the most durable, maintaining about 60-65% of its pre-COVID passengers. These are essential trips, and the bus lane on North Common Street will make transit service safer and more reliable for Lynn riders. We are grateful to our partners, Mayor McGee and the City of Lynn and MassDOT, for helping to bring this to fruition."
The project also provides traffic calming benefits that improve safety for all road users by better organizing previously wide streets along several sections. Narrowing lanes through striping has been shown to encourage slower speeds and greater safety. The bike lane elements are a key connection between the Northern Strand Community Trail near Western Avenue and downtown Lynn.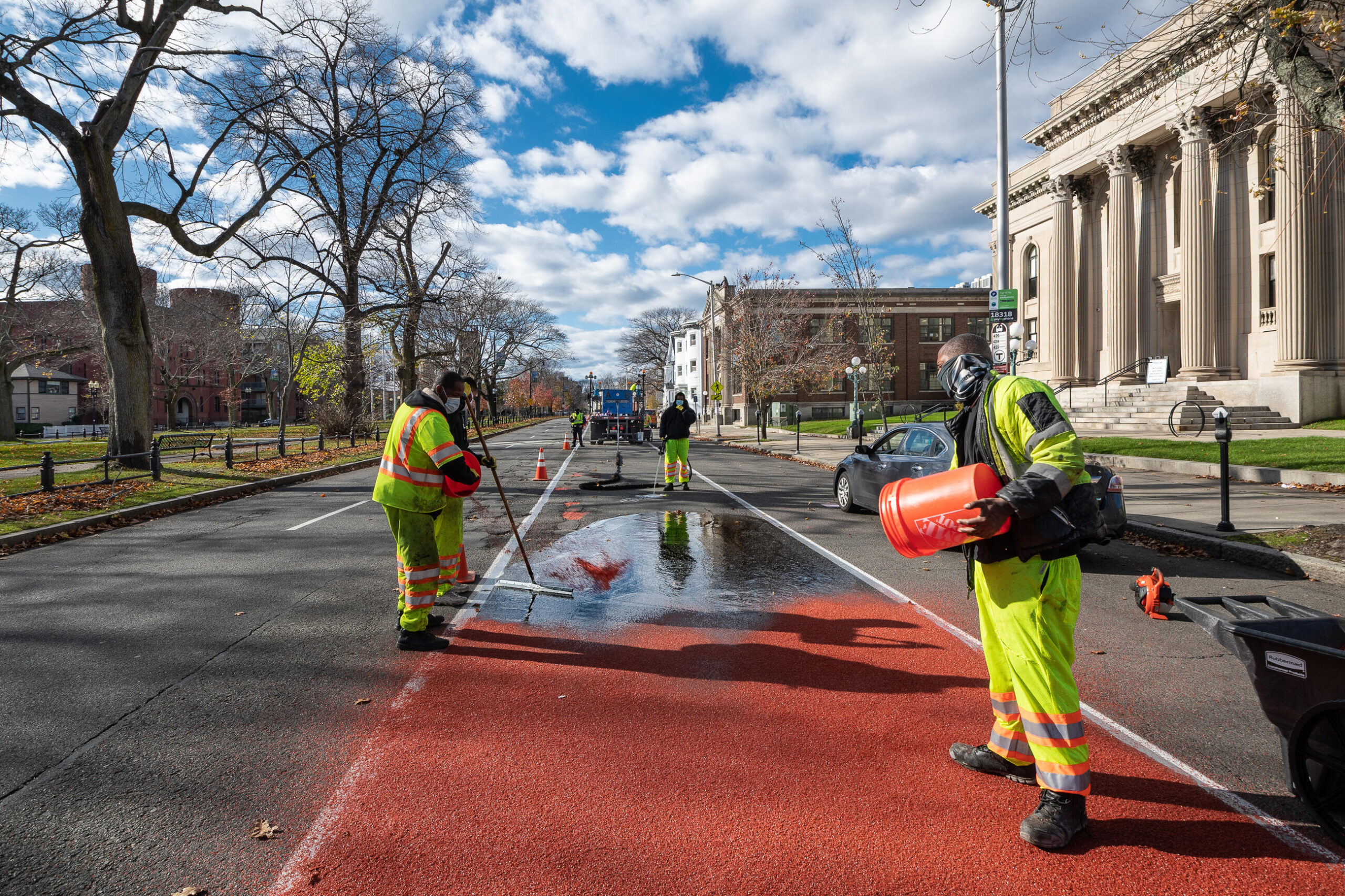 © Massachusetts Bay Transportation Authority
The Baker-Polito Administration launched the Shared Streets & Spacesprogram to support quick-build projects that can bring meaningful benefits to cities and towns. The program is modeled after the Administration's Complete Streets Funding Program, created in February 2016, which, as of January 2020, has awarded a total $46 million to cities and towns for municipal projects improving infrastructure to improve safety for pedestrians, bicyclists, motorists, and public transportation customers.
"These improvements will make it easier, safer, and more reliable for Lynn residents to get around their city and access workforce opportunities, education, and essential services during the current crisis and moving forward."
Building on the success of the Shared Streets and Spaces initiative first launched during the summer of 2020, MassDOT extended the program to help municipalities address the particular challenges of winter amid the ongoing public health crisis. Shared Winter Streets and Spaces provided cities and towns with grants as small as $5,000 and as large as $500,000 to improve plazas, sidewalks, curbs, streets, parking areas, and other public spaces in support of public health, safe mobility, and renewed commerce.
The MBTA Transit Priority Group was created in 2019 with support from the Barr Foundation to further bus priority projects around the region. The group has worked closely with municipal partners and MassDOT to deliver over 13 miles of bus lanes and activate transit signal priority at 64 locations in six cities, doubling the MBTA service area's bus priority network in the last two years.
This article was originally published by Massachusetts Bay Transportation Authority.