MTA Pilots Smartphone App to Help Blind and Low-Vision Bus Riders
The Metropolitan Transportation Authority (MTA) and the Transit Innovation Partnership have launched a pilot program that allows blind and low-vision bus riders to use their smartphones to find bus stops and learn of arrival times. With assistance from the New York City Department of Transportation (NYCDOT), signs along the M23 SBS bus route display decals that allow for use of a new app.
The NaviLens app, which can be downloaded on Android or iOS devices, uses a cutting-edge algorithm to translate visual signage into audio and allows customers to determine the accurate location and distance to the nearest bus stop, find out when the next bus will arrive, know how crowded the bus is (if the necessary sensor technology is onboard), and be directed onto the bus when it pulls up to the stop.
Colorful, next generation QR-style unique seven-inch-tall codes are installed on bus stop poles that the app can detect from up to 40 feet away and at an angle of up to 160 degrees. The code does not have to be in focus for app detection and will direct the user by providing audio directional cues including distance and angle from code such as "25 feet away, straight," "right," etc., solving the "last-few-yards wayfinding problem" for the blind in which GPS technology does not guide to a destination's exact location.
The M23 SBS bus route is a popular route, carrying almost 14,500 weekday riders pre-pandemic. It is the eighth busiest bus route in Manhattan with stops near the Selis Manor Residence for the Blind, VISIONS Services for the Blind and Visually Impaired, and Andrew Heiskell Braille and Talking Book Library.
"Accessibility is a key priority for the bus system and MTA family. And this app pilot is another way to help bus riders who rely on audio cues and signals to guide them. I want to thank our partners at Transit Tech Lab, NaviLens and DOT for realizing that accessibility for bus riders begins at the bus stop."
NaviLens was one of nine start-up companies selected as part of the 2020 Transit Tech Lab, which called for private sector innovations to improve public transit accessibility. The Lab is a program of the Transit Innovation Partnership, a public-private initiative created by the MTA and Partnership for New York City in response to Governor Andrew M. Cuomo's call for private sector innovation to improve and modernize public transit.
"Bringing new thinking and cool technology to solve stubborn challenges related to accessibility is a very rewarding part of my job. NaviLens is one example of the many technological advances being made for the accessibility community."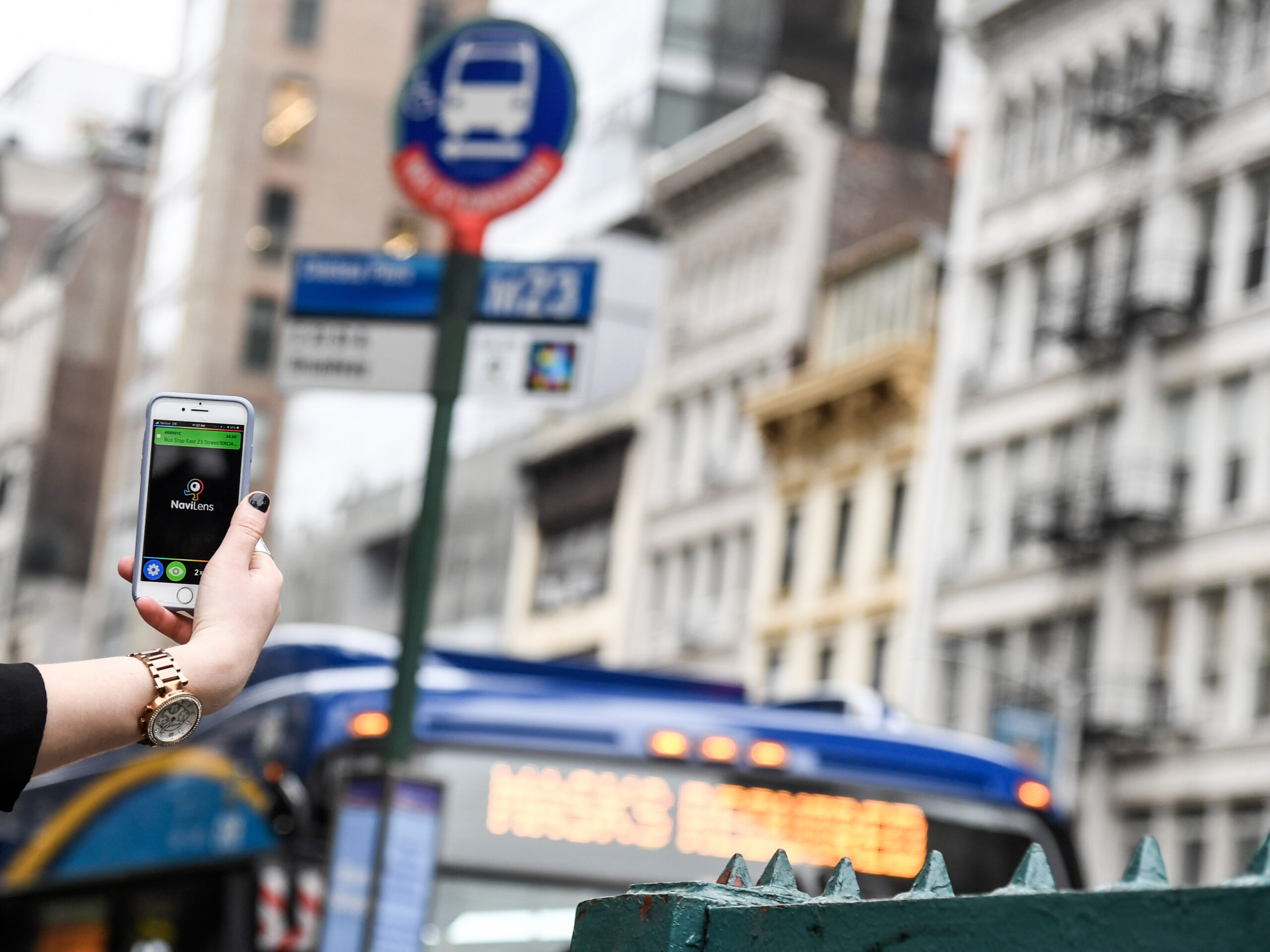 "The NaviLens pilot has the potential to make public transit more accessible and responsive to the needs of all customers. We are thrilled to work with NaviLens and our partners at the MTA and New York City Department of Transportation to create a more connected, inclusive transit network."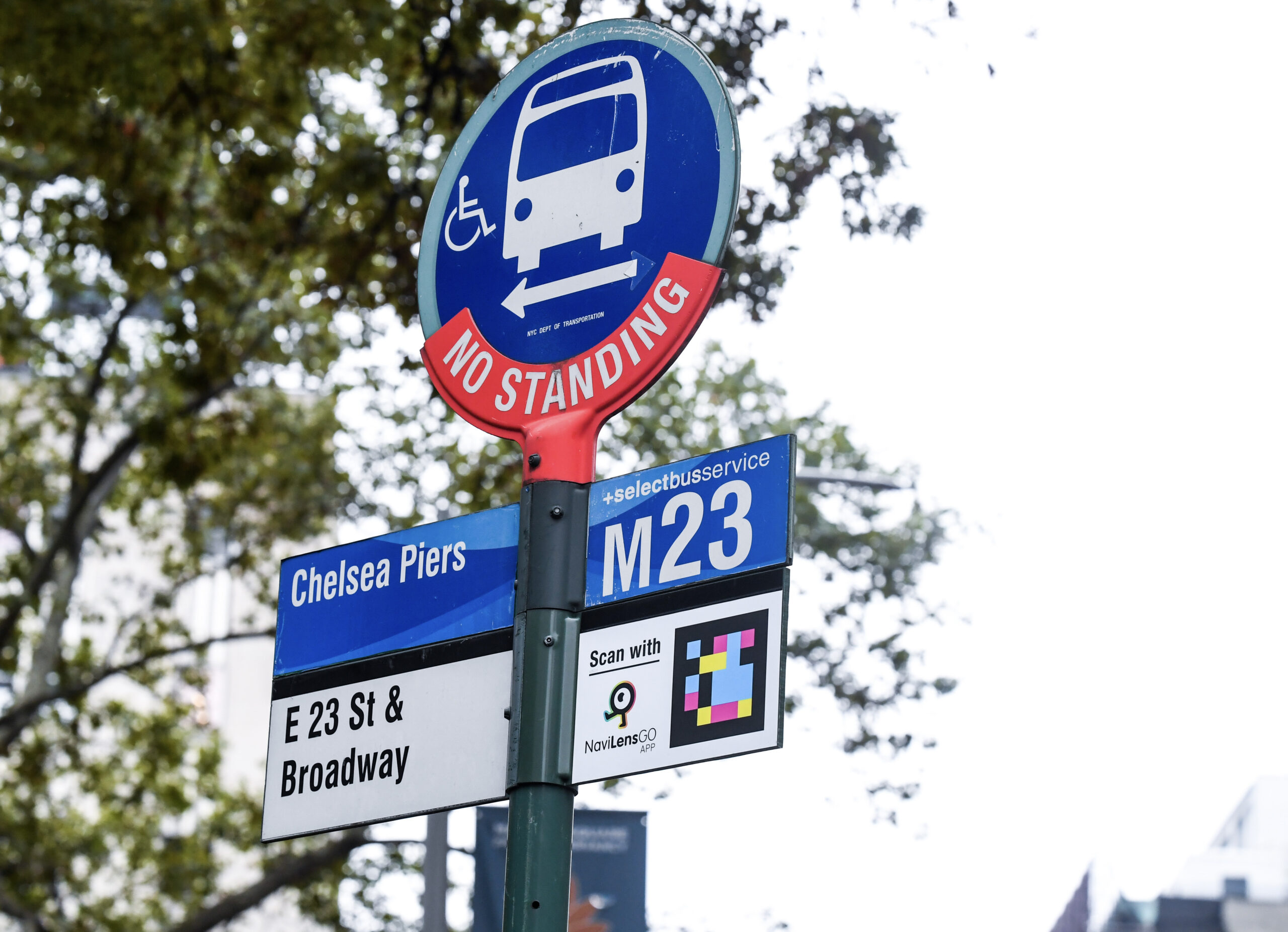 © Metropolitan Transportation Authority
NaviLens, based in Spain, is an award-winning innovative technology company working to solve the "last-few-yards wayfinding problem": despite GPS navigation becoming a major wayfinding tool for people who are blind or low vision, GPS inaccuracy and inadequate map data brings users within the vicinity of their destination, but not to the exact location. NaviLens codes help solve that problem. Detectable from 40 to up to 150 feet away depending on the size of the code, NaviLens provides the remaining important information: the exact location of a destination and the pertinent visual signage. NaviLens has been implemented in Spain's Barcelona, Madrid, and Murcia transit systems, as well as museums, schools, and offices in Europe and the United States.
NaviLens was introduced to NYCT in October 2019 as one of the technology features tested at the NYCT Accessible Station Lab at Jay St-MetroTech Station in downtown Brooklyn. The MTA living lab tested dozens of new features – new smartphone apps for wayfinding, floor treatments, braille and tactile maps, digital signage and in-station navigation – that make subway stations more accessible for riders of all abilities.
"As a technology instructor for VISIONS, I always get asked by my students, many of whom are seniors, what new technology is out there. I'm excited to talk to them about the new NaviLens App and teach them how it can help them gain the independence to take public transportation by themselves. It is apps like these that I love having in my Accessibility App Arsenal. At VISIONS, 'our vision is for everyone to see what is possible.' With NaviLens, people who are blind and visually impaired can see what is possible."
Over the course of the yearlong Transit Tech Lab pilot, dedicated focus groups will test NaviLens periodically with New York City Transit's Systemwide Accessibility team and the Transit Innovation Partnership. This feedback will be leveraged into updates and changes to the app functionality as well as code implementation along the M23 bus route, with the help of NYCDOT.
As the NaviLens bus pilot demonstrates, accelerating accessibility is a top priority for NYC Transit. The MTA remains committed to increasing its number of fully ADA-compliant subway stations and providing more audio and visual announcements, braille signage and tactile warnings, despite significant financial uncertainty brought on by the COVID-19 pandemic.
Without emergency federal funding, projects in the 2020-24 MTA Capital Plan could take longer to be achieved. The MTA has also made it a priority to improve communication with customers on the real-time status of elevators and escalators, improve audio and visual access to information throughout the system, and explore new approaches to priority and courtesy seating on buses.
This article was originally published by the Metropolitan Transportation Authority.