New GAZ Products at COMTRANS 2021
GAZ Group has unveiled its new products at COMTRANS 2021 International Commercial Transport Expo: 15 new generation vehicles and buses and over 100 new technology solutions, including electric vehicles and H2 buses, vehicles packed with smart digital services, buses offering great comfort for limited mobility passengers, transport sanitizing systems for extra safety of passengers during the pandemic, trucks with automatic transmission and ADAS. All of them are on display at Crocus Expo in Moscow from 7 to 11 September.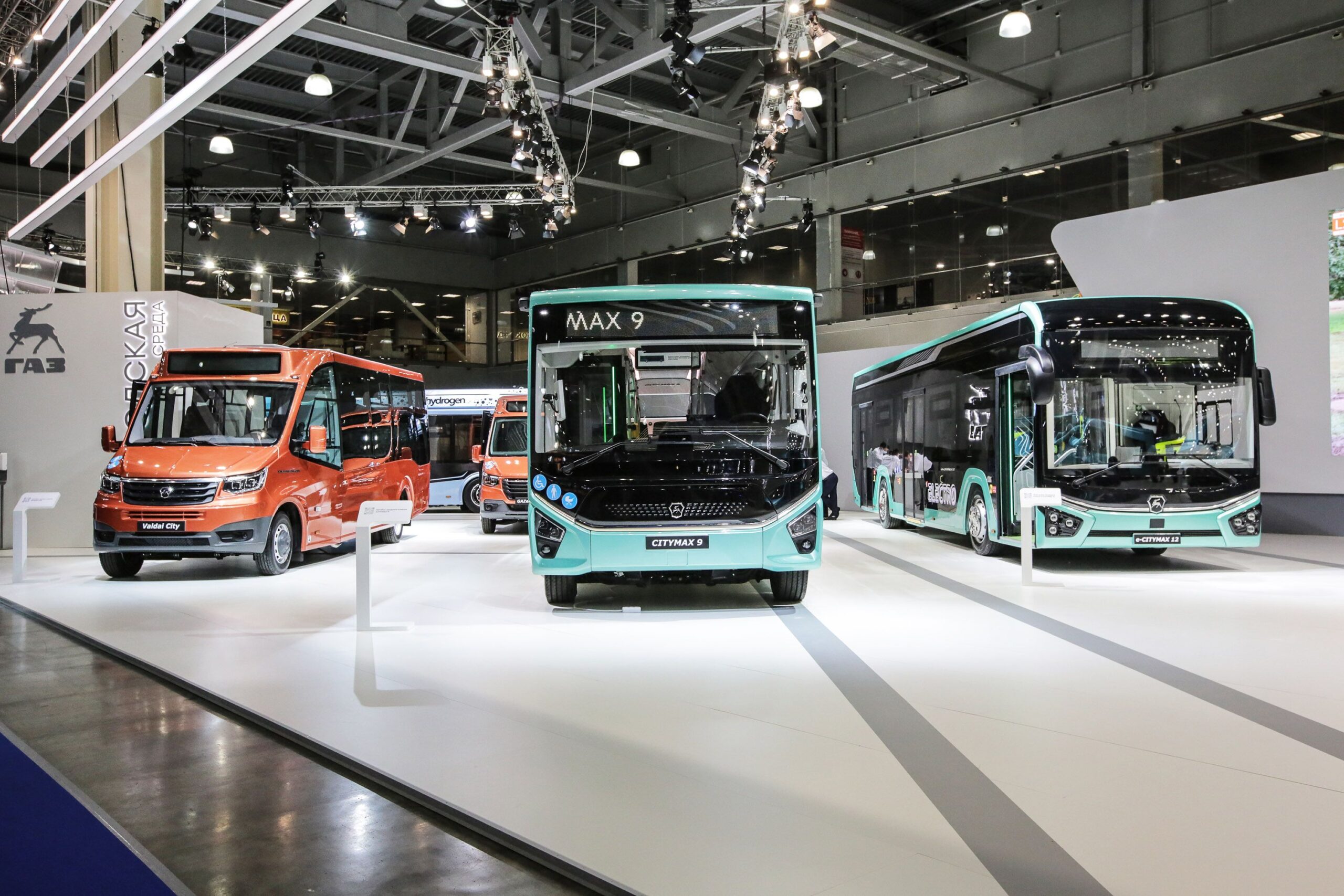 GAZ Group is showcasing its new products in commercial and passenger vehicle segments at COMTRANS 2021. The new generation product portfolio includes buses for 22-85 passengers and 2.5-10t commercial vehicles running on various fuels, e.g. natural gas, diesel, electricity and hydrogen.
GAZ Group can deliver comprehensive solutions in cargo and passenger transportation, for small and medium businesses, utilities and road services, healthcare and social facilities.
GAZ Group's key new products at COMTRANS 2021:
two H2 buses: CITYMAX Hydrogen large bus and GAZelle City small bus;
two electric vehicles: E-CITYMAX 12 large bus and GAZelle e-NN LCV;
new-generation CITYMAX city buses: CITYMAX 9 Euro-6 diesel and E-CITYMAX 12 electric medium buses. The new modular platform will be used to build the whole range of passenger transportation solutions to carry from 70 to 200 passengers;
Valdai City low-floor bus for 32 passengers;
Sobol NN compact delivery van;
new modifications of GAZelle NN, including ambulances with air suspension and single rear wheels, GAZelle e-NN electric and vans with VW diesel engine;
medium-duty trucks, including 10-ton GAZon NEXT with 6-speed transmission and ADAS, including its gas-fueled modification, Sadko NEXT off-road truck with automatic transmission, 7.5-ton Valdai NEXT with increased payload capacity and various specialty vehicles.
"We have unveiled our new products to demonstrate passenger and commercial transportation solutions of tomorrow. They offer maximum comfort for limited mobility passengers. They are zero-emission vehicles, which means they make the environmental situation in cities better. They come with digital driver assistants, which means they make trips safer. They are packed with electronic services which help fleet owners make their business operations more efficient. They are beautiful to be in line with the changing image of today's cities. Our engineers have combined global automotive trends with the company's signature advantages thanks to which GAZ remains the most popular brand in the commercial vehicle market in Russia with its products exported to many countries across the globe: low cost of ownership, great functionality, and operational resilience."
This article was originally published by GAZ international LLC.