The World Premiere of Solaris Urbino 15 LE Electric
Today, the Urbino 15 LE electric, a new electric model in the Solaris portfolio, had its premiere. It is the first electric bus of Solaris dedicated to both urban and intercity transport. That is precisely why the première of the vehicle was such a landmark for Solaris and for the industry in the transitioning towards zero-emission transport. Urbino 15 LE electric will make it possible for operators to plan zero-emission routes not only within the city confines but also beyond these. This bus will be also an excellent, environmentally friendly alternative for diesel vehicles currently used in that segment.
On October 20, 2020 at 12:00, the online premiere of an electric novelty from Solaris – a 15-meter battery bus – took place. The manufacturer had announced the unveiling of the Urbino 15 LE electric at the beginning of the year, before the outbreak of the coronavirus pandemic in Europe. It was precisely because of the difficult times of the pandemic that Solaris decided to celebrate the premiere of its new electric bus online, wanting to keep its word for customers, but also to ensure safety for everyone. The battery novelty opens a new chapter in Solaris emission-free offer as it is the first Solaris electric bus that can be used on intercity routes.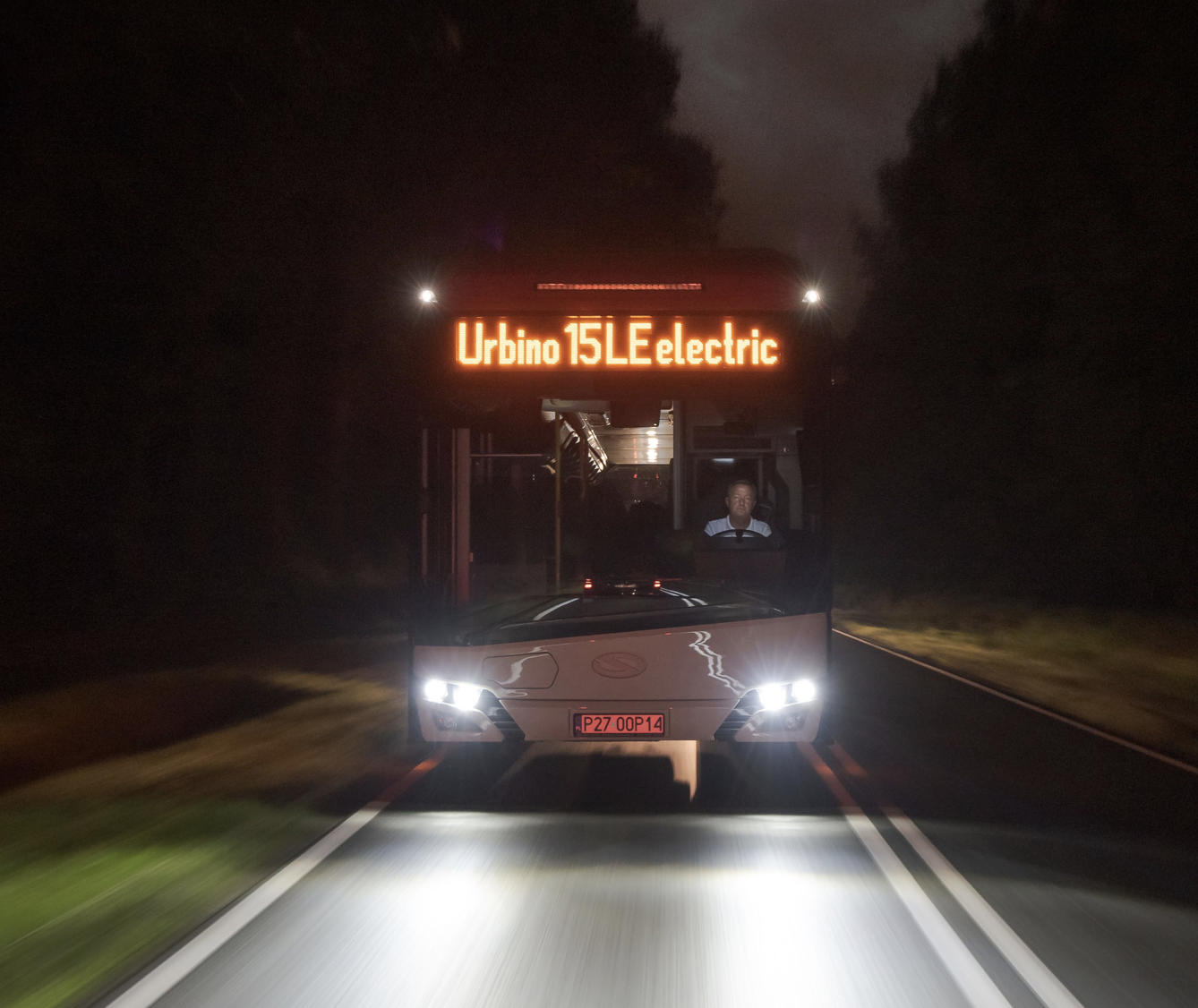 The electric novelty od Solaris surprises with the flexibility of the solutions used. The characteristics of a low entry bus, large range on a single charge and a wide range of options for additional equipment will meet the needs of both urban traffic and suburban routes. A variety of technical solutions also allows the bus configuration to be perfectly tailored to individual operator needs.
The heart of the Urbino 15 LE electric is 300 kW electric motor. To boost efficiency and to reduce energy consumption even further, the propulsion was made in the innovative SIC technology, i.e. by using silicon carbide-based circuits. The motor is liquid-cooled, whereas the driving power is transmitted to the second axle of the vehicle. Energy derived from a set of 6 batteries, with a total capacity of 470 kWh, is fed into the propulsion system. 4 packs have been installed in the rear of the bus, the remaining two have been mounted on the roof.