We all know the problems that come with neglected vehicle wheels:
Excessive wear and tear, sideways drift, and the potential for damage to your suspension and wheel systems.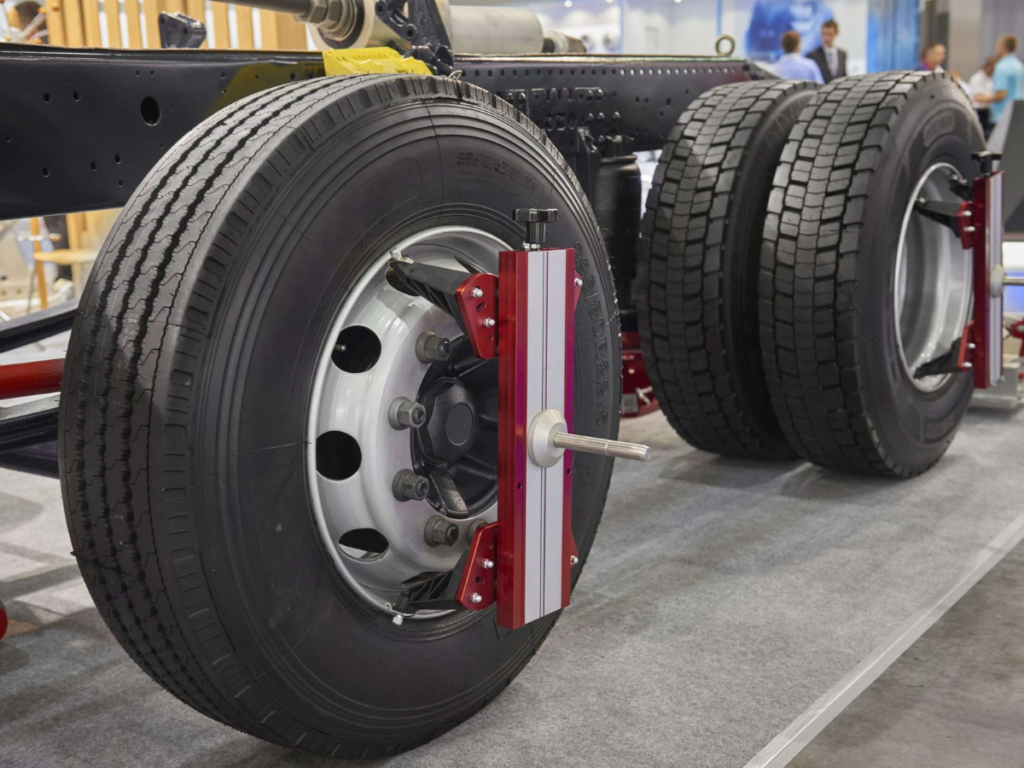 But it's not always clear what's causing these problems (and what kind of equipment you need to diagnose them).
Here's what you need to know about wheel balancing and alignment — and why you shouldn't have to choose between them:
What Does Wheel Balancing Do for Your Vehicles?
No matter how carefully a wheel is manufactured, it almost always has some imbalance in how the weight is distributed.
Some parts of the wheel use thicker materials, and other parts use thinner and lighter materials. And when this uneven distribution of weight starts rolling out on the road, it can cause your wheels to vibrate, leading to excessive tyre wear and damage to the suspension.
Wheel balancing aims to correct these small imperfections in how the weight is distributed.
With a specialised Wheel Balancer that rotates the wheel and uses optic sensors to measure how the wheel moves, you can get a complete and precise analysis of the weight distribution inside the wheel.
Your technicians can then use that data to install the right tyre weights to counteract any imbalance — reducing the strain on your suspension and extending the life of your wheels to help you save money on maintenance and repair costs.
What Does Wheel Alignment Do for Your Vehicles?
Whereas wheel balancing is all about weight, wheel alignment is all about direction.
It's about adjusting the suspension to keep your vehicle's wheels pointed straight on the road — helping to reduce drift, extend the life of your tyres, and maximise the fuel efficiency of every trip you make.
An Electronic Wheel Alignment System uses infrared communication between the wheel alignment heads to accurately measure how well your wheels line up, giving you a convenient and cost-effective in-house testing solution to carry out checks at a greater frequency.
Why Do the Two Get Confused?
In reality, wheel alignment and wheel balancing are two completely different services. Wheel balancing is about correcting weight distribution, and wheel alignment is about correcting the angle and direction of your wheels.
Part of the confusion comes from the way the two services are often grouped together by external parties. When your vehicles receive one of them, they'll often receive the other — even though they're two separate services.
The other big reason they often get lumped together is to do with the symptoms and benefits that they both share between them.
They're both designed to give your vehicles a smoother ride, extend the life of your wheels and tyres, and help you to save money on your maintenance and repair costs.
But there's also some overlap with the warning signs you need to watch out for.
How Can You Tell When Your Vehicles Need Servicing?
Whether your wheels are out of alignment or their weight is imbalanced, there's one simple symptom that's common to both — and that's uneven wear and tear on your tyres.
In both cases, you're putting extra pressure on one side of your wheels when you drive. And without the right checks with both a Wheel Alignment System and a Wheel Balancer, you won't know for sure what's causing the problem.
Here are the signs you need to look out for:

So Which Type of Equipment Does Your Workshop Need?
The short answer?
You need both!
Wheel balancing and wheel alignment are two completely separate services. They're testing for different things, they're solving different problems, and they're conducted with different bits of kit.
But more important:
Each service comes with its own separate benefits, and its own contribution to the money you can save in the long run.
So if you're looking to maximise the efficiency of your vehicles (and maximise the savings your workshop can make) you'll need both types of equipment to make sure your bases are covered.
Check out our Totalkare Wheel Balancer and Electronic Wheel Alignment System in our online shop to find out more — or talk to one of our testing experts to find out exactly what your workshop needs.
This article was originally published by Totalkare Ltd.