Wrightbus Equips Its Second Generation of Electric Buses with Voith Electrical Drive Systems
Voith and Wrightbus enter exclusive partnership for the supply of the electrical drive system for second generation of battery-electric and hydrogen fuel cell vehicles for Europe.
First joint major order for 80 double-decker buses fitted with Voith Electrical Drive System (VEDS) for public transport network in Belfast and Derry, Northern Ireland.
Overall system with perfectly matched components ensures high power availability and maximum range even in the case of challenging driving patterns.
Northern Irish bus manufacturer Wrightbus has chosen Voith as its exclusive partner for the supply of the electrical drive system for the second generation of its battery-electric (BEV) and fuel cell (FCEV) buses for Europe. In future, the company will equip all these vehicles with the Voith Electrical Drive System (VEDS) as standard. As early as August 2021, Wrightbus will deliver the first of 80 StreetDeck BEV double-decker buses with VEDS to Translink, the largest bus operator in Northern Ireland, who plans to operate the new double-decker buses in the public transport networks of Belfast and Derry.
Before awarding the order, the Ballymena-based bus manufacturer analyzed all electrical drive systems available in Europe. It concluded that the VEDS offered the best operating efficiency.
Head of Advanced Technology at Wrightbus, Brian Maybin, said:
"The limiting factor for battery-powered vehicles is the range, which means the efficiency of the drivetrain is the crucial consideration in day-to-day operation. This applies even more to double-decker buses that only have limited space and a restricted weight capacity for additional batteries."
In the VEDS, the main motor and inverter form a specially coordinated package that ensures high power availability and maximum range even in the case of challenging driving patterns. The system is based on a powerful water-cooled permanent magnet motor with a high-efficiency inverter. There is no need for a separate transmission, which has a positive effect on energy consumption, range and noise emissions. At the same time, this principle allows for a compact design. This not only makes for easier installation in the Wrightbus double decks , but when used in continuous barrier-free low-floor buses it also makes the VEDS the perfect drive system for the transition to sustainable mobility. The modular system is available in various power classes and is therefore suitable for all vehicle categories. With a maximum power of 340 kW it is one of the most powerful traction systems for buses on the market.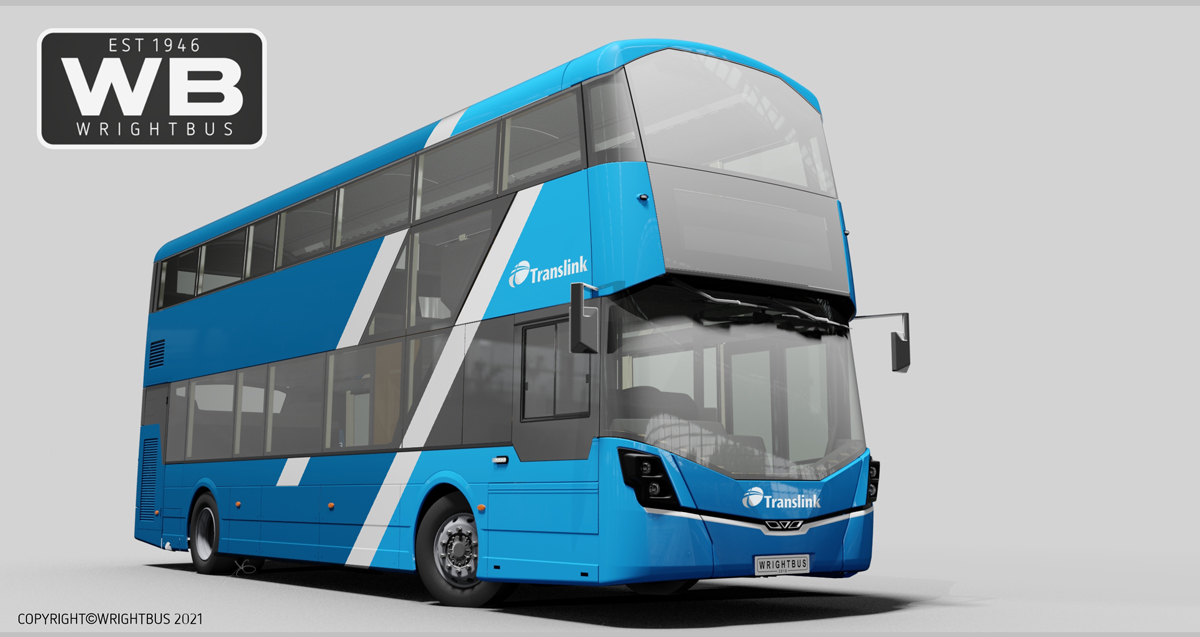 Thanks to the integrated system approach, all VEDS components are perfectly coordinated with one another, from hardware like the electric motor, traction inverter and high-voltage distributor to the drive control and energy management systems. This facilitates integration into the vehicle and ensures a high level of reliability. It also means that the VEDS can be used flexibly in various platforms. The system supports battery systems from a wide range of manufacturers and is also enabled for use in fuel cell electric vehicle drivetrains.
Wrightbus has enjoyed an excellent partnership with Voith for more than 15 years. For example, the company uses only DIWA transmissions in its buses and has benefited from Voith's excellent support over the entire product life cycle. This new order is further proof of the successful collaboration between the two companies. At the same time, Voith is playing an important role in helping Translink achieve its self-imposed goal of operating a completely emission-free bus fleet by 2040.
This article was originally published by Voith GmbH & Co..