Zero Emissions Transit Vehicles in San Francisco: In Motion Charging Technology from Kiepe Electric Essential Part of the Concept
Kiepe Electric, a subsidiary of Knorr-Bremse, the global market leader for braking systems and a leading supplier of other rail and commercial vehicle subsystems, celebrates the delivery of 278 electric buses for San Francisco. The buses, manufactured by New Flyer in Crookston, Minnesota, are equipped with In Motion Charging Technology (IMC) of Kiepe Electric. The local transit agency in San Francisco (SFMTA) operates the largest fleet of zero emission electric trolley buses in the USA.
Managing Director of Kiepe Electric in Alpharetta, GA, Klaus Peter Canavan, said:
"The city of San Francisco is committed to operate an all-electric bus fleet by 2035 and we are proud to be part of this groundbreaking plan with our In Motion Charging technology."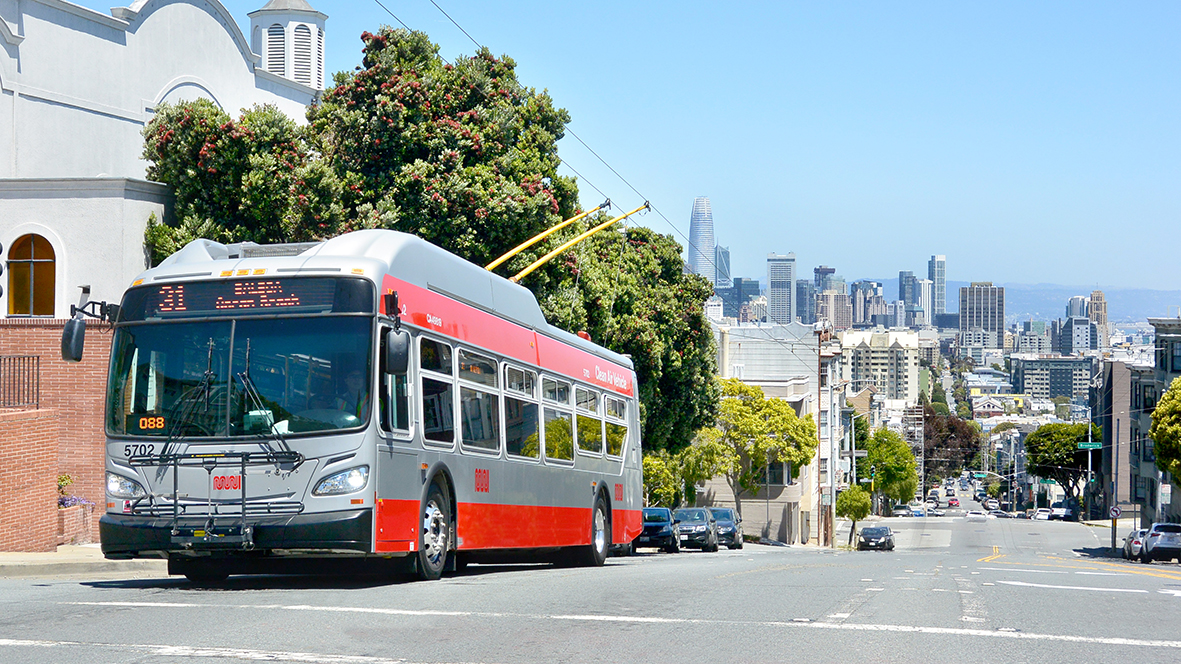 Director of Transit SFMA, Julie Kirschbaum, said:
"This is the last piece of a really comprehensive program to improve our vehicle fleet."
Kirschbaum appreciates the advantages of the new bus generation, the stronger batteries and the operational reliability on the daily on regular-service routes.
One of the Largest US Orders of Zero Emission Transit Buses
New Flyer and Kiepe Electric have been awarded a contract to supply 278 electric buses with In Motion Charging. On November 21, 2019, New Flyer and Kiepe Electric, together with SFMTA celebrate the latest addition to one of the largest orders of zero emission transit buses in the USA. Muni's 93 new articulated 90-foot electric buses with In Motion Charging technology have been a common sight in San Francisco since 2015. Now they are joined by their shorter siblings: 185 new 40-foot electric trolley buses are operating all over the City.
The new electric buses are equipped with In Motion Charging Technology (IMC) from Kiepe Electric. The vehicles have powerful batteries that are charged while the bus is in motion and allow off-wire operation for several miles at a time. With this technology, buses can operate all day and do not need to be parked while the batteries are being charged.
Higher passenger comfort convinces the commuters in San Francisco. They notice the improved ride onboard SFMTA's new electric buses. Low floors entrances offer easy access and the powerful electric motors hardly make a noise when powering the buses up the famous steep hills of San Francisco. For operation on steep inclines, a new Kiepe traction control (KTC) software was developed. KTC implies plenty of innovations and additional customer benefits such as less energy consumption, faster acceleration even on slippery roads and a reduction of noise and vibration resulting in less wear and maintenance costs.
Kiepe Electric in North America: Successful Manufacturing in Alpharetta
Kiepe Electric manufactures the electric drive system, auxiliary power converters and cable harnesses in Alpharetta, Georgia. Together with New Flyer, Kiepe Electric has equipped 752 electric buses for North America. These zero emission buses operate reliably in San Francisco, Seattle and Philadelphia as well as in the Canadian metropolis Vancouver.
Knorr-Bremse is the global market leader for braking systems and a leading supplier of other safety-critical rail and commercial vehicle systems. Knorr-Bremse's products make a decisive contribution to greater safety and energy efficiency on rail tracks and roads around the world. About 28,500 employees at over 100 sites in more than 30 countries use their competence and motivation to satisfy customers worldwide with products and services. In 2018, Knorr-Bremse's two divisions together generated revenues of EUR 6.6 billion (IFRS). For more than 114 years the company has been the industry innovator, driving innovation in mobility and transportation technologies with an edge in connected system solutions. Knorr-Bremse is one of Germany's most successful industrial companies and profits from the key global megatrends: Urbanization, eco-efficiency, digitization and automated driving.
Knorr-Bremse subsidiary Kiepe Electric, is a globally active supplier of electrical systems to the leading rail vehicle and bus manufacturers. The company offers efficient solutions and ecologically sustainable concepts for low-emission public transportation with eco-friendly electrical equipment for light rail vehicles, metros and regional rail networks as well as for battery, trolley and In Motion Charging (IMC) buses.