25 Setra Low-Entry Buses for Hessen and Saxony
Sixteen S 415 LE business low-floor buses for Medenbach Traffic GmbH
Regiobus in Central Saxony buys nine Setra low-entry buses
Medenbach Traffic GmbH and Regiobus Mittelsachsen GmbH upgrade their fleet with Setra low-entry vehicles. The total of sixteen new S 415 LE business buses for Medenbach Traffic GmbH will go into operation on the Weilburg and East Weilburg bus routes and will replace inter-city buses of the Ulm brand. The new low-entry buses are equipped with 42 seats, floors with an elegant wood appearance, special spaces for wheelchairs, buggies and bicycles, and a display system with real-time information.
In order to protect drivers from Covid infection from passengers, the company has equipped the new low-floor buses with all-transparent polycarbonate driver protection doors designed by Daimler Buses especially for the Setra LE business vehicles.
The family-owned company from Weilburg in central Hessen was founded by Adolf Medenbach in 1935 to transport goods. In 1951 he laid the foundation for the future direction of the company by starting a bus service between Weilburg and Wetzlar.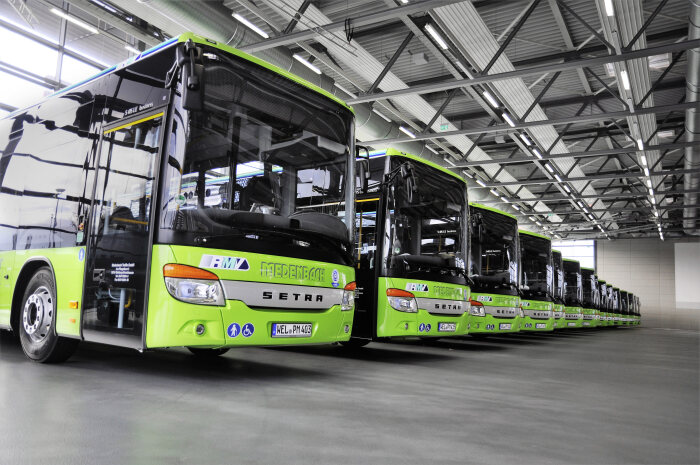 Peter Medenbach, who now manages the traditional company in the third generation together with his son-in-law Timo Medenbach, relies on vehicles of the traditional Setra brand from Ulm, as did his father Lothar and his grandfather Adolf. Medenbach Traffic GmbH acts for the transport company Lahn-Dill-Weil and the Rhine-Main transport consortium, operating buses in the districts of Limburg-Weilburg and Lahn-Dill. The modern fleet conforms to the most stringent environmental regulations and won the "Blue Angel" award.
Regiobus Mittelsachsen GmbH is putting nine new Setra MultiClass buses into operation. The seven S 415 LE business buses from Setra provide space for 45 passengers each and the two S 416 LE business buses can each seat 49 passengers. The 12.3 m and 13 m long low-entry buses operate on various routes in the district of Central Saxony. The Saxon transport company is updating part of its bus fleet by buying Setra buses from the customer centre in Neu-Ulm.
Regiobus Mittelsachsen GmbH, which conveys over 13 million passengers per year, has a total of 235 vehicles in operation and employs a staff of over 460 at five bases. In order to provide the highest possible protection from Covid infection, the new low-floor buses are all equipped with all-transparent EvoBus driver protection doors.
This article was originally published by Daimler AG.