Hydrogen Vehicles, a 100%-Battery Alternative for Zero Emission Electromobility
Hydrogen vehicles are a promising option for the future, but their costs and carbon footprints are being debated.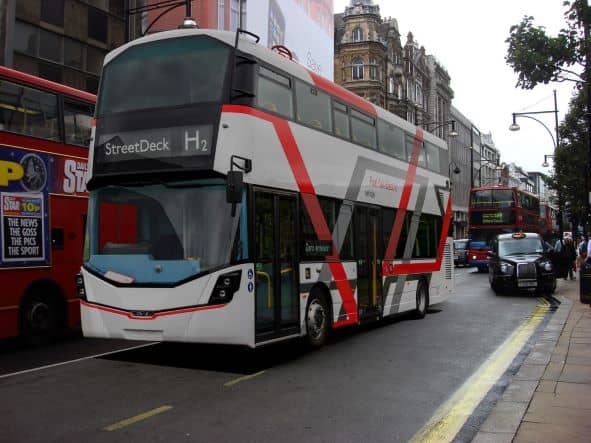 Like retrofit, the hydrogen industry is emerging. Several countries are presenting ambitious plans to accelerate its development, praising the availability of the resource and its high energy density. For example, France and Portugal are dedicating 7 billion euros to the sector until 2030, Germany, Spain and the Netherlands 9 billion and Italy 10 billion.
Hydrogen Vehicles, a Fast-Growing Sector in Europe to Decarbonize Mobility
Driven by a climate plan set up by the European Union to achieve carbon neutrality by 2050, the hydrogen industry is experiencing a strong acceleration and is in the process of industrializing its solutions. To reach this goal, governments are establishing "hydrogen" plans based on three pillars: decarbonization of industry, support for research and training, and decarbonization of heavy transport.
The heavy transport sector represents an essential lever in the fight against climate change. The European targets for reducing CO2 emissions from heavy goods vehicles by 15% by 2025 and 30% by 2030 compared with 2019 require manufacturers to accelerate their transition to a low-carbon vehicle.
Subjected to strong operational constraints and high autonomy needs with short recharging times, hydrogen technology for transport vehicles responds to these constraints while offering a zero emission solution, as they reject water vapor.
Although very promising, this technology is not yet fully developed and still suffers from a few arguments against it: high investments – more expensive than a 100% electric vehicle with batteries -, too few recharging infrastructures and a significant carbon footprint because hydrogen is produced from fossil fuels (gas, oil, coal) – see insert below.
Did you know? – From a grey hydrogen to a decarbonated hydrogen
Hydrogen or H2 is the most present molecule in the universe. It is not present in its pure state, or only to a limited extent, so it must be produced on an industrial scale. Highly concentrated, it can be transported, stored and provide energy without emitting greenhouse gases. It is three times more energetic per kilogram than gasoline. The United States and China are the world's main suppliers with an annual production of about 10 million tons each.
More than 95% of the hydrogen consumed in the world has a significant carbon footprint because it is produced from fossil fuels (gas, oil, coal). As an example, 1 ton of grey hydrogen is equivalent to 10 tons of CO2 emitted into the atmosphere.
But hydrogen can also be produced in a decarbonated way thanks to electrolysis technology, provided that the electricity used to produce it is itself decarbonated (water + renewable energies). This 'green' production concerns 5% of the world production and its cost is 4 times higher than grey hydrogen.
The challenge of green hydrogen is to reverse this trend!
Hydrogen, an Experimental Solution for Heavy Vehicles with a High Need for Autonomy Such as Buses and Trucks
Hydrogen is an energy carrier that can be used for stationary energy storage or on board vehicles (rocket, bus, car, airplanes).
The urban passenger transport sector is even a driver in this hydrogen decarbonization approach. The world's major manufacturers are integrating these attractive solutions into their vehicle ranges: very energy dense, hydrogen provides an average range of 400 km with a 7-minute refill time for the tanks.
The JIVE (Joint Initiative for hydrogen Vehicle accross Europe) project launched in 2017 has enabled the deployment of 300 hydrogen buses in Europe until 2023. In Italy, the Bologna metropolitan area and the public transport operators TPER and Srm are launching a hydrogen bus project: worth €90 million, this initiative will enable the deployment of 127 fuel cell buses by the end of June 2026, of which at least 34 will be put into service by the end of 2024.
Other national initiatives are experimenting with this alternative to 100% battery-powered buses for zero emission public transport.
Hydrogen hybridization is already being tested on buses and should be developed more strongly in the truck and ship segments, where the weight can reach several tens or even hundreds of tons. This weight and the available volume would not always allow the integration of a 100% battery solution with an acceptable range.
Moreover, the truck segment has begun to take the hydrogen turn. Although diesel is still the leading energy source for road freight transport, the sector is changing rapidly with the rise of hydrogen and the structuring of the industry. Several major players, including Hyzon, VDL, Gaussin, Daimler, Hyundai, Toyota and Man, have announced the launch of hydrogen vehicles, and the European Union is aiming to have 60,000 trucks equipped with a fuel cell on the road by 2030.
The Battery, an Essential Element of Hydrogen Vehicles
Hydrogen hybrid vehicles are equipped with batteries; this is a prerequisite that is impossible to do without. Why?
In hydrogen vehicles, the fuel cell, fed by hydrogen tanks stored on the roof of the vehicle, produces electricity that powers the electric motor. Hydrogen is therefore the main source of power for the vehicle. The batteries, charged by the electricity from the fuel cell, generate additional power during sudden variations in load (acceleration or climbing a steep hill). The vehicle moves forward either with the battery, the fuel cell, or both to obtain more power. The batteries also store regenerated braking energy.
At Forsee Power, our high-powered PULSE batteries are used by several European manufacturers for their hydrogen vehicles. Wrightbus' double-decker Street Deck H2 buses carry PULSE 2.5 modules in their floors and are running in many UK cities such as London, Liverpool or Aberdeen.
We have announced that we will be equipping "super green" hydrogen trucks from Hyliko.
This article was originally published by Forsee Power.