Weymouth-based Bluebird Coaches has upgraded its vehicle lifting equipment with a brand-new set of flexible mobile column lifts from Totalkare.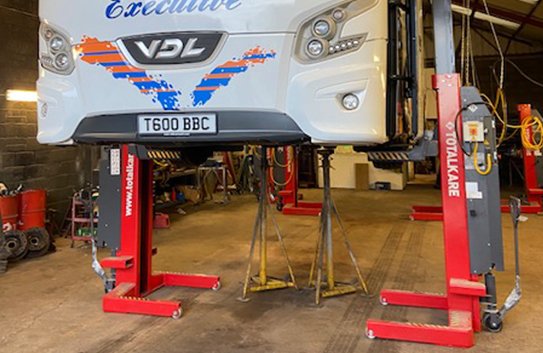 The coach hire firm maintains a fleet of over twenty coaches, offering British and European coach holidays, day tours and excursions, as well as its core hire services. To keep up with the demands of repair and maintenance work for their fleet, Bluebird Coaches has opted to trade in their existing set of Totalkare S6NG lifts for a set of six T8AC cabled mobile column lifts. It doubles the number of T8AC mobile column lifts in the workshop, future proofing their vehicle lifting capabilities for years to come.
The T8AC cabled mobile column lift is a versatile lifting solution, with each column capable of lifting up to 7,500kg. Featuring adjustable forks, it can be used in configurations of four, six or eight columns – perfect for busy bus and coach workshops.
Martyn Hoare at Bluebird Coaches, said:
"We've found Totalkare's mobile column lifts to be easy to use and very reliable, and as our older set required an upgrade, it made perfect sense acquire a new set of T8AC mobile column lifts. We now have two sets of lifts working alongside each other, providing us with additional flexibility while carrying out any work on our coaches."
John Ray, Area Sales Manager for Totalkare, said:
"The additional set of T8AC mobile column lifts will help Bluebird Coaches support the increased workload on their vehicles and continue offering high-quality transport services all year round."
This article was originally published by Totalkare.