Bridgestone has launched the Bridgestone R192E all-position radial tyre, which has been designed for electric buses.
The R192E is Bridgestone's first tyre specifically developed for electric buses. It offers ultra-low rolling resistance and high load capacity, maximising the range of an electric vehicle on a single charge while remaining compatible with all bus types. Bridgestone therefore claims the new design will help reduce CO2 emissions and contribute to more sustainable public transport.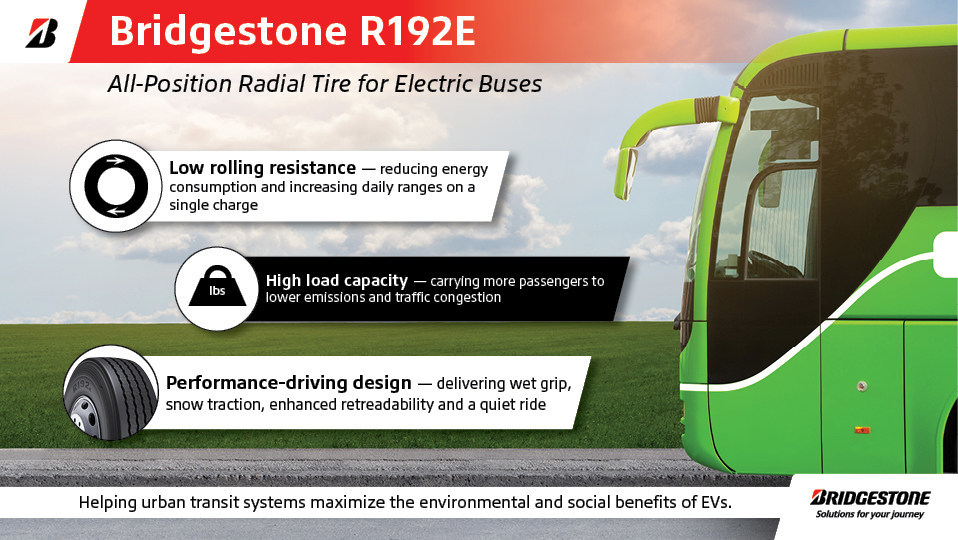 Chris Ripani, President, Commercial Truck, Bridgestone Americas said:
"Electric buses will play a crucial role in eliminating city-centre emissions and traffic congestion, which is why we are proud to introduce the first Bridgestone commercial tyre developed for electric buses. The Bridgestone R192E is not only an innovative tyre solution, but a leading example of how Bridgestone is taking steps to reduce CO2 emissions and contribute to a more sustainable world through its products, services and solutions."
The development of the R192E tyre aligns with Bridgestone's E8 Commitment, which focuses on "Energy, Ecology, Efficiency, Extension, Economy, Emotion, Ease, and Empowerment". Bridgestone says this tyre addresses both its Ecology and Energy commitments.