Glasgow, Scotland, UK – BYD, the world's leading New Energy Vehicle (NEV) manufacturer, has experienced a high-profile presence at COP26, the 26th United Nations Climate Change Conference in Glasgow, Scotland.
BYD ADL zero-emissions electric buses have been in operation as part of the official shuttle bus service for delegates, and they even provided VIP transport for world leaders for an event hosted by royalty. The support for COP26 has gone beyond this, with BYD participating in many other ways.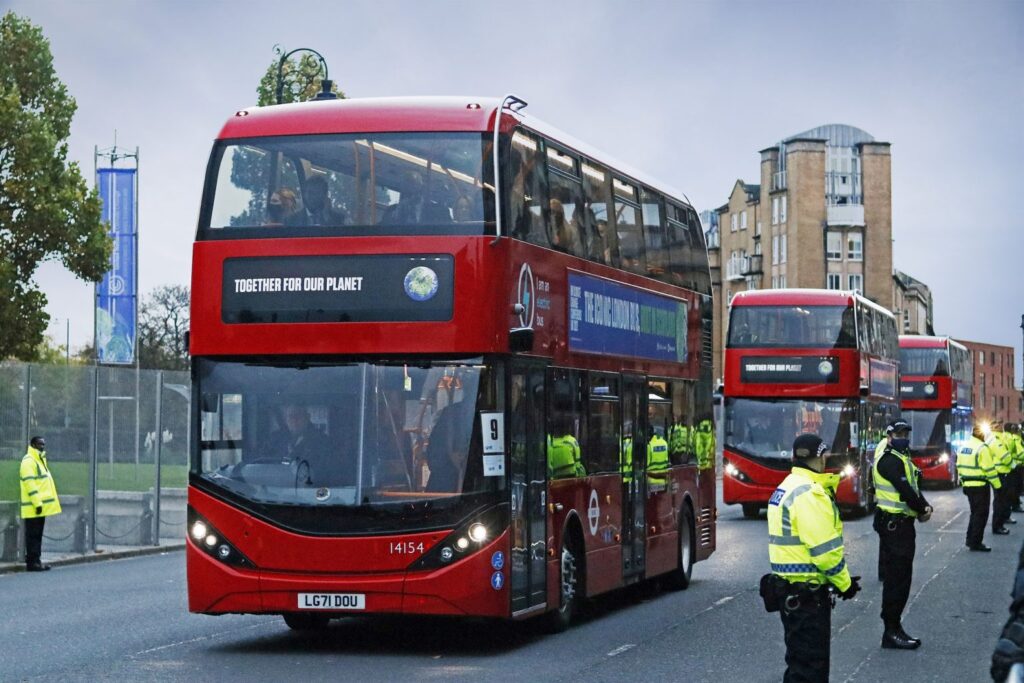 BYD Signs Major Global Agreements to Accelerate Zero-Emission Vehicles
Through proactive involvement in a range of COP26 conference sessions and related events, BYD has shown its support for some major global agreements and initiatives to accelerate the transition to zero-emission vehicles.
BYD signed three important global agreements at COP26, calling for worldwide cooperation to speed up the adoption of zero-emission vehicles in all categories and to push forward the rollout of its supporting charging infrastructure.
These included the signature of two different Global Memorandums of Understanding (MOU); the first applying to sales of new cars and vans with 2040 being the target date, globally, for 100% zero emissions, and by no later than 2035 in leading markets. The second MOU applies to sales of medium and heavy-duty vehicles, with the same global objective of zero-emissions by 2040; a goal already achieved by BYD since 2015 when it first launched its pure-electric trucks in these size categories. The second MOU has an interim target of achieving 30% zero-emission vehicle sales by 2030 as a steppingstone to the ultimate goal.
The third agreement signed by BYD is a global 'Call to Action' led by the Transportation Decarbonisation Alliance in respect of the charging infrastructure for electric vehicles. It urges countries around the world to urgently invest and upgrade supporting charging infrastructure which is pivotal to achieving the zero-emission goals for all forms of electric transportation.
BYD Shares Expertise in Zero-Emissions Technology in COP26 Panel Discussions
BYD Europe B.V., Managing Director, Isbrand Ho, was a prominent figure at COP26 representing BYD as a keynote speaker and panellist in many different seminars. He was pleased to share BYD's expertise in zero-emission solutions for eMobility, offering knowledgeable views and commentary in a variety of discussion groups.
These included joining the Bus Innovation panel as a guest speaker to discuss public transport solutions in the 'RouteZero' seminar hosted by Climate Group during COP26 Innovation Day on Nov. 9. The RouteZero event focused on 'Driving Innovation Forward on Zero-Emissions Vehicles'. Isbrand Ho joined government officials, business leaders and experts in sustainability from all over the world to discuss innovation in many spheres of transportation.
From RouteZero, it was on to the next seminar co-hosted by the Transport Decarbonisation Alliance and the World Business Council for Sustainable Development. It addressed the importance of accelerating the charging infrastructure and was aptly named 'Without It Nothing Moves'. Isbrand Ho shared BYD's expertise in the panel discussions. It was at this event on 10th November that BYD joined the 'Call to Action' to unite with others globally, and to encourage countries around the world to push forward their infrastructure plans, to set a roadmap for investment in the creation of a comprehensive network for electric vehicle charging.
BYD ADL Electric Buses in Action at Cop26
As the doors close on COP26 in Glasgow, BYD reflects on its involvement and the progress made at such an important global event for climate change.
There were many highlights, from the build-up to COP26 in which a BYD ADL Enviro400EV electric double-deck bus was used for the momentous London to Glasgow 'Road to Renewables' journey; to the VIP event where world leaders enjoyed the 'true pure-electric passenger experience' when they travelled onboard 10 BYD ADL Enviro400EV electric double-deck buses to an evening reception hosted by HRH The Prince of Wales. There was also the official bus shuttle service for delegates which involved 22 single deck BYD ADL Enviro200EV eBuses operating daily at the conference.
BYD in Pursuit of Its Green Dream
BYD's zero-emissions journey continues after COP26, as it builds on its green dream and its mission to lead the way in technological innovations for a better life. Evidence of BYD's commitment to its zero-carbon goals is clear to see. On launching the Zero-Emission Industrial Campus program, BYD became the first enterprise in China to be awarded with the Certificate of Declaration of Commitment to Carbon Neutrality by SGS.
Global decarbonisation data compiled by BYD reveals that sales of its electric vehicles throughout the world equate to a CO2reduction of over 8 million tonnes. That is the equivalent to planting 670 million trees.
Through sustainable development and pioneering technology, BYD is committed to achieving its zero-carbon goals, providing total solutions for new energy transportation to help accelerate and facilitate the transition to electrification on a global scale.
BYD fully embraces this sentiment and pledges to make its contribution to accelerate global electrification and cool the earth by 1 ℃, to drive a greener world.