Dublin Bus Opens Historic Broadstone Bus Depot Following €15m Investment
On Wednesday 3 March, Dublin Bus officially launched the historic Broadstone Depot, Phibsboro, following a significant investment of €15.2M, restoring the site to become a modern bus fleet maintenance facility for the capital of Ireland. A part of Ireland's transport infrastructure since 1850, Broadstone Depot is now one of eight Dublin Bus depots and has the capacity for up to 120 buses and 300 employees. The depot is located within a larger Broadstone transport hub that provides direct employment to 1,500 people.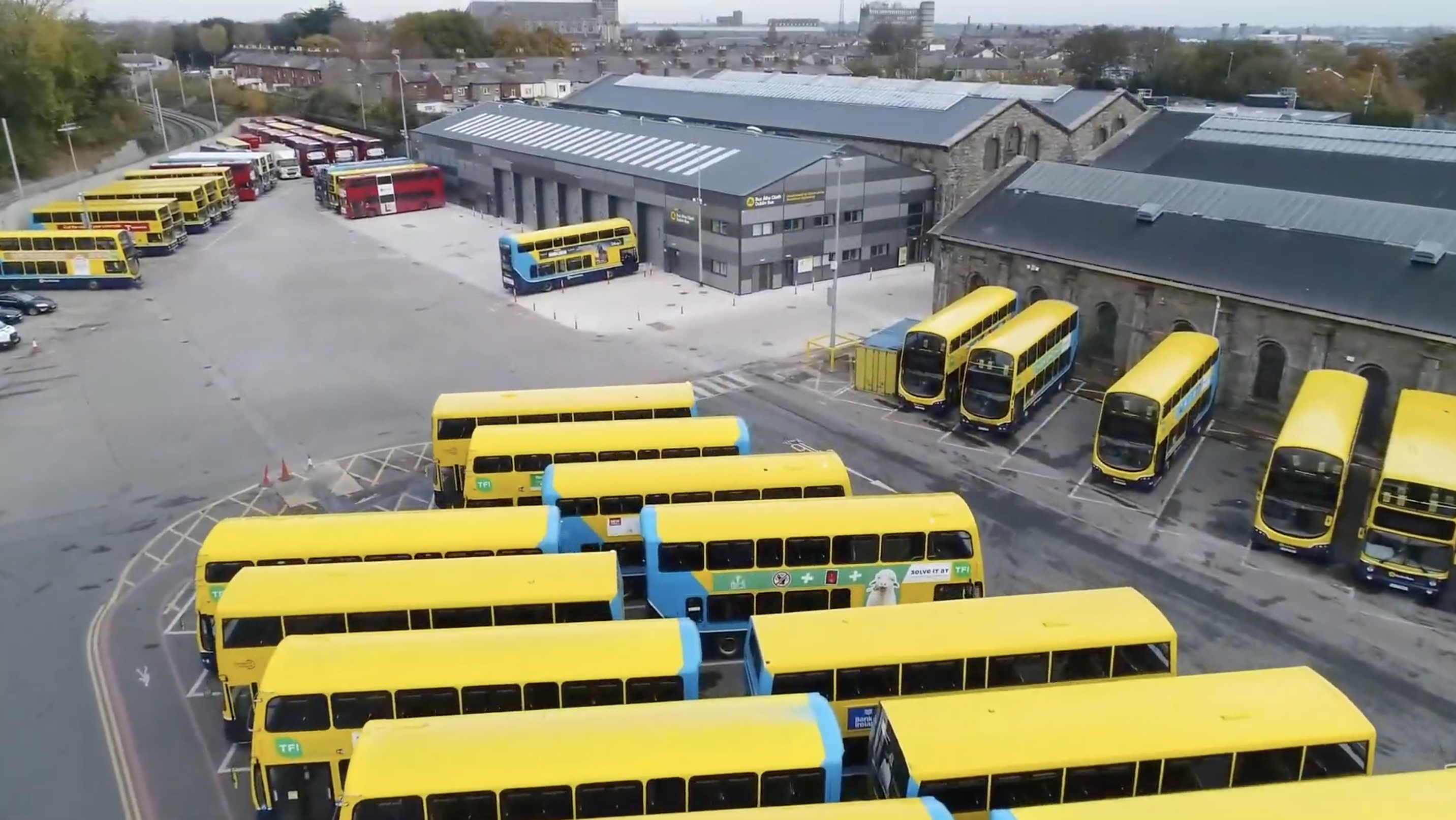 Dublin Bus is Ireland's largest sustainable public transport service provider carrying 142M in 2019 (pre-Covid restrictions). The redevelopment of Broadstone Depot is a part of the company's long-term growth strategy in preparing for the future and working to create a more sustainable European capital city. The new depot brings additional capacity within the Dublin Bus network and supports the company's ability to expand its bus services across the Greater Dublin Area. It improves the service Dublin Bus delivers to its customers across Dublin and supports further job creation.
"As we transition towards a cleaner and greener urban bus fleet, Broadstone Depot will be home to these new, low emission buses. It is fitting that this historic depot will play a role in maintaining these vehicles which will have a positive environmental impact for the communities which they serve. The fact that the depot is equipped to manage future vehicles specifications means it is ready to support Dublin's shift towards a more sustainable public transport service."
The depot will not only cater for the vehicle maintenance requirements of the existing Dublin Bus fleet but is also equipped to maintain future vehicle specifications, such as full battery electric vehicles and is also flexible enough to suit hydrogen vehicles into the future if required.
"I am delighted that Dublin Bus is investing over €15 million in Dublin's transport future. Broadstone Depot is owned by future generations and we've been careful to preserve it and bring it back to life for the purpose it was built. This new depot is another step forward in our contribution to enhancing the lives of the people we proudly serve, socially, economically and sustainably, whilst providing a reliable, safe, efficient and well-run bus service. We change with the pace of the city, connecting new communities with new routes, new buses and new technologies. Our low emission fleet, sustainability initiatives and depot investments mean we are set to meet Dublin's transport needs now and into the future."
Significant care and attention was given by Dublin Bus to preserve Broadstone Depot and every restoration detail has been considered. Dublin Bus worked closely with conservation architects to ensure the restoration at the transport hub adds to the long industrial and transport history.  The use of natural materials, where possible, and reuse and restoration of existing structures such as the old overhead gantry cranes and the original cast iron structure helped reduce the carbon footprint.  In consultation with Phibsboro Village Tidy Towns and Dublin Swift Conservation Group, and with funding from the Community Environment Action Fund (Local Agenda 21) of Dublin City Council, Dublin Bus has incorporated swift nesting boxes onto the site, the first semi-state in Ireland to do so, to help preserve and expand the swift population.
Broadstone Depot is once again a large and proud employer in the area and is very much part of the community. The entire site which also features the company's Phibsboro Depot, Central Control, Procurement Department,  Driver Training Centre, Technical Training Centre, Bus Éireann's nationwide headquarters and Greater Dublin Area bus depot and a Luas stop is a strategically important transport hub enabling growth of the city. This redevelopment of Broadstone Depot, funded directly by Dublin Bus, is a significant part of the overall sustainability focussed investment in the future of public transport in Ireland by the Government and the National Transport Authority (NTA).
This article was originally published by Dublin Bus.