Can Run Full Day on a Single Charge
Versatile and flexible, e-ATA comes with seven different battery packs ranging from 150 kWh to 600 kWh depending on the need. While its maximum battery capacity is 300 kWh for 10 meters and 450 kWh for 12 meters, it can go up to 600 kWh for its 18-meter class. e-ATA's wheel-mounted electric hub motors deliver 250 kW of peak power and 22,000 Nm of torque in its 10 and 12 meter-long versions, enabling them to climb the steepest of slopes effortlessly. The maximum power of 500 kW in the 18 meter-long version shows the highest performance even at full load. Thanks to its powerful batteries, the e-ATA 12-meter model offers the possibility of driving up to 450 kilometers on a single charge when the vehicle is full, on a real bus route and with the air conditioning running in the heat of the summer. With a charging power of up to 150 kW with a wired connection, e-ATA can be charged in 1 to 4 hours, depending on the preferred battery pack. This means the vehicle can be operated all day without a second charge. In addition to wired charging, e-ATA also offers a high-capacity fast-charging option that allows drivers to recharge at stops without getting out of the vehicle.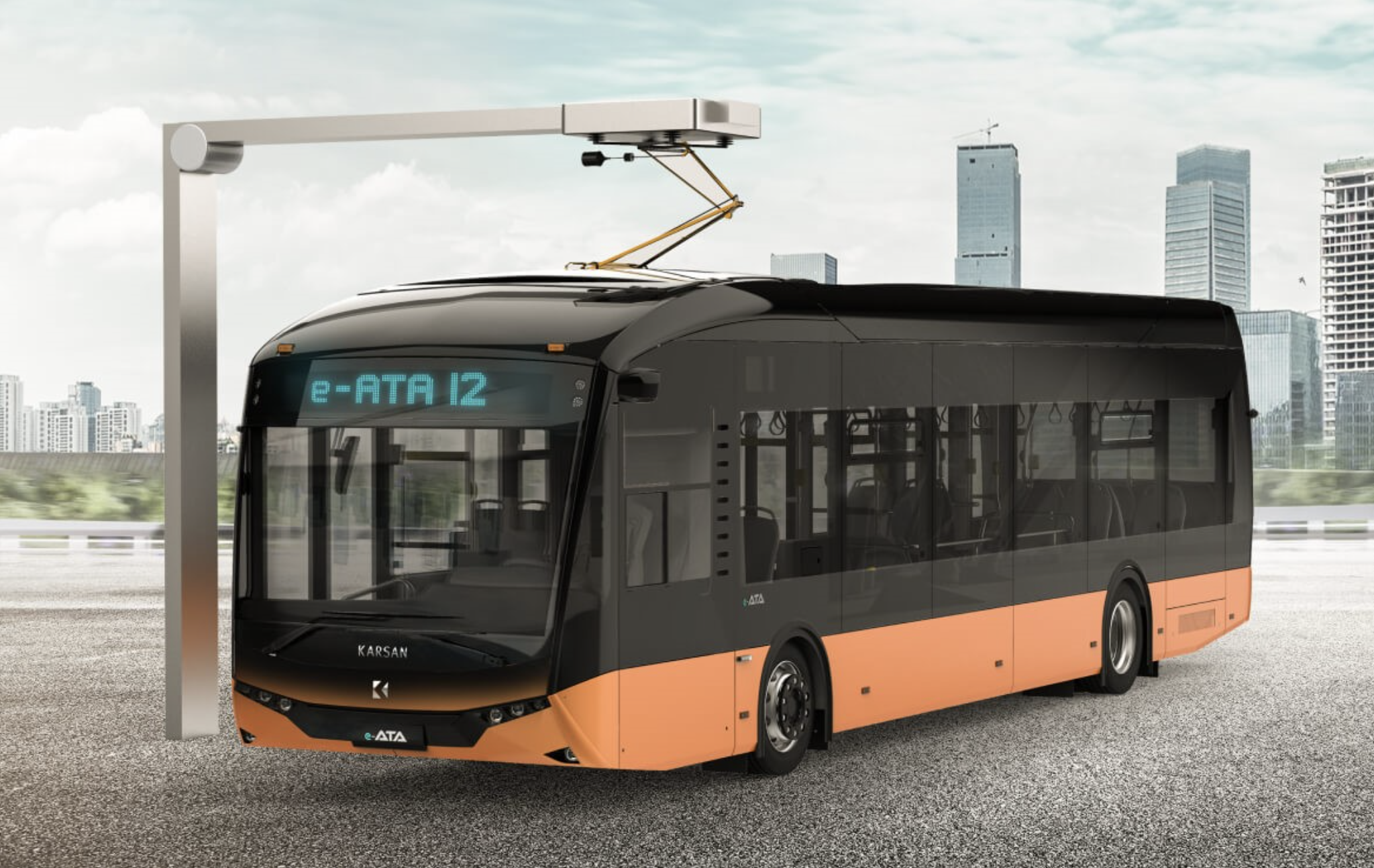 © Karsan
Mirror Camera System Provides High Security with a Wide Angle of View
Electrically-powered by design, e-ATA offers a solid infrastructure for electric components thanks to its lightweight body and impresses with its futuristic exterior design. Also, its geometry offers passengers a full low-floor interior that promises unobstructed freedom of movement. The e-ATA model offers flexibility in terms of capacity as well as size and electric motor options. With e-ATA, long range is not a trade off for passenger capacity, able to carry 90 passengers with 10 meters, over 100 with 12 meters, and more than 150 with 18 meters, depending on the preferred battery package. With its electric hub motor technology positioned on the wheels, e-ATA offers a large, spacious and ergonomic interior, making the driving experience more efficient. The VDV-compatible driver's cockpit enables control of the vehicle down to the smallest detail. Drivers have full control over the vehicle, overseeing energy consumption, reading warnings and checking the air conditioning using the screen in front of them. While safety systems such as mirror camera, collision and lane departure warning guarantee the safe travel of the driver and passengers. e-ATA offers high safety thanks to its electrical and electronic infrastructure that complies with the ISO 26262 Functional Safety standard.
This article was originally published by Karsan.