Electric Buses from Nova Bus Now Hitting the Road in Brampton
Nova Bus, a leading North American transit bus manufacturer, celebrates alongside Brampton Transit, the Honourable Catherine McKenna, Minister of Infrastructure and Communities and other dignitaries, the launch in operation of its electric buses, featuring two forty foot, fully electric Nova Bus LFSe.
The electric buses were delivered earlier this year as part of the Canadian Consortium for Urban Transportation Research and Innovation (CUTRIC) Canada-wide Interchangeability Project. The investment made by the City of Brampton is helping Canada achieve its ambitious goals for the reduction of greenhouse gas (GHG).
"Helping residents of Brampton get around in faster, cleaner and more affordable ways is the goal of our investment in zero-emission buses. Today's launch is an important milestone towards Brampton's ambitious goal of reducing emissions by 80 per cent by 2050, and toward our government's commitment to add 5,000 zero emission buses over 5 years. It will support Canadian jobs, tackle climate change, and build cleaner, more inclusive communities."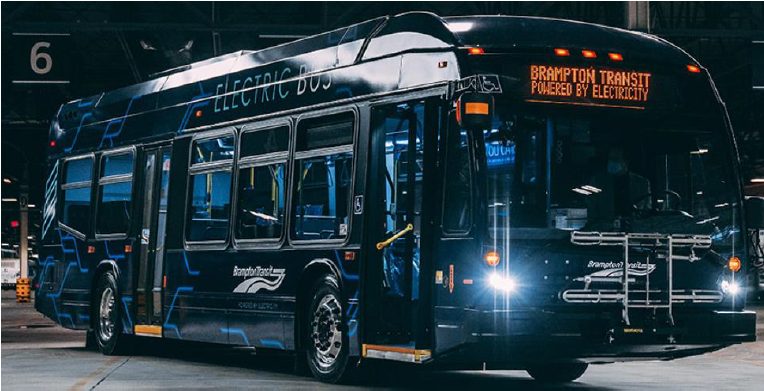 "Nova Bus is a Canadian leader in the electromobility market, and we are honored and thrilled to be part of Brampton's transition to electromobility. As a key member of CUTRIC and part of the Pan-Canadian Battery Electric Bus Demonstration and Integration Trial, we are fully committed to the concerted efforts in the electrification of transportation. Clean and sustainable technologies are part of Nova Bus' core."
With an electric motor system powered by an integrated battery system, these electric buses provide better fuel economy, reduced maintenance costs and reduced greenhouse gas emissions. The LFSe charges in less than 6 minutes. The Nova Bus LFSe was the first electric bus in the industry to receive a passing score for a full test at Altoona in June 2018
"I am excited to announce the launch of electric buses on Brampton's roads starting May 3. Brampton is a Green City, and this is a significant milestone in sustainability for our community."
Designed on the proven LFSe platform, the Nova Bus LFSe features a propulsion system that emits no GHG emissions and offers a better user experience through quieter and smoother driving. The fast and fully automatic recharging component of the batteries maintains a high level of efficiency. The Nova Bus LFSe has distinguished itself in all circumstances and events with all possible weather conditions in North America.
"Brampton's world-leading deployment, which is being supported by five of CUTRIC's Member companies, makes Canada a global hotbed of electric bus innovation. This project is also creating new low-carbon technology jobs and attracting foreign investment to Brampton, to Ontario, and to Canada, all of which is more vital than ever as we work to recover from the COVID-19 pandemic."
This article was originally published by Nova Bus.