Île-de-France Mobilités has purchased 24m bi-articulated electric buses that will recharge using conductive ground-based static charging (SRS).
A consortium made up of Alstom, Van Hool and Kiepe Electric are the signatories to the contract with Île-de-France Mobilités.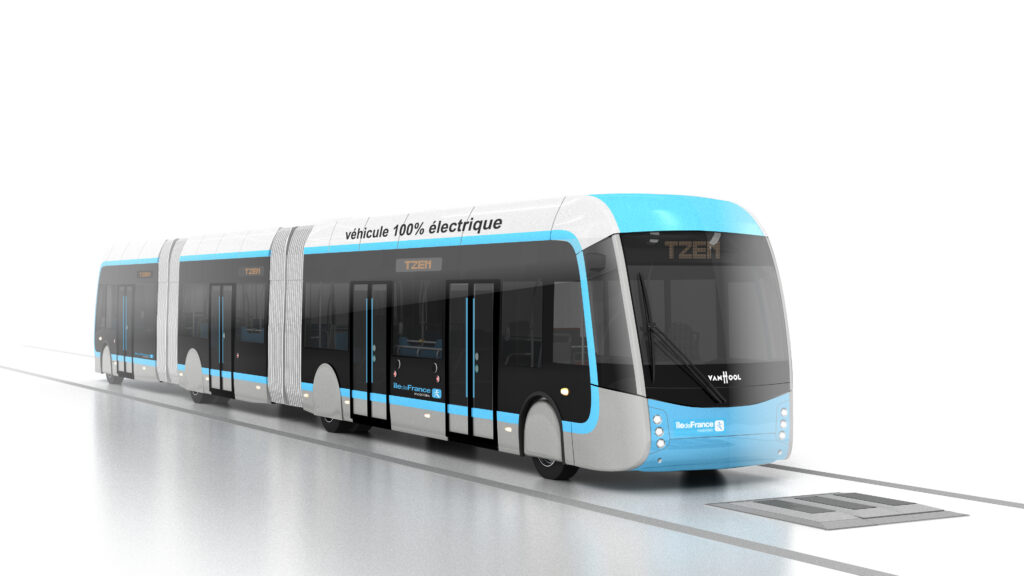 Van Hool will deliver the electric buses, which will be powered by Kiepe Electric's high-power fast-charging batteries. Alstom will supply the conductive ground-based static charging system. The framework agreement sets out a minimum vehicle order of 56.
Île-de-France Mobilités intends to use this ground-charging technology along two bus rapid transit (BRT) lines – the T Zen 4 and T Zen 5 bus lines in the south of Paris, one of which is the busiest line in the capital region, and a third line in option.
Buses by Van Hool
The 24m bi-articulated electric buses will be the Exqui.City 24 model. Each one will have a capacity of 140 (compared to 70 for a standard bus and 100 for an 18m articulated bus). The buses will feature real-time visual and audio passenger information. They will also be fully accessible to persons with reduced mobility – they will be equipped with sliding doors and low floors.
"We are happy and proud that Van Hool, in close collaboration with partners Kiepe Electric and Alstom, has been selected by Île-de-France Mobilités for the realization of this unique mobility project in Île-de-France. The future of public transport is zero emission. This solution, a world first, fully meets the high expectations of the transport authority, the drivers and maintenance staff, and passengers, for quality public transport that is sustainable and economically responsible."
On-Board Energy by Kiepe Electric
Kiepe Electric will provide the traction system for two driven axles in each vehicle. As part of the contract, Kiepe Electric will deliver traction batteries, auxiliary power converters and cooling systems, as well as power distribution units. Further, Kiepe Electric will provide the on-board software for energy management and traction drive control.
There will be a Kiepe Electric cloud-based data application that will measure consumption, routing and performance parameters.
"For this project, Île-de-France Mobilités has put its faith in our highly experienced consortium and innovative High-Power Charging (HPC) concept for buses. For Kiepe Electric, this successful bid is a milestone, and heralds our entry into the mass transit market for e-BRT lines."
Ground-Based Charging by Alstom
Alstom will provide its ground-based static charging system that allows electric transport modes – trams and buses – to recharge while stopped, such as at passenger stops and at terminals. Alstom first implemented this technology for tram systems where overhead lines would negatively impact the cityscape, such as in Nice. For the T Zen 4 and T Zen 5 project, Alstom will engineer the charging systems and supply the equipment, and install, commission and provide the warranty.
"Alstom's teams in France are proud to contribute to the realisation of an innovative and sustainable mobility solution for Île-de-France Mobilités, alongside our partners, with our conductive ground-based static charging system, SRS. This solution will be a world first and will offer a high level of service with great ease of operation. It will also benefit from the experience of the Nice tramway, where SRS was deployed and put into service on 15 km and 34 trams."
The framework agreement includes a service level agreement on the reliability and availability of the bus and charging system.
The T Zen 4 and T Zen 5 bus lines are express bus lines that run on dedicated lines. The T Zen 4 will cover 14.8km between Viry-Chatillon and Corbeil-Essonnes. This new line will replace the existing 402 line, the busiest in the Paris metropolitan area, carrying almost 26,000 passengers per day. The T Zen 5 line is a new 9.5km line connecting Paris-13 with Choisy-le-Roi via Ivry-sur-Seine and Vitry-sur-Seine.