Karsan Wins Romania's Deva Municipality Electric Bus Tender
Electrification of Romania's transportation network continues at full speed with Karsan
26 Electric Vehicles from Karsan to City of Deva, Romania
Offering modern public transportation solutions to meet the contemporary mobility needs, Karsan continues to be the choice of cities with its electric product family ranging from 6 m to 18 m. Karsan had previously delivered electric vehicles to many cities in Romania and signed high-volume contracts, and recently won the electric vehicle tender for the city of Deva. 22 units of e-JEST minibuses and 4 units of e-ATAK buses, which are agreed on within the framework of the tender, are planned to be delivered to the city in the second half of 2022 and they will be the first electric buses of Deva Municipality. With this tender, Karsan's electric bus sales throughout Romania has reached 158 units.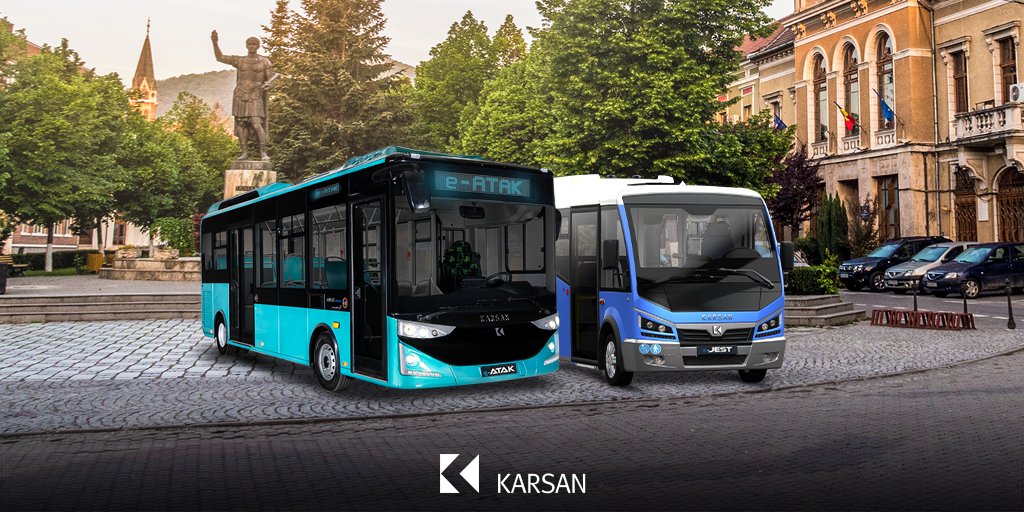 Karsan, having a voice in the public transportation of cities in many nations across the world thanks to the commercial vehicles it provided, continues its success with the zero-emission and high-range electric buses. Karsan recently won the electric vehicle tender held in Romania's Deva City as well. Within the framework of the above-mentioned bidding contract, Karsan will provide 22 units of 6-meter-long e-JEST and 4 units of 8 meters long e-ATAK models of its electric bus family to city of Deva. Karsan had previously provided diesel JEST buses to Deva Municipality and now plans to deliver its new electric vehicles in the middle of 2022. In this scope, commissioning a total of 26 zero-emission e-JEST and e-ATAK buses for urban use in Deva City is planned for the middle of 2022. Karsan had recently delivered electric vehicles to many cities in Romania and signed high-volume contracts and following the new tender it has increased the total electric vehicles sale across Romania to 158 units.
e-JEST Is a Complete Substitute for a Passenger Car in Terms of Comfort
Proving itself with its high maneuverability and unique passenger comfort, e-JEST offers a BMW electric engine producing 170 HP power and 290 Nm torque along with BMW branded 44 and 88 kWh batteries. e-JEST has a range of up to 210 km, which is the best performance of its 6-meter minibus class. And thanks to the regenerative braking system providing energy recovery, e-JEST's batteries can charge themselves up to 25 percent. Equipped with a 10.1-inch multimedia touch screen, fully digital dashboard, keyless start, USB outputs, and Wi-Fi-compatible infrastructure on demand, e-JEST is a complete substitute for a passenger car in terms of comfort with its 4-wheel independent suspension system.
e-ATAK Offers a Range of 300km
e-ATAK, having a dynamic design line with its front and rear fronts, draws attention at first glance with its LED daytime running lights. The electric engine in e-ATAK provides the users a high-performance driving experience with a power of 230 kW and 2,500 Nm of torque. The 8-meters class member e-ATAK has a total capacity of 220 kWh with five 44 kWh batteries developed by BMW. It can be charged in 5 hours with alternating current charging units and in 3 hours with fast charging units and stays ahead of its competitors with its 300 km range. Moreover, thanks to the regenerative braking system that provides energy recovery, the batteries can charge themselves up to 25 percent. This model offers a passenger capacity of 52 people and has two different seat placement options.
This article was originally published by Karsan.