LTA to Deploy Three-Door Double-Deck Buses from 2021
The Land Transport Authority (LTA) will start deploying its new fleet of three-door double-deck buses from this year.
These buses are designed with a second staircase and an additional exit door at the rear of the bus to improve commuter flow. With an additional staircase, commuters boarding the bus will be able to access the upper deck via the first staircase while alighting commuters are encouraged to make their way down via the second staircase. The additional exit door allows commuters at the rear of the bus to alight without having to make their way to the middle of the bus.
Like all our newer buses, the three-door double-deck buses will be equipped with a passenger information display system to provide commuters with route-specific information, such as upcoming bus stops and the MRT and LRT lines near a bus stop. The buses will also have on-board audio announcements of upcoming bus stops to make commuting easier for visually-impaired commuters. The centre pole at the front door will also be removed to make boarding easier for parents with strollers. Wheelchair users will continue to board and disembark from the middle door of the bus, assisted by the bus captain deploying the ramp.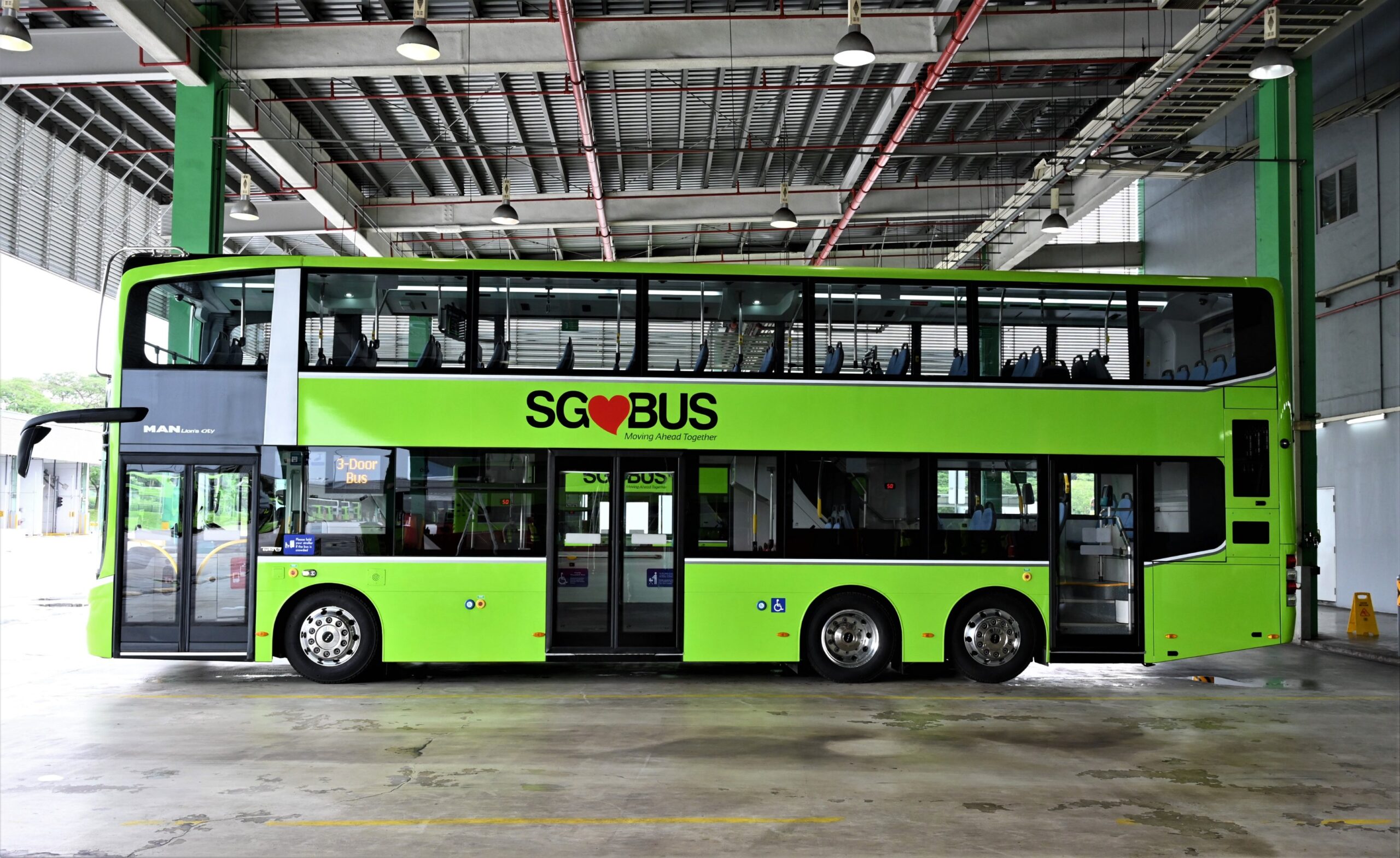 A total of 100 three-door double-deck diesel buses from two suppliers – ST Engineering Land Systems Ltd (STELS) and Alexander Dennis (Singapore) Services Pte Ltd (ADS) – will be introduced over the course of 2021. The 50 buses from STELS will be progressively deployed from the end of this month, while the buses from ADS are expected to be deployed from the second quarter.
The deployment of the three-door buses follows a successful trial in 2017 and 2018. Under the trial, Tower Transit operated a three-door double-deck bus on Service 143 from March to September 2017. SMRT Buses operated a three-door single-deck bus on Services 190 and 901 from June 2017 to January 2018. Commuters who took these buses welcomed the additional door as it made boarding and alighting easier and faster. LTA subsequently called a tender to procure 100 three-door double-deck buses in May 2018 and the tender was awarded to STELS and ADS in April 2019.
These 100 buses are the final batch of diesel public buses to be deployed on our roads. Since 2020, all public bus purchases have been cleaner energy buses, in line with our commitment towards having a 100% cleaner energy bus fleet by 2040.
Thi article was originally published by the Government of Singapore.