Milwaukee County Transit System Tests New Air Filtration Treatment Helping Stop Airborne Spread of Viruses
Maintenance crews at the Milwaukee County Transit System (MCTS) are using an innovative, new air filtration product on buses to help prevent the airborne spread of viruses — including the one that causes COVID-19.
MCTS maintenance crews started applying the Aeris Guard Bioactive Filter Treatment on buses several months ago and the initial treatment of the entire fleet is nearing completion.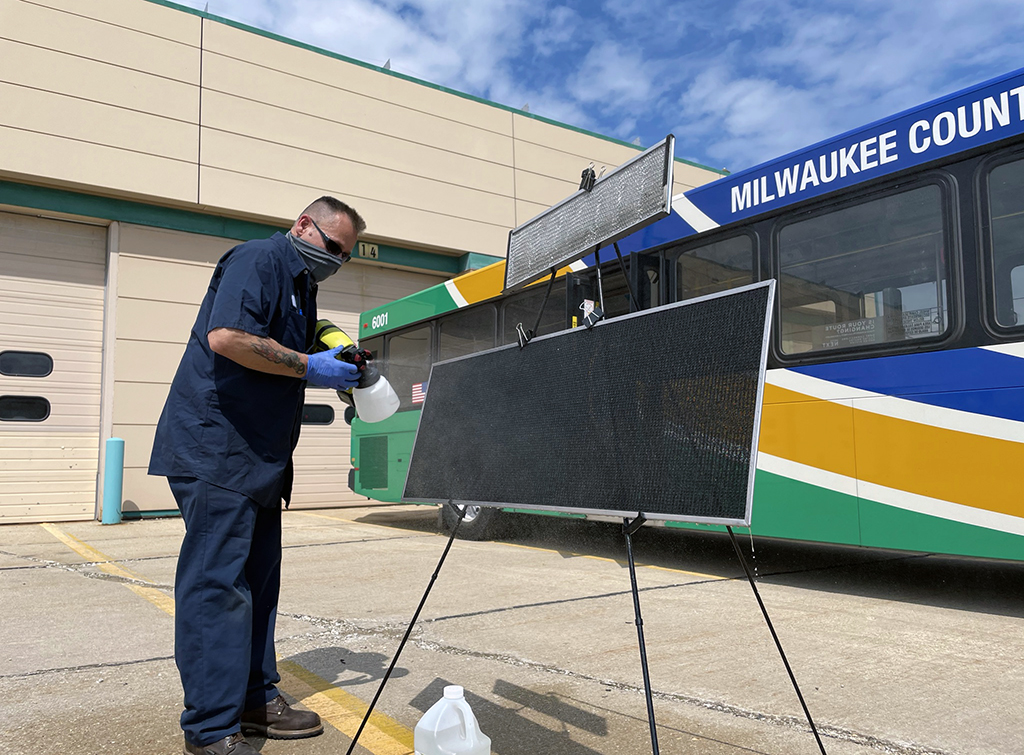 The first-of-its-kind spray coats each bus's regular HVAC filters with a specialized polymer system that is independently tested to control bacteria and pathogens that house viruses, such as SARS-CoV-2, for up to three months after a single application. The proprietary product, developed by Aeris Environmental, increases filtration efficacy without decreasing airflow or placing extra strain on vehicle ventilation systems.
"We're excited to partner with Milwaukee County on this first deployment of the Aeris COVID defense system on an American public transit system. Passengers can ride with peace of mind knowing they now receive the same protection from COVID-19 that other parts of the world have on a daily basis, after adopting this technology."
Since the start of the COVID-19 pandemic, MCTS has worked tirelessly to keep passengers and employees safe while still offering essential transit services that the community depends on.
"Throughout the pandemic, MCTS has worked to ensure that buses continue to safely serve county residents. The introduction of this innovative air filtration treatment system is just the latest tool we're using to keep our employees and riders safe. I ask all residents to continue doing their part to end the pandemic by getting vaccinated, wearing a mask in crowded settings like on public transit, and following other best health practices."
Below are reminders of current MCTS policies and procedures related to COVID-19:
A maximum of 20 passengers are permitted on each bus.
Federal regulations still require the use of masks while riding public transit, regardless of vaccination status.
MCTS has free mask and hand sanitizer dispensers available on board.
Passengers are encouraged to wash hands, cover coughs and sneezes, stay home when sick, limit unnecessary conversations and interaction, and use staggered seating when possible.
Passengers are encouraged to use contactless fare payment methods like the M-CARD and Ride MCTS app to ensure fast, touch-free experiences while boarding.
Passengers should enter the bus through the front door and exit via the rear door (unless the ramp or 'kneeling feature' of the bus is needed).
Bus drivers are positioned behind an industry-leading plexiglass shield and are supplied with masks, hand sanitizer, gloves, and sanitizing wipes to clean their workspace.
Buses go through an extra daily disinfection process using EPA-approved and CDC-recommended products in addition to the standard cleaning that vehicles receive regularly.
Each of our facilities (bus stations, garages, and administrative offices) are thoroughly cleaned regularly. Signage at all work locations offers reminders and important information.
MCTS continues to use on-board signage, audio announcements, and other communications channels to make sure passengers are aware of all relevant health-related information.
For more on MCTS's response to COVID-19, please visit RideMCTS.com/Coronavirus.
This article was originally published by Milwaukee County Transit System.