Navya Announces the Launch of a New Autonomous Shuttle Service at Saint-Quentin-en-Yvelines
First deployment project on open road with a level of service commitment
New step in the integration of autonomous shuttles into a public transport network
Navya, a leading company in autonomous driving systems, announces the deployment of a fleet of 3 Autonom® Shuttle operated by Keolis on behalf of Ile-de-France Mobilités (IDFM) within the Saint-Quentin-en-Yvelines city.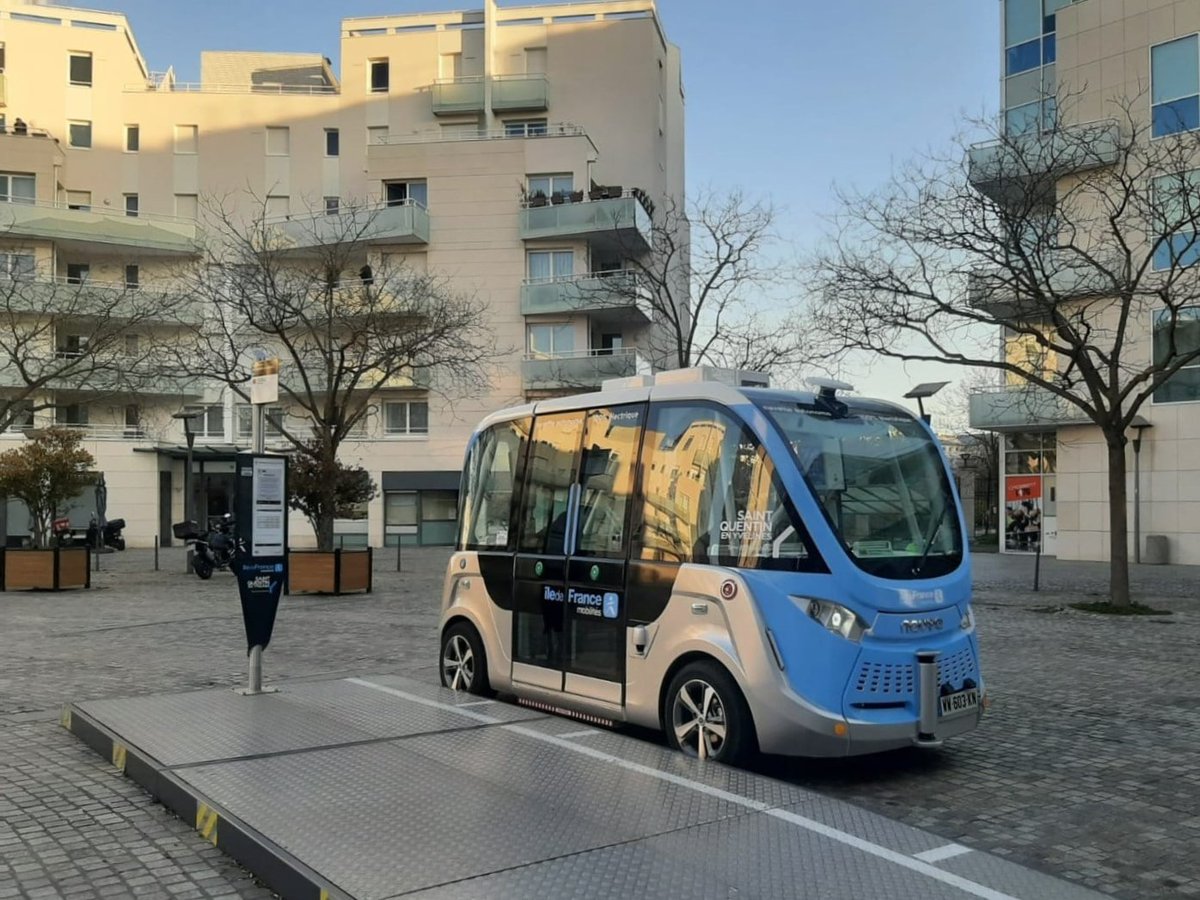 The 3 shuttles deployed run along a 1.6 km path on an open road, in complete interaction with other users. The route includes 4 stops, linking the Saint-Quentin-en-Yvelines/Montigny-le-Bretonneux train station to a suburban area that includes several firms. The shuttles run every 8 minutes during rush hour, Monday to Friday, from 7.30 am to 8 pm. They are integrated into heavy traffic. The service completes the public transport offer of the Saint-Quentin-en-Yvelines agglomeration. As part of this experiment, users benefit from free transport.
Inaugurated on March, 31st 2021, this project launched by Ile-de-France Mobilités in association with the city of Saint-Quentin-en-Yvelines is operated by Keolis and will run until at least June 2022. This is the first deployment of autonomous shuttles on public roads with a service level commitment: a further step towards a larger-scale integration of autonomous shuttles in daily public transport services. The launch of this service is a perfect response to the challenges faced by local authorities looking for innovative solutions to improve their transport services.
"I would like to thank all the partners involved in this project, which marks a new step in the integration of autonomous shuttles within an existing public transport network. Navya is proud to support Keolis on this project which perfectly illustrates the added value of an autonomous mobility service dedicated to the first/last mile. I am convinced that new experiments similar to the one in Saint-Quentin-en-Yvelines will be conducted over the coming months, redesigning tomorrow's transport models for the benefit of local authorities."
This article was originally published by Navya.