Solaris has signed a contract with Dutch operator, Hermes for the delivery of 10 Trollino 18 trolleybuses in the Netherlands.
These electric trolleybuses will operate in the Arnhem Nijmegen region, as well as in the wider province of Gelderland.
They will be delivered to Arnhem in the first half of 2024 and will be the first Solaris trolleybuses to be deployed in the Netherlands.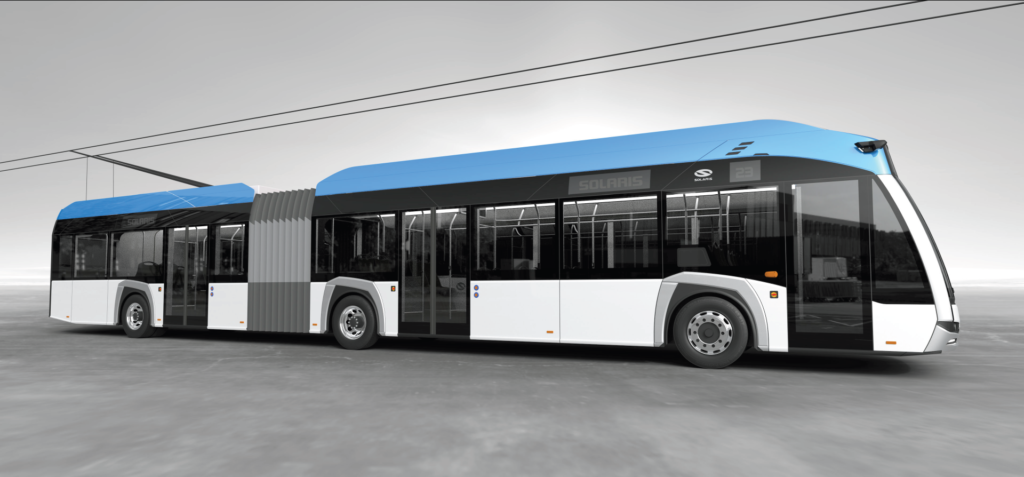 Hermes is part of the Transdev Netherlands group. It provides public transport in Arnhem, a city with over 150,000 inhabitants.
Upon delivery, the ten modern Trollino 18s will allow Hermes to expand its transport network between the University in Arnhem and the University in Wageningen.
"We are very proud that our Solaris Trollino 18 vehicles will arrive in Arnhem soon. This is the only Dutch city with an operating trolleybus system. We are therefore particularly pleased that its residents will soon be able to travel on board the most modern Solaris trolleybuses."
The new trolleybuses will be equipped with traction batteries that will enable them to drive without being connected to overhead wires. The batteries will be charged using the In-Motion-Charging system while travelling on electrified sections of the route.
The spacious, air-conditioned trolleybuses will also feature Solaris's Mobileye Shield+ system, which uses sound and visual alerts to warn the driver of any objects detected in the vehicle's blind spot. By replacing side mirrors with cameras, the new buses also offer enhanced driver visibility.
"We are very much looking forward to the next chapter in our collaboration with Solaris. Our goal is to provide the residents of the Netherlands with the most comfortable, state-of-the-art, and environmentally-friendly solutions for public transport. We are absolutely certain that Solaris Trollino 18 trolleybuses are just such a choice."