Major Renovation Begins at Historic Paterson Bus Garage
Built in 1903, the Market Street Garage Services 150 Buses in North Jersey
NJ TRANSIT has begun an extensive renovation and expansion project at the Market Street Bus Garage in Paterson, a nearly 120-year-old facility that serves as a major service hub for the agency's Northern Division.  NJ TRANSIT has issued the notice to proceed to the contractor to begin the work.
"Our Market Street garage is older than the New York City subway system, and this rehabilitation will allow us to better maintain buses and serve our customers. This project represents one component of our larger Bus Garage Replacement Program which, when fully funded, will enable us to store larger buses to accommodate future ridership growth, improve reliability and accelerate our transition to a 100 percent zero-emission bus fleet."
The ridership served by buses operating out of the facility is projected to expand significantly in the coming years. To accommodate this anticipated increase, the project includes a 3,200-square-foot addition as well as a number of major renovations, including a new slab floor in the main area of the facility; the installation of an elevator; various mechanical, electrical and plumbing upgrades; upgrades to the subsurface monitoring system; upgrades to safety systems; and repairs to the brickwork façade.
Last year, the Board of Directors of NJ TRANSIT awarded the main contract to DMR Construction Services of Waldwick, New Jersey, for $18.3 million, plus 10 percent for contingencies. This was the lowest of the five bids submitted. Also in 2020, the Board awarded a $2.8 million contract, plus a five percent contingency fund, for construction management services to AEOCM Tishman.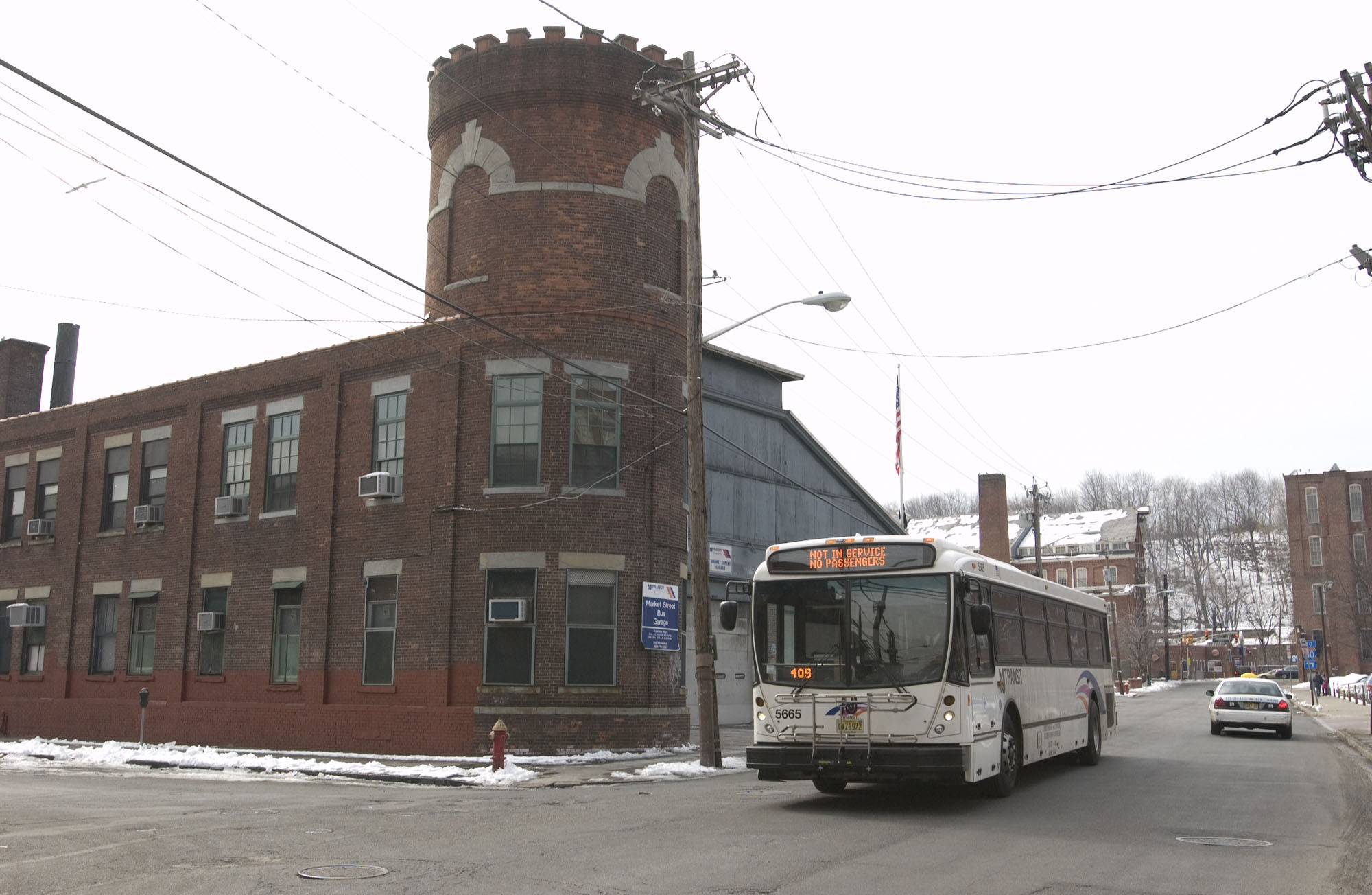 Located in the city's Old Great Falls Historic District, construction of the Market Street garage was completed in 1903, initially serving as a storage and service area for trolley cars. Today, the garage houses 150 NJ TRANSIT buses making nearly 1,800 trips weekly with a pre-COVID ridership of 9.9 million annual passenger trips. Repairs, maintenance and other servicing operations for buses operating in North Jersey are also performed at the Market Street garage.
In honor of the facility's historic legacy and vital, ongoing role within the region's transportation network, the project will also fund the installation of various artworks:
A mural by Tim Gaydos on the exterior garage façade/barn wall
Works by Alastair R. Noble and Kathy Bruce on the stair risers and exterior fence railing
A ceramic mural at the interior elevator area by Katherine Hackl
Mosaic flooring by Anne Oshman
Two paintings by Maria Mijares in the ticket office area
The total cost for the renovation and expansion is estimated at approximately $27.3 million, which will be funded by the New Jersey Transportation Trust Fund and the Federal Transit Administration (FTA).
The project is tentatively scheduled to be completed by late 2023.
This article was originally published by NJ TRANSIT.