RTC Southern Nevada Partners with Transit App to Provide Real-Time Crowding Information
The Regional Transportation Commission of Southern Nevada (RTC) has partnered with Transit to provide customers with real-time crowding information directly via the Transit app. This new feature helps riders make informed decisions about trip planning and social distancing.
"As we continue to navigate through this pandemic, we are operating our transit vehicles at a 50-percent capacity to allow riders to practice safe social distancing. We've made this safety commitment to our passengers, and we are taking that commitment a step further by providing our riders with valuable real-time information so they can make educated decisions about how and when to travel."
When users tap their route line in the Transit app, they see a map showing the live locations of transit vehicles along their route. The vehicle icon displays the last update of the vehicle's location but also its current crowding level listed as "Many seats," "Some seats," or "Very limited seats."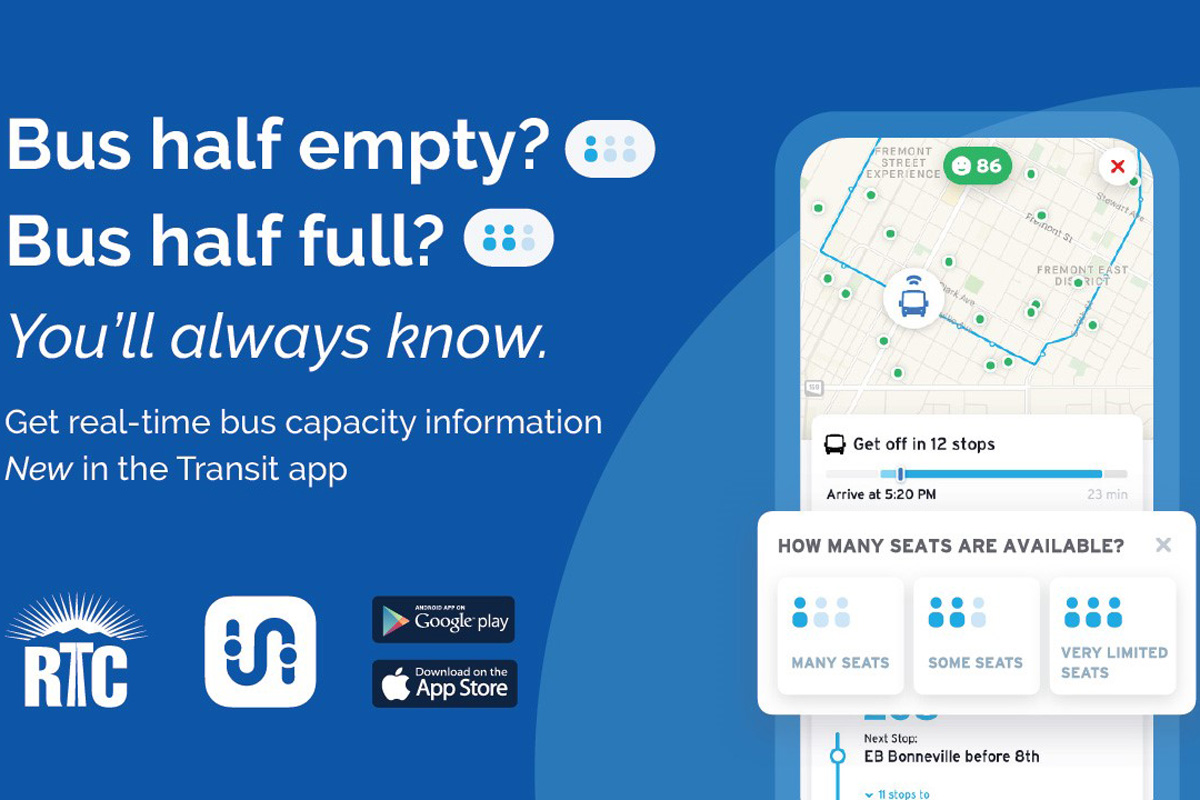 Crowding levels are calculated using the RTC's current onboard capacity restrictions for COVID-19, providing riders with access to an accurate indication of crowding on a given bus. When a vehicle is below 50 percent of the COVID-19 capacity, it is classified in the app as "Many seats." Vehicles between 50 and 90 percent of the COVID-19 capacity appear as having "Some seats," and buses above 90 percent of the COVID-19 capacity are shown as "Very limited seats." These levels reflect the latest guidance to ensure that riders can maintain physical distancing onboard.
"This kind of information is a huge step in helping riders feel confident getting on the bus. And not just during the pandemic: it also makes a big difference if you use a wheelchair, you're carrying big luggage or you just want to feel more comfortable. Even after the pandemic, crowding information is sure to benefit RTC customers. It's been great to partner with an agency like the RTC that's taking the lead on improving the rider experience."
Riders can also share how crowded they perceive the bus to be by using Transit's "GO" step-by-step navigator. These crowdsourced reports, when compared against passenger count data from the RTC, provide important insights into how customers are feeling about crowding levels onboard.
This article was originally published by the Regional Transportation Commission of Southern Nevada.