Sargeants Brothers Upgrades Fleet to Ticketer Contactless Technology
Continuing in their modernisation programme, Sargeants Brothers, of Kington, Herefordshire, has introduced contactless payment technology, using Ticketer Electronic Ticket Machines (ETMs) across the whole fleet, to further enhance their passenger offering.
Managing Director of Sargeants Brothers, Matt Evans, said:
"We are delighted to have contactless payments available across our fleet. This is great news for passengers who want to be able to turn up and pay quickly and easily. It is the latest upgrade in our modernisation programme that now sees us operating one of the youngest fleets in Herefordshire."
The Challenge
Sargeants Brothers contacted Ticketer and explained that they had rolled out a package of business improvements across quarter four of 2020 (despite COVID) and that they were keen to have a contactless payment offering for customers in early 2021.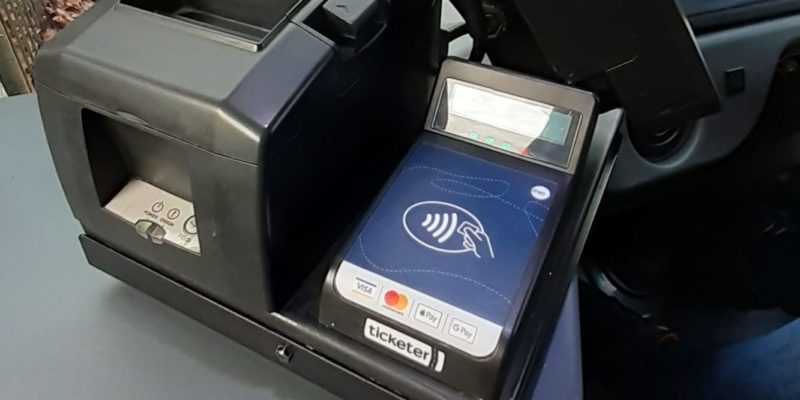 The Outcome
Working with Ticketer and Littlepay, Sargeants Brothers were able to move very quickly and managed to pull all the pieces together across October and November, leading to successful end to end testing in December. Sargeants have a superb team of drivers who really understand customers' needs and contactless has brought excitement amongst the team as they believe that combined with the new fleet and improved customer comms, it will prove a tempting offer for customers, both existing and new. They predict contactless transactions could form a 30% migration to cashless ticketing sales, and with the lasting effects of the pandemic, this could be even higher.
Transport Manager for Sargeants Brothers, Jason Bush, said:
"We were really keen to roll contactless out at pace. Ticketer totally stepped up for us."
Background
Sargeants Brothers fleet underwent a renewal programme in early 2020 which saw the introduction of modern low floor Optare vehicles which brought the average age down to 6 years and brought the Sargeants Brothers brand into the 21st century, while maintaining the values of a family-run business. When Sargeants set out on the improvement journey, they asked their staff what they would like to see. The fleet piece was well under way and very well received and Sargeants already had Ticketer ETMs in use, so the business felt that contactless was a natural progression. A modern fleet should have a modern ticketing solution.
Our Approach
Upgrading to Ticketer EMV capable ETMs and onboarding Littlepay's payment processing platform, Sargeants Brothers and Ticketer worked together in partnership to ensure that the upgrade was rolled out across the fleet within a short timescale, all the while ensuring that current Covid restrictions and safety guidelines were not only met, but exceeded.
Bush, continued:
"Our current Ticket machines have been well supported by Ticketer, so when we came to upgrade to contactless and having seen successful contactless rollouts with other operators it felt like obvious choice. The fact that the Ticketer team delivered the project in our compressed time frame truly exceeded our expectations."
What Ticketer Means for Sargeants Brothers
Enhanced passenger experience – By offering contactless payments, passengers now have more convenient ways of paying for travel. Once bus travel returns to normal, Sargeants are confident that passengers will embrace the benefits.
Faster boarding times – Passengers will be able to board quicker, reducing queues at bus stops and enabling Sargeants services to operate more efficiently.
Freeing up office staff resource – The reduced cash volume will free up office staff resource (currently they count and bank cash daily), thus allowing for their time to be directed to other areas of the business.
This article was originally published by Ticketer.