Transdev is inaugurating 406 new electric buses in the city of Bogotá, Colombia, adding to the largest electric bus fleet in Latin America.
The 406 new electric buses will be operated by Fanalca-Transdev through the Green Móvil subsidiary to advance the city's energy transition alongside its existing fleet of 1,061 electric buses.
The new fleet is being gradually phased in throughout April, and consists of 271 buses with a capacity of 50 passengers, and 135 buses that can carry up to 80 passengers. The 406 electric buses will serve 14 different routes in the neighbourhoods of Fontibón, Usme, Ciudad Bolívar, Usaquén, San Cristóbal, Chapinero, Teusaquillo and Kennedy.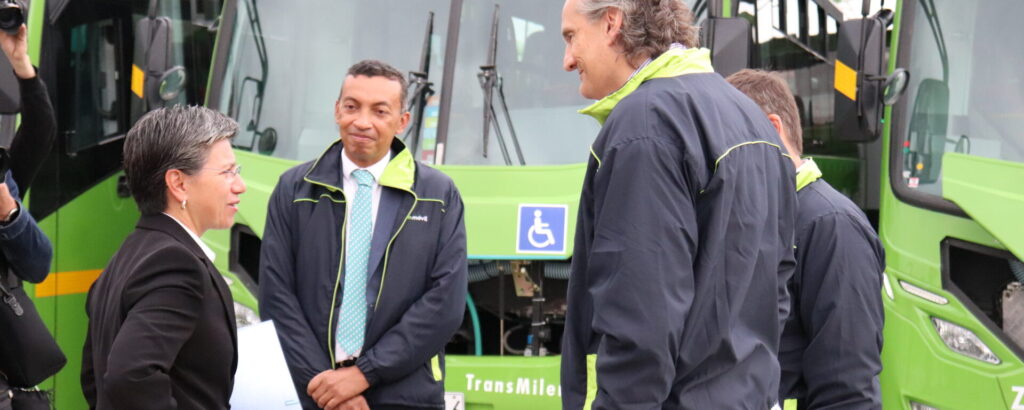 "Perhaps the best way to honour the memory of our children, those in heaven and those here, is to continue working for the City of Bogotá that they deserve. A clean, green, sustainable, inclusive Bogotá, a Bogotá that gets better every day for everyone."
The 406 electric buses will reduce 6.5 tons of fine particles and 17,000 tons of CO2 emissions in Bogotá. When the entire fleet of 1,485 electric buses is in service, 94,300 tons of CO2 will be reduced each year.
The new vehicles are equipped with on-board cameras, USB ports, GPS, information panels, speakers and microphones that communicate with the control centre. They will also have wheelchair-accessible platforms, start and hill climbing assistance, rapid energy recharging and automatic fire control.
"The continued integration of the electric fleet into Bogota's transportation system reinforces our goal of improving service to users, our purpose. We will be able to increase frequencies, reduce noise, improve air quality for passengers and the community in general. We are putting the best technology currently available in the market at the service of citizens."
To support the expanded fleet of electric buses, a 40,000m² bus depot has been built next to Bogotá International Airport. The facility has an electrical power output of 20 megawatts and is the largest bus transportation depot in the world outside of China.