TransLink has committed to equipping 8,400 Metro Vancouver bus stops with braille signage to assist blind and partially sighted passengers.
Installation for the braille signage began on 16 December 2021 and is expected to be complete by the end of 2022.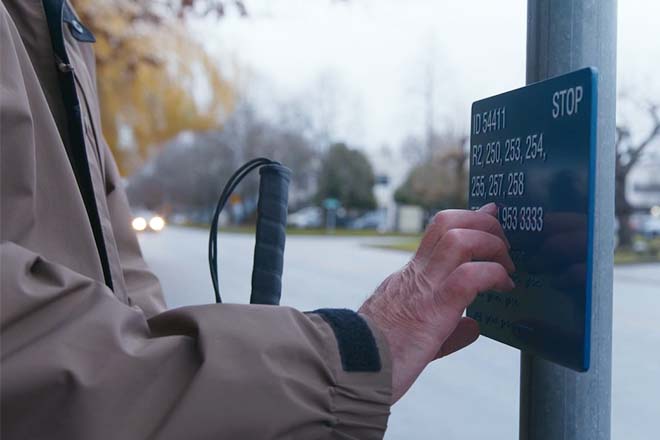 The move is intended to help the blind and partially sighted differentiate a bus stop from other city poles and identify which buses stop there. Once installed, TransLink will be the first transit system in Canada to have installed braille signage across its entire bus system.
Furthermore, tactile walking surface indicators will also be installed at every bus stop on land that TransLink owns or leases. The mounted indicators will notify customers of the bus stop, and will also assist with directing them to the entrance of the bus. These developments will improve the passenger experience by helping customers navigate the transit system confidently and independently.
"These braille signs and walking surface indicators will help so many people in the community more independently navigate our transit system. Accessibility is imperative to a quality transit system, and I am very proud of this major step forward for our customers who are blind or partially sighted."
The braille bus stop signs will contain information written in both Unified English Braille and raised tactile letters. As well as containing a bay or bus stop indicator, the signs will include the bus stop ID number, the stop's bus routes, and a customer information phone number. Blind and partially sighted customers will therefore be aware of which stop they are waiting at and which bus they are waiting for.
"The installation of these signs providing transit information in both braille and tactile letter formats is demonstrative of TransLink and Coast Mountain Bus Company's commitment to providing accessible transit in Metro Vancouver. Tactile signage affixed to a bus stop ID pole will allow those of us with sight loss to accurately distinguish an ID pole from a municipal parking regulation pole and will provide us with the transit information that is readily available to sighted transit users. This will be a major contributor to our ability to travel with confidence anywhere throughout the entire Metro Vancouver area."
As part of TransLink's goal of being one of the most accessible transit providers globally, the company has also been installing real-time text-to-audio bus technology at its stops. Indeed, real-time text-to-audio information is available at every RapidBus stop throughout the region and at every UBC Exchange stop.