In the year 2019/20, a mere 2% of England's 32,300 local buses were electric (4% in London, 1% in the rest of the country) – that's roughly 640 buses in the country.
84% were diesel, 14% were diesel-hybrid and 1% was methane/biomethane. Clearly, there is a huge amount of work to be done to decarbonise buses to meet important climate change targets.
For context, currently, 3% of transport greenhouse gas emissions in the UK are produced by buses and coaches.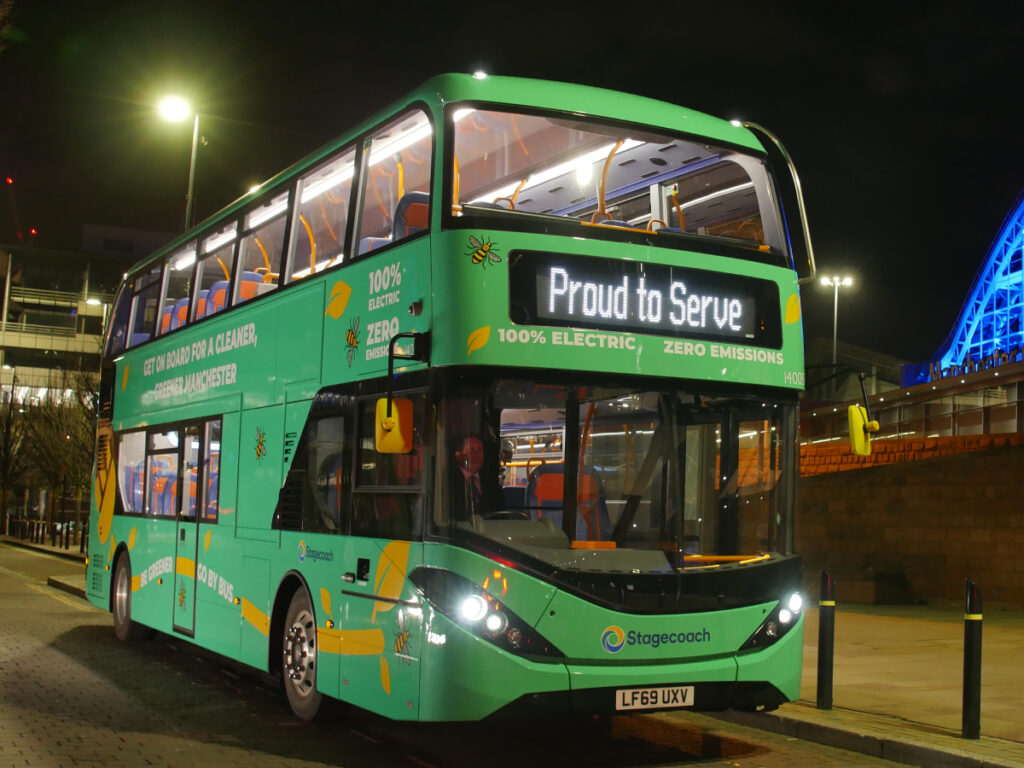 Bus Back Better
Positively, as stated in the 'Bus Back Better' strategy, "Buses are the easiest, cheapest and quickest way to improve transport. Building a new railway or road takes years, if not decades. Better bus services can be delivered in months. Experience shows that relatively small sums of money, by the standards of transport spending, can deliver significant benefits."
Also in its Bus Back Better strategy, the government laid out its five principles that would underpin its roadmap to a zero-emission fleet, which were:
We will consider all technologies fairly, assessing their cost, contribution to decarbonisation and utility
We will provide the financial support and incentives needed for the market to scale up quickly
We will take a place-based approach to investment wherever appropriate
Both operators and LTAs must play their part
We will ensure our plans for buses lead to overall carbon reductions
With regards to the first principle, the government's ambition is for the fuel being used to be green – with 'carbon-free' fuel being used in the future and for zero-emission vehicles to take precedence over low and ultra-low-emission vehicles.
With regards to the second principle, the government said it recognised the high upfront capital costs of both vehicles and energy infrastructure, which could be a barrier to making a transition to greener options. Consequently, it said that as a first step it would invest 120 million GBP in zero-emission buses in 2021/22 in addition to 50 million GBP from 2020/21 to deliver the first all-electric bus town or city.
ZEBRA Scheme
The 120 million GBP in funding will be allocated under the UK government's ZEBRA scheme – the zero emissions bus regional areas scheme.
It will provide funding for local transport authorities outside of London to assist with the introduction of zero-emission buses and the associated infrastructure. It aims to bring together "LTAs, bus operators, energy companies and other stakeholders to develop financial and commercial models of delivering zero emission buses at scale, with government and non-government funding".
Phase 1 – now concluded – involved local authorities submitting their applications, phase 2 – currently ongoing – will see the shortlisted authorities develop their business cases, after which the most successful ones will be allocated funding.
There was a fast-track and a standard process through which LTAs could apply and in July the government announced 23 shortlisted authorities, triggering the start of phase 2.
All-Electric Bus City
In January, the Department for Transport announced that Coventry and Oxford were set to become the UK's first all-electric bus cities. The two cities developed proposals to receive up to 50 million GBP to replace their entire fleet of buses with all-electric ones and to install new infrastructure and pay for electric grid updates.
In the case of Coventry, the city said it had been awarded the full 50 million GBP to fund 297 all-electric buses, which would be on its streets by 2025. The funding became available in April. Local bus operators will contribute a further 75 million GBP into the new electric buses.
Oxford and Coventry were the two successful cities among a total of 19 bids.
A Look at London
With 51% of all local bus journeys in England taking place in London (2019/20 figures), what is the situation like in the capital with regards to electric buses?
The London Buses fleet comprises a total of 9,068 buses of which 485 are electric – 268 single deck and 217 double deck – and two are hydrogen buses. 40% of the fleet are hybrid buses. The first electric buses – six in total – entered service in 2014. 2020 was the first year that more electric buses than diesel buses entered passenger service and 2021 marks the first year that no diesel buses have entered service. However, the purely diesel London Buses fleet is 4,697 – almost 52% of the entire fleet.
The Future
The UK government is currently consulting on ending the sale of new diesel buses in order to achieve net zero by 2050. To compare, the phase-out date to end the sale of petrol and diesel cars and vans is 2030. However, the government says that a "key factor will be ensuring these ambitions do not make bus services more expensive to operate overall, otherwise fares will rise or services will be cut – potentially leading to greater overall carbon emissions as more journeys are made by car".
No date has yet been set, but in November of this year the UK will host the United Nations' annual climate change conference, COP26, which will throw a spotlight on how the UK is tackling climate change, including in transport.