UK coach operator, National Express is trialling mirrorless coaches to enhance the safety of its services.
A new Caetano Levante IIIA model has become the first National Express coach to use Orlaco's Mirroreye camera monitoring system (CMS) instead of conventional wing mirrors.
The CMS will help improve visibility around the coach by removing blindspots and providing improved night vision.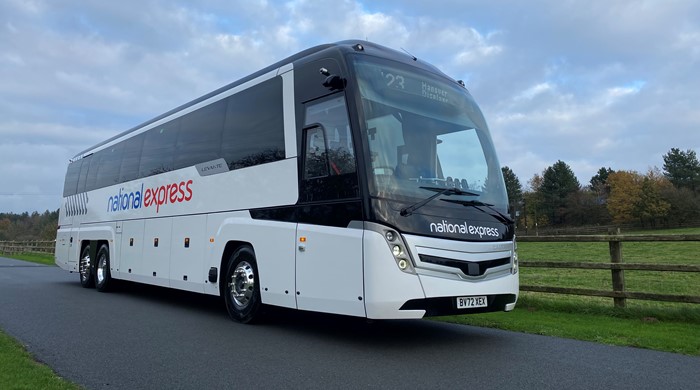 The system consists of two internal monitors and two external cameras mounted in the place of standard wing mirrors.
A third camera, called the 'kerbside' view, will also soon be available to provide a direct view of the front of the vehicle.
Alongside enhancing safety, the removal of wing mirrors aims to reduce the risk of minor collisions and help improve fuel efficiency due the vehicle's aerodynamic design.
In addition, the Levante IIIA also features e-driver alerts to notify drivers of potential hazards.
"The new Levante IIIA represents a step forward in the vehicle's design. It takes driver technology to the next level by increasing the number of safety features and keeping our passengers and other road users front of mind.
"Working closely with Caetano, the majority of the latest changes implemented have stemmed from feedback from our drivers and engineers. In addition to improved visibility for drivers, the mirrorless coaches will also deliver significant fuel savings. We're looking forward to getting the Levante IIIA out on the road and gaining as much insight as we can."
Within the next few months, National Express will have two Levante IIIA vehicles on trial with partner operators Clarkes of London and Bruce's Coaches. These vehicles will operate on a range of short, medium and long-distance routes.
Throughout the trial, the operator will review driver feedback and make any necessary improvements before the vehicles are rolled out across its fleet from Spring 2023.