National Express has announced that 50 electric double-decker buses have entered service in Coventry, advancing the city's mission to become the UK's first all-electric bus city by 2025.
This 150 million GBP project is led by Transport for West Midlands (TfWM) and Coventry City Council, who have secured 50 million GBP in Department for Transport (DfT) funding to develop charging infrastructure and help bus operators upgrade their fleets.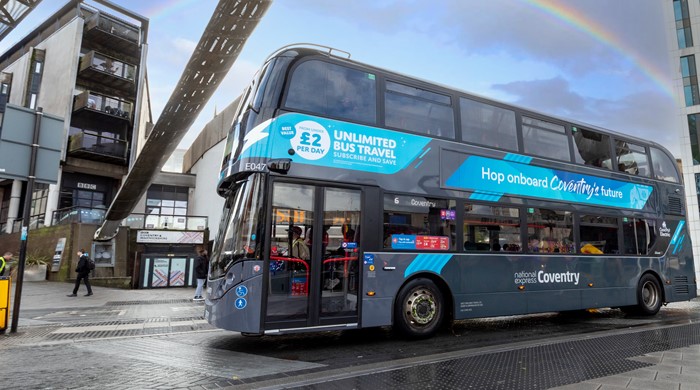 "Local people are now starting to see these wonderful buses on the streets of Coventry - offering them a quieter, smoother and more comfortable journey.
"As we seek to tackle the climate emergency and maintain our #WM2041 net zero commitment, these British made buses are saving energy, cutting fuel costs for operators and improving our air quality.
"I cannot wait to see even more electric buses arriving in the next few years as Coventry becomes a truly all-electric bus city."
National Express has invested 60 million GBP in this transition. Over a third of its Coventry fleet is now electric, while another 80 vehicles are set to arrive in early 2023 as part of an order for 130 BYD ADL Enviro400EV double-decker electric buses.
This rollout is supported by Zenobē's Electric Transport-as-a-Service (ETaaS) solution, which includes on-board replacement batteries, the charging and grid infrastructure system at the depot, and a software platform which helps monitor and optimise energy use.
The buses will be powered by renewable energy from solar panels that is stored in a second-life battery installed at the depot.
The vehicles take four hours to charge and can run for up to 280 kilometres on a single charge.
"Our vision is to become the UK's most sustainable bus and coach company and it's been great to see this month's COP27 putting a real focus on how businesses can play their part in addressing climate change.
"More people using public transport has significant benefits for society including safer roads, increased access to opportunities, reduced congestion, improved air quality and more space in our cities.
"We're proud and excited to be leading the way in making Coventry all-electric and are actively recruiting new drivers to join us in the green revolution."
Upgrading to an all-electric bus fleet is part of TfWM's plans to become a net-zero carbon region within the next two decades. The West Midlands Combined Authority (WMCA) is thus investing in a range of transport options, such as the Coventry Very Light Rail Project to help achieve its #WM2041 target.