The Montgomery County Department of Transportation (MCDOT) has cut the ribbon on the Brookville Smart Energy Depot in Silver Spring, marking the completion of the largest solar bus charging infrastructure project in the US.
This facility will supply clean energy to MCDOT's growing Ride On electric bus fleet.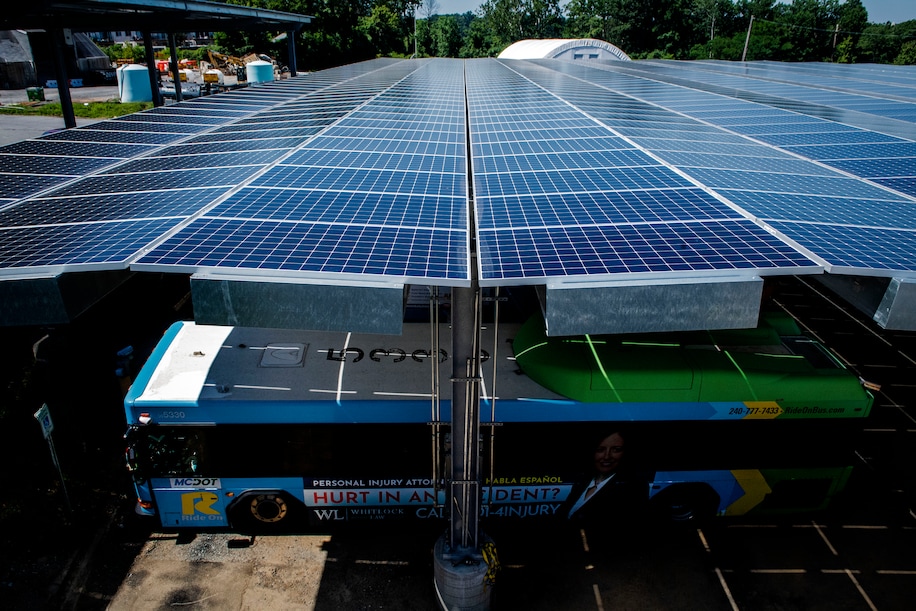 The project was completed through a partnership between the County's Department of General Services (DGS) and AlphaStruxure, an Energy as a Service (EaaS) provider.
"This project has been garnering attention nationally because it is innovative, groundbreaking, and will help us achieve our ambitious climate action plan to reduce all carbon emissions by 2035. We are the third nationally to have solar-powered charging stations for our buses and we are the largest so far. We should be able to fill these charging stations with 70 electric buses by 2026. We have already got a good start of 14 and expect to order another 30 or so next year for a total of about 44 buses."
The facility includes solar panels, charging stations, onsite battery storage and backup generation which have been installed an existing MCDOT Ride On bus depot.
The microgrid will provide enough renewable energy to charge up to 70 electric buses by 2026. This transition from diesel vehicles is expected to reduce MCDOT's lifetime emissions by 62 percent.
"This project will provide the needed infrastructure for a good number of our electric buses, but we know we have a lot more to build to support our goal of a zero-emission fleet by 2035. We have a bus transition plan that we have developed as a living document so that it can adjust for new technology as it becomes available. We are anticipating that we will require a diversified fleet to meet our goals of replacing our current 400-bus fleet. To cover our longer routes, allow for charging, and the demands of increased service levels over time, we will need more than 400 zero-emission buses offering varied service benefits, but I am optimistic. We are off to a great start with Brookville, and we are ahead of the game nationally."