NEXCOM: VTC 1030 and nROK 1030 Fanless Box PCs for Vehicle Fleets and Rolling Stock
Fast wireless communication is the new kid on the block, driving technological advancements for buses and railways. The rise of 5G NR for high-speed, long-distance connectivity, and Wi-Fi 6E for super-fast local connections, is prompting vehicle operators to find a quick and easy way to integrate these new technologies into their buses and trains, and leverage IoT in their operations. The E-Mark certified VTC 1030 for vehicles and EN50155 EN45545-2 certified nROK 1030 for communication and control in rolling stock bring the power of the latest Intel Atom® x6211E processor, 5G NR, and Wi-Fi 6 connectivity to buses and railways, with a compact fanless design which fits the limited space in vehicles without compromising on features.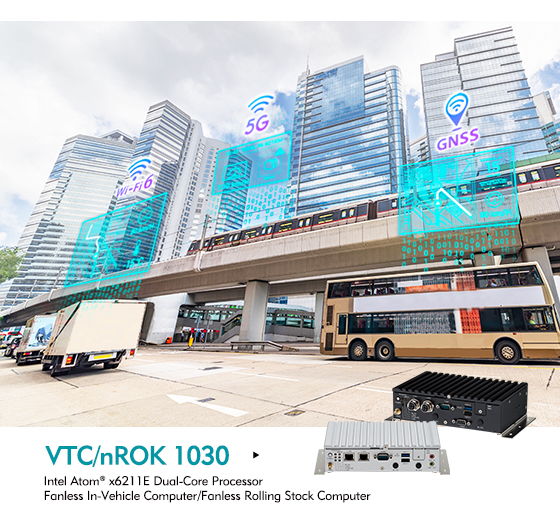 Dual Displays and Powerful Processor
The VTC 1030 and nROK 1030 fanless in-vehicle/rolling stock computers feature the Intel Atom® x6211E 1.3GHz/3GHz dual-core processor with 6W low power consumption and provide one SO-DIMM DDR4 slot with 4GB of memory as standard (optional up to 32GB). Storage options include one 2.5" SATA III slot and one mini-PCIe slot for mSATA. These models are compact, with the VTC 1030 and nROK 1030 measuring 185 x 120 x 45 mm and 185 x 120 x 50 mm respectively, and they support two external displays (VGA & HDMI). Native 2.5GbE LAN (lockable M12 X-coded plug interface for nROK 1030) is also a great plus because it provides rock-solid connections for IP cameras useful in AI-enhanced applications.
High-Speed Wireless Connection for Wireless Communication Hub
The proliferation of high-speed wireless technologies is allowing operators to ditch more cables and simplify their system layouts, with 5G NR providing long-distance mobile connections and Wi-Fi 6E allowing fast local networking. Together, these technologies deliver the fast speed, high density, and low latency needed to provide a high-speed communications hub for passenger entertainment and transportation.
5G Sub-6 modules from SIMCom, Quectel, Thales, Sierra, and Telit offer a theoretical access speed of up to 10Gbps. Wi-Fi 6/6E (802.11ax) 2.4/5/6 GHz modules provide options for client mode, small-scale hotspot capabilities, and full Wi-Fi router functionality for hundreds of simultaneous connections.
Smart Vehicle Applications
As more vehicles expand their electronic capabilities, they are now employing the power provided by vehicle positioning and internet connectivity. Vehicle diagnostics have become commonplace over the last two decades through interfaces like OBD-II, and now that data can be funneled into adaptable computer systems in smart buses and for fleet management.
Smart buses and trains use connectivity for onboard entertainment, hotspots, bus and train stop information, advertisements, and public announcements. Tapping into the vehicle I/O allows tracking of driving speed, driver actions, and the vehicle's current condition. Other capabilities include passenger counting, door sensors, emergency buttons, and LED displays. The built-in GNSS module provides current location data to track the latest estimated arrival time and enable route monitoring for buses, while helping freight management and operation systems and tracking on trains.
Fleet management uses connectivity for wireless communication, task assignment, and checking. Current location data tracks the estimated delivery time of packages and enables route monitoring. It is especially beneficial for cold chain logistics, where the monitoring of refrigeration controls ensures that deliveries are fresh.
Optimal Solutions for In-Vehicle and Rolling Stock Applications
The VTC 1030 and nROK 1030 are the complete solutions for fully-connected buses, trucks, and trains, delivering the feature sets required for implementing the most commonly used functions for the large-scale management of vehicle assets.
nROK 1030 Main Features:
CPU: Intel Atom® x6211E dual-core processor, 1.3GHz/3GHz (burst), TDP 6W
Memory: 1 x 260-pin DDR4 SO-DIMM socket support 3200MHz up to 32GB default 2666MHz, 4GB
Storage: 1 x 2.5" SATA 3.0 internal drive bay (9.5mm)
Second Storage: 1 x mSATA slot (occupied mini-PCIe slot)
Video Out: 1 x HDMI 1.4b up to 3840 x 2160@30Hz / 1 x VGA port 1920 x 1200@60Hz
Ethernet: 2 x Intel® 10/100/1000/2500
mini-PCIe Socket: 1 x (USB 2.0, PCIe 3.0/SATA 3.0)
M.2 Socket: 1 x M.2 2230 Key E socket (USB 2.0, PCIe 3.0 x2) / 1 x M.2 3042/3050/3052 Key B socket (USB 2.0, USB 3.2 Gen 2)
SIM Socket: 2 (eSIM, BOM optional)
WWAN: 1
GNSS: U-blox NEO-M9N GNSS module
Power Input: DC 9V to 36V
Certifications: CE, UKCA, FCC Class A, E13
This article was originally published by NEXCOM International Co., Ltd..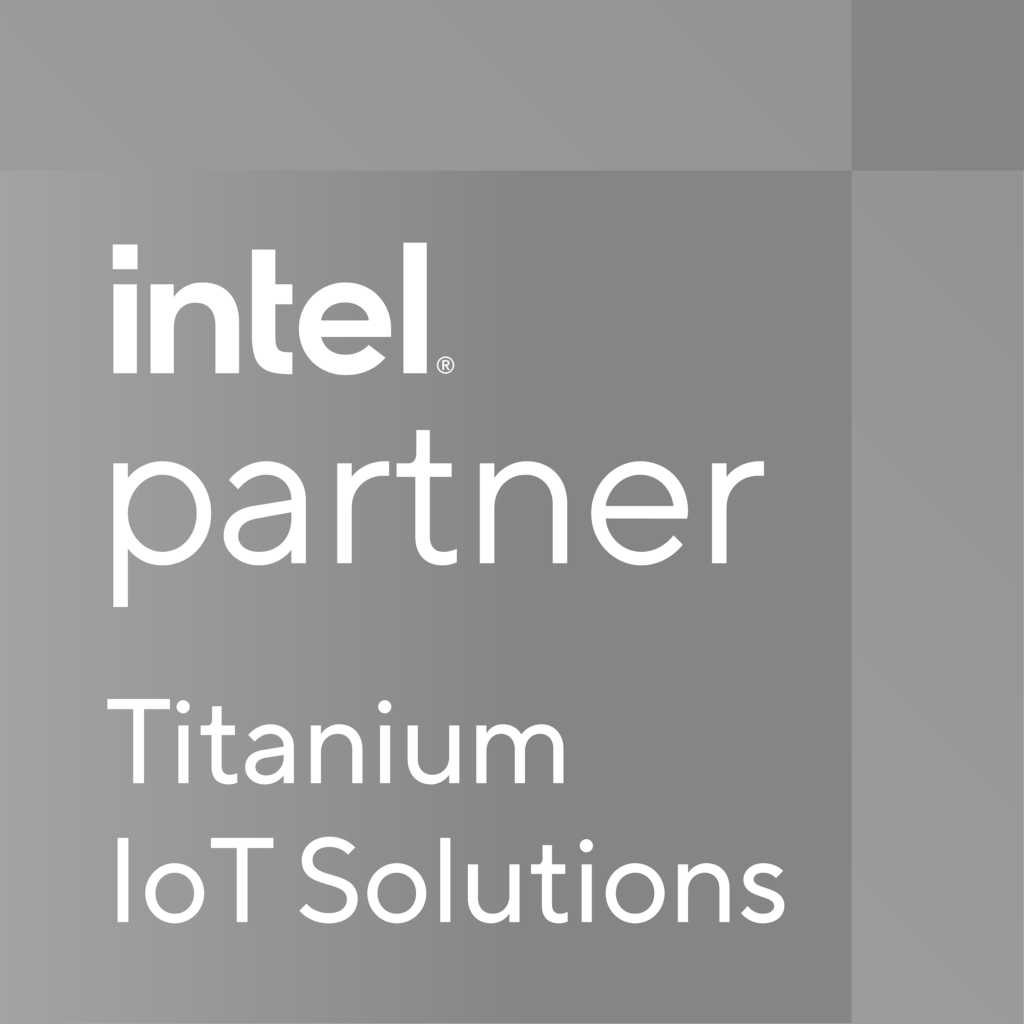 NEXCOM is a Titanium member of the Intel® Partner Alliance, as a top tier of the Alliance. Intel and more than 500 global IoT partners of the Intel® Partner Alliance provide scalable, interoperable Intel® -based technologies and solutions that accelerate deployment of intelligent devices and end-to-end analytics. Close collaboration with Intel and each other enables Alliance members to innovate with the latest technologies, helping developers deliver first in-market solutions.