Ticketer and Padam Mobility, together with Landor Links, have kicked off the three-part masterclass series to share current thinking about the potential for Demand-Responsive Transport (DRT) in Bus Service Improvement Plans (BSIPs) across the UK.
The three-part masterclass series was launched mid-January by Padam Mobility in partnership with Landor Links. The aim of each of the engaging one-hour discussions is to draw out expertise on the integration of DRT into a  user-friendly, effective public transport service.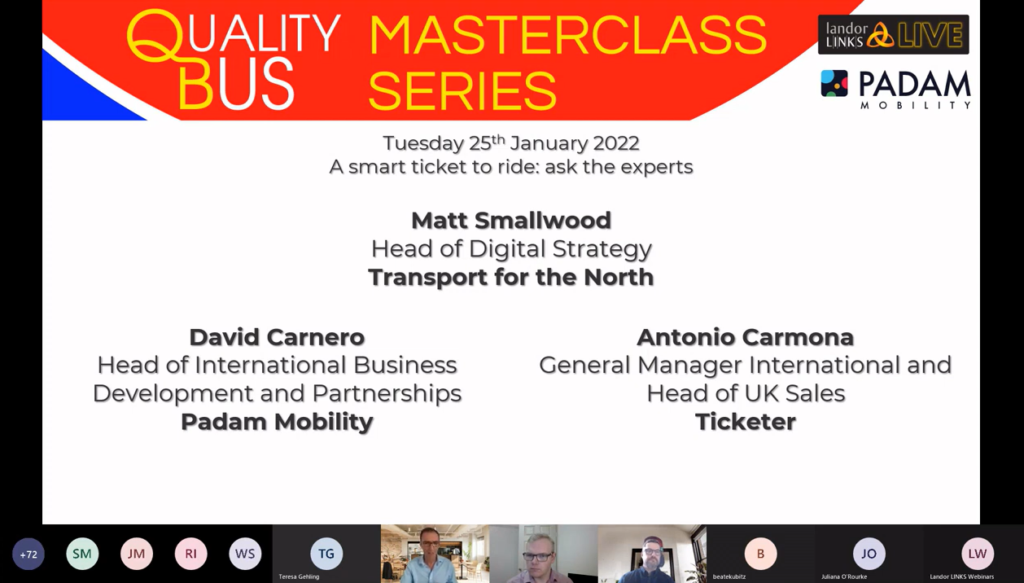 In the first Masterclass, Antonio Carmona, General Manager International and Head of UK Sales at Ticketer, and David Carnero, Head of International Business Development and Partnerships at Padam Mobility, together with chair Matt Smallwood, Head of Digital Strategy, Transport for the North, talked about why – and how –  transport operators and public transport authorities should tackle the core problem of integrated ticketing. Below is a small excerpt of the questions and topics discussed during the webinar. The full video can be found on YouTube.
"Integrated Ticketing is key, is one of the main areas that you need to work on to remove those barriers to access the system."
From the start, Antonio Carmona stressed the importance of a seamless payment and ticketing system to encourage people to switch to public transport. Combine with other measures – such as proximity of services, on-demand rides and pricing – it is essential for creating public transport that is more attractive and more used than private cars.
But How Can Public Transport Authorities and Operators Be Convinced That an On-Demand Service Can Enrich the Public Mobility Offer in a Given Region?
It's important to see DRT as a service improvement, according to David Carnero, rather than viewing it primarily as a profit-making business model. The overriding goal of on-demand transport is perfect integration into the existing infrastructure rather than competing with it – even if there are DRT services that are significantly more lucrative than maintaining fixed bus routes. DRT then has the potential to serve, for example, the first and last mile between the homes and larger transport hubs. People are thus offered a real alternative to their own car, without the DRT service competing with, but rather complementing, the existing public transport network.
"It's about not competing with structural – fixed-line – transport, it's about 'adding to' or giving more flexibility to the structural transport. To do this it has to have simple fares and integrated ticketing."
Data Sharing Is an Obstacle to an Integrated Ticketing System
It's clear that seamless travel – without tedious questions like "Which ticket do I need for which mode of transport?" or "Where can I buy my next ticket?" – is desirable. But why is it that the public transport offer in the UK resembles more of a patchwork quilt, and trips from A to B in many cases require more than just a single ticket?
"In every beginning of integration processes, you will see challenges about sharing data, but in the end, once you have proven to the different operators that there is a benefit to them in participating in the system and sharing some data that is relevant, then those frictions will probably disappear. It is not a technical problem, lots of data is available. (The challenges are) more related to the agreements that are in place."
One Ticket – Many Payment Options?
Transport-on-demand services are currently exceptional in most regions of the UK. People may have become accustomed to a neighbourhood service that they order over the phone. However, the technical booking options via app or website tend to deter older users in particular. Similarly, when it comes to the question of payment options. There are people who refuse to pay via an app or prepay card and prefer to pay in cash directly in the vehicle. Are these users going to be excluded from the 'new' transport services sooner or later?
The simple answer is 'no'. DRT services, as offered by Padam Mobility, are public services and do not exclude any user group. Providers need to ensure that people can use the service in the easiest way for them, for example, by ensuring that cash payment remains possible on board in addition to the booking option by telephone or online. Only then can it be guaranteed that the services remain inclusive.
How Can the Step Towards More 'On-Demand' Succeed?
One aspect, in particular, becomes clear during the discussion: the answers are there. DRT as a real enrichment of a region's mobility offer does not have to remain a pipe dream, but can be successfully established with a well-thought-out approach.
Nevertheless, at the moment, just before the launch of the Enhanced Partnerships within the Bus Service Improvement Plans (BSIP), many public transport authorities and operators are faced with the major challenge of taking the first step. A reasonable, feasible plan has to be worked out to have a chance of securing some of the public funds.
To have the best chance of success, careful data analysis and simulations before the actual service goes live is key to tailoring a DRT service for a specific area. There is not a standard service model for every region. In this context, David emphasises that Padam Mobility's focus is on areas away from the big cities, which need careful analysis.
Careful testing and data analysis will determine the best approach to serve a rural or suburban area. Where areas are unlikely to be profitable, it's important to provide a carefully designed service that supports the network and other fixed-line services.
The next webinar will look at the topic of DRT and Data with Landor Links on 10 February 2022 at 10:30 am (UTC). You will find the link to the registration form further down in this article.
A Question of Trust
Can people who have become accustomed to a timetable just "change" like that? Certainly, the question of how to bring users along on the path to more flexible, demand-responsive transport should not be underestimated. Humans are creatures of habit. If the service does not work as intended, or as they are used to, there is a risk that people will turn away and reject it. Gaining the trust of end-users may require introducing services in parallel, and will rely on full transparency. For example, by guaranteeing real-time tracking of the journey, or by providing users with push notifications on their mobile phones in case of delays and other problems.
"I think (the bottom line is) that the technology and the systems around that are a real key enabler for that integration piece, for that customer journey, and for I think (the issue of communication with users)."
It certainly takes time to make new mobility services attractive to a broad population. Reliable support and transparent communication with operators and end-users will add to the eventual success of DRT.
Watch the entire masterclass with Matt Smallwood, Antonio Carmona and David Carnero on YouTube.
We would also be very happy to welcome you on 10 February at 10:30 am (UTC). Then we'll be covering in detail how the right data analysis contributes to a successful implementation of an on-demand service. Click here to register.
This article was originally published by Padam Mobility.