The arrival of the APTA Transform conference in Seattle has us reflecting on the immense steps the transit industry has taken in the past year.
Thinking back to last year's APTA EXPO in November of 2021, the industry was struggling with the impacts of the pandemic and facing uncertainty over how ridership would rebound. At that point, what we did know for sure was that transit agencies would benefit from efficiency, agility, and flexibility to respond to rapidly shifting conditions.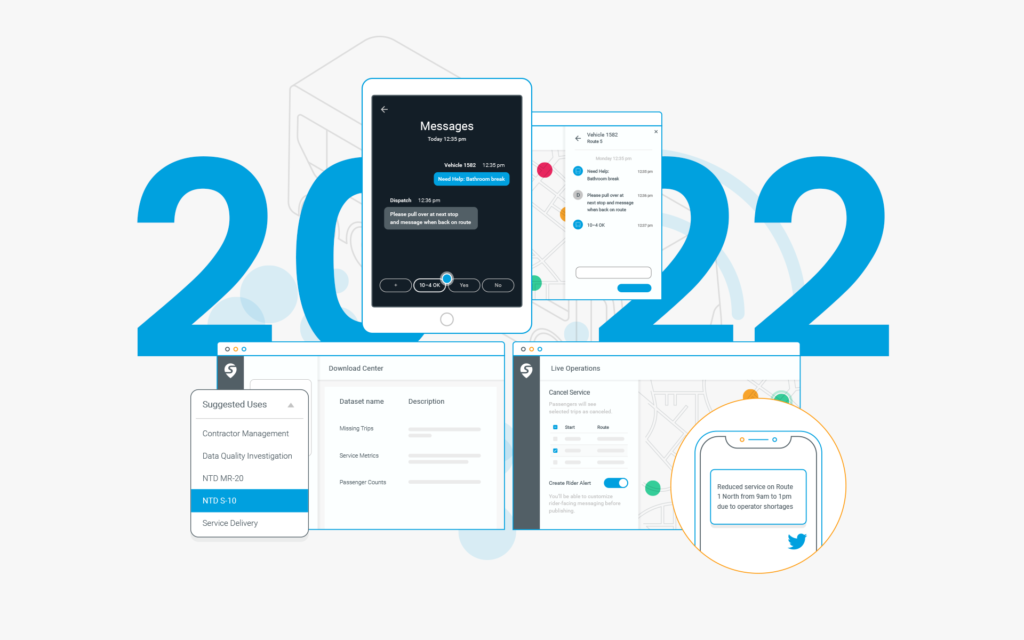 In the year since, we've seen transit agencies recognize that even though travel has not completely reverted to pre-pandemic patterns, agencies have the opportunity to bring riders back with reliable service, accessible communication, and accurate information. Data from Transit shows that ridership nationwide is back to 72 percent of pre-pandemic peaks, with certain segments close to 90 percent. We've also had conversations on how agencies can measure their impact beyond a single ridership number, with alternative metrics such as access to jobs, reduced emissions, and more.
For our part, Swiftly has been laser-focused on providing agencies with the tools they need to achieve the capabilities mentioned above. We're supporting agencies to move towards proactive transit management, so staff need to spend less time "putting out fires" and can focus on improving service.
We see the industry broadly moving in this direction, with the number of agencies adopting Swiftly's Connected Transit Platform in the first half of the year increasing by 128 percent compared to the previous year, including some of the largest agencies in the country such as Atlanta's MARTA and Long Beach Transit. As a result, today more than 125 transit agencies partner with Swiftly to improve on-time performance by up to 40% and increase passenger information accuracy by up to 50%.
Since APTA EXPO last fall, we've added a series of new products and features to best serve transit agencies as they respond to today's rapidly evolving environment. Join us for a tour of a year's worth of product innovation for the Swiftly Connected Transit Platform.
Partnership with Iris to Integrate APC Data with the Connected Transit Platform
Swiftly and iris partnered to integrate real-time crowding and historical ridership data with the Swiftly Connected Transit Platform. Transit agencies can now connect raw data from iris Automatic Passenger Counters (APCs) with the Swiftly platform to centralize ridership information in a single cloud-based system of record for transit data, without the need for an expensive onboard computer.
This partnership benefits transit agencies with more accurate ridership data, faster time to value, a flexible deployment model, and easily accessible data. We anticipate this functionality becoming even more critical with proposed NTD reporting requirements that would increase the frequency of ridership reporting.
Messaging in Onboard App
Nearly every agency in the country is struggling with an operator shortage to some extent. Improving the operator experience is a key tool for transit agencies to stay competitive with other employers as they hire and retain operators. This includes offering seamless communication between operators and dispatchers through everything from daily operations to emergencies.
While radios make life easier for operators and dispatchers, they're also the source of major headaches: cluttered radio lines, hard-to-decipher conversations, unreliable connections in dead zones, and inappropriate forums for personal or sensitive information.
Messaging in Onboard App is a simple text-based messaging system that connects operators and dispatchers via Swiftly's Connected Transit Platform. Carefully designed to minimize operator distraction, Messaging in Onboard App offers an alternative to radio communication in some of the most common operator-dispatch scenarios.
We also released detours in Onboard App this year to help agencies further streamline the operator experience.
New NTD Reporting Tools
NTD data unlocks between 20% and 50% of each transit agency's annual budget, for a total of $5 billion in federal grants nationwide every year. Unfortunately, the process of aggregating NTD-related datasets can be time-consuming and tedious. We hear about agencies spending weeks sourcing data from their CAD/AVL and APC systems, typically in hard-to-use formats, to get the metrics they need.
Swiftly's new Service Delivery and NTD Reporting Tools give agencies easy access to the raw transit data they need for common data applications, including the most important metrics required by the NTD.
The Missing Trips Dataset included in this feature is also helpful outside of the context of NTD reporting –  for example, to understand the impact of canceled service due to operator shortages.
Bringing Onboard Announcements to Passengers with Avas Connector
AVAS Connector brings our best-in-class real-time passenger information to announcements onboard vehicles, meeting ADA requirements and improving the passenger experience. The same information passengers can already access from Transit, dynamic bus stop signs, and SMS messages will now be available via onboard Automated Voice Announcement & Signage ("AVAS").
Swiftly's AVAS Connector helps agencies break free of the hardware-centric transit tools most agencies are accustomed to using. For agencies with CAD/AVL systems, AVAS Connector provides a future-proof solution to easily deliver announcements onboard that update in real-time, over-the-air. For agencies without CAD/AVL systems, AVAS Connector provides an opportunity to deliver a standalone AVAS system to passengers, especially those that need it most.
Integrating Service Adjustments and Rider Alerts
Operator shortages, construction, and extreme weather can seem like constant threats to transit agencies' on-time performance and rider experience. Ad hoc changes to service seem to be the new norm, and we've invested in ways to reimagine manual processes in order to equip agencies with the agility to respond to these challenges.
Our Service Adjustments product makes the most common ad hoc changes to service — including trip cancellations, trip additions, stop closures, detours and changes to departure times — actionable right in the Swiftly Dashboard.
Rider Alerts makes it easy to send (GTFS-RT) service alerts for canceled trips, detours, and significant delays to riders through the most common rider-facing channels, including Twitter, SMS, Transit App, dynamic signage, and many more.
The integration between Service Adjustments and Rider Alerts offers operations staff a seamless way to keep riders informed when creating ad hoc changes to service. The new workflow empowers riders to make decisions that best suit them with all of the information available at their fingertips, instead of waiting for a bus that may never show up.
Read the case study with North County Transit District
See the Connected Transit Platform in Action
In addition to these major product announcements, our team has been hard at work making enhancements to existing products including tools to better analyze  on-time performance within timepoints, understand missing service, and more. Most importantly, as a cloud-based platform, updates to Swiftly products are automatically available to customers as soon as they go live – no need to purchase an upgrade or download a newer version.
There's no substitute for a live tour of the Connected Transit Platform. If you'll be attending APTA Transform in Seattle, make sure to stop by booth 500 to meet with the Swiftly team.
Looking back at the past year since APTA EXPO 2021, we're in awe of how far the industry has come in bringing riders back. We're looking forward to continuing to support transit agencies as they seek out creative and innovative ways to enhance the rider experience.
This article was originally published by Swiftly.