A Holistic Approach to Service Delivery: Three Transit Agencies Share Best Practices
Service delivery—planning, managing, and communicating service to riders—is the core function of every transit agency. But this critical function has become increasingly complicated in the context of staffing shortages, service cancellations, and changing reporting requirements.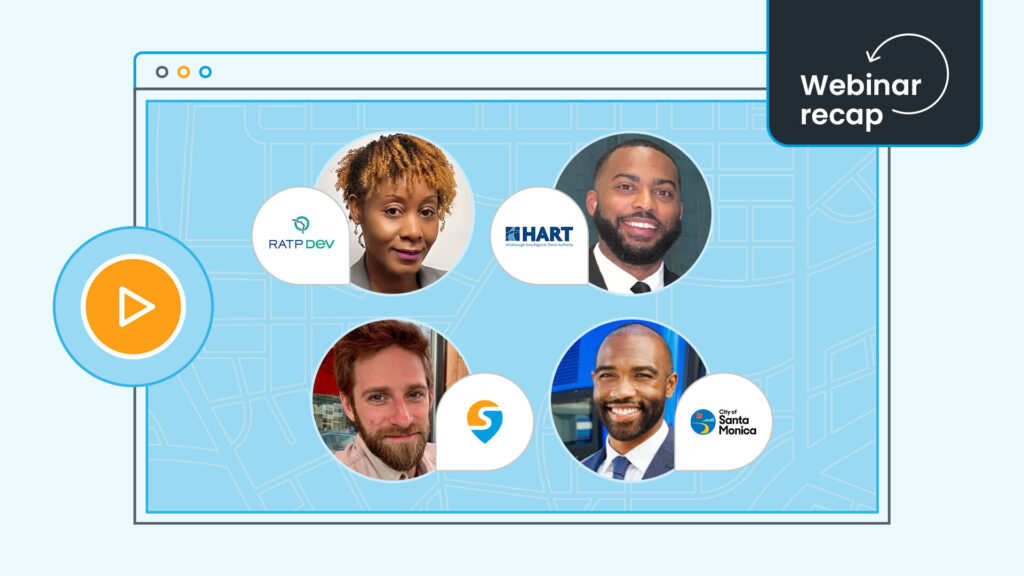 Service delivery touches nearly every department within an agency, but teams frequently operate within siloes on their own responsibilities. Barriers to collaboration across departments include isolated workflows, difficult-to-use tools, and, most crucially, the lack of reliable and accessible data.
In a recent webinar, we invited three transit agency representatives from different departments to share how they collaborate across teams for a holistic approach to service delivery. Speakers from planning, operations, and customer service shared how they use modern technology to plan, manage, communicate, and report on service.
Planning, operating, and communicating service are three key elements of service delivery. Our panel included experts from each of the departments responsible for these elements:
Kenneth Smith, Senior Mobility Planner, Hillsborough Regional Transit Authority
Evette Ricketts, AGM of Operations, RATP Dev with Prince George's County
Robert McCall, Community Engagement and Customer Experience Manager, Santa Monica Department of Transportation
Our moderator, Swiftly solutions engineer Nick Smith, brought his own previous transit experience to the conversation as a long-time planner at the Chicago Transit Authority.
Read on for highlights from the conversation, and register below to watch the recording.
Initiating Service Delivery with Planning
Service delivery begins with setting out the planned service and schedules the agency will execute. Efficient schedules with accurate run-times and service levels matched to the agency's resources are critical to setting the agency up for success.
From Kenneth's perspective, the key theme to success in service planning is having access to as many data sources as possible – not just any data, but "good," accurate data. Historical information on variables such as resource availability, run-times, and missed service can make the planning process more efficient and data-driven.
"A lot of our data collection processes when I first started were done manually. I can remember looking at missed trip information in stacks of paper about 500 pages high. Now we have tools like Swiftly where we can pull up a dashboard and see that information."
Nick, our moderator, has previously written that planners today don't have time to be data scientists as well. They need quick, easy access to the data that can inform their work. Kenneth shared how moving from manual processes to automated reporting has freed up his time to focus more on planning and less on validating data.
"It has completely changed my job. I don't have to spend time digging through data; I can just go to the dashboard and pull the information up, trusting the data source. Being a planner, we're often asked to turn around information at a fast rate. Having access to not just any data, but good data, makes a difference throughout the day."
As Nick summed it up, the goal is "Collaborating not just in a room, but with a common data language and source of truth. We want to move from planning and operating based on anecdotes to planning and operating based on insights and data."
Managing Service Delivery Day-To-Day
Once service is planned, the task falls to operations to manage executing service on a weekly, daily, and hourly basis. As we heard from Evette from Prince George's County, grounding conversations with different stakeholders in a common data language is critical to improving service for passengers.
A common challenge across agencies today are staffing shortages. Coaching and retaining operators is just as important as hiring, especially when new operators aren't familiar with routes. Evette explains that using data to coach operators allows her team to focus on the highest priority challenges and leads to productive conversations.
"We use data from Swiftly's Operator Reports to identify an operator's performance and tackle the early arrivals. We've hired a lot of operators where this is their first time in transit. We constantly make sure we're consistent with utilizing the report, using factual data to show them where they are in their performance. We send out notices to operators, saying 'Please watch your early arrivals,' based on data we're seeing from Swiftly."
In addition to giving feedback on schedules to the planning department using Swiftly's Run Times, the RATP Dev team, as a private transit operator, uses Swiftly's data in their conversations with the Prince George's County team.
"Swiftly is the official data that Prince George's county uses. We have our weekly meetings with the client to discuss all the routes that are falling below our on-time performance goal. We go in with data. I don't want you to tell me the route is tight because that's how you feel. I want you to tell me the route is tight with data. When we go to our client, we can say, 'this is the feedback from the operator, and this is what the data is showing.'"
Communicating Service to Passengers
The process of service delivery does not end when a trip is canceled, rescheduled, or detoured. Riders across the country have been plagued by ghost buses resulting from transit agencies canceling service without updating real-time passenger information.
The city of Santa Monica's Big Blue Bus faces the same staffing challenges as other agencies, but Robert's customer experience team has invested in the tools and processes to keep riders informed of changes to service. They use Swiftly to keep up with the daily service adjustments that come from the operations team.
"What we've done on those days when service delivery is challenging is leaned into Swiftly to help us meet the moment and still provide excellent support to our customers. The Action Log is used by operations to make service adjustments that reflect the service we have on the street. But it also benefits our customer service team because it gives them visibility into those same adjustments in real time."
The agency's GTFS-rt feed powers accurate, consistent information for both agency staff and passengers. Through the GTFS-rt feed, data goes out to third-party trip planning applications, SMS and interactive voice response (IVR) services, and real-time signs at bus stops.
"All the information flows downstream to our customers through the GTFS-rt feed. That gives them the ability to make travel decisions based on accurate data. Our goal is to meet customers where they are. Through our partnership with Swiftly we've done a really great job of leveraging all of our channels to provide that accurate and reliable information to our customers."
The common theme from all the speakers on the panel was that while agencies can't necessarily avoid the structural challenges facing the public transit industry, they can equip their teams with tools to do more with less and make information readily available to riders and staff.
"The key for us to managing these challenges with service delivery is having access to the right tools and having access to good data, so we can still provide great outcomes to our customers."
This article was originally published by Swiftly.