Autonomous Driving in the UK: ZF Services Receives Contract for Feasibility Study
ZF Services UK takes first steps in introducing their Autonomous Transport System (ATS) to the UK
ZF ATS benefits to be assessed in a feasibility study
Project to ensure a cleaner and safer mobility
ZF offers comprehensive shuttle services with its ATS, including fleet management, maintenance, repair, and training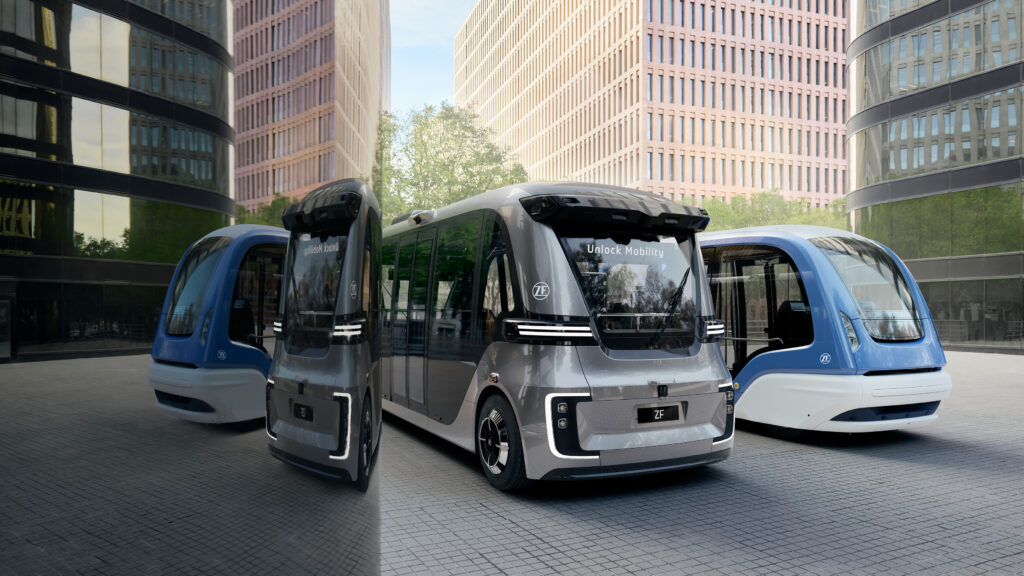 With ZF's rollout of autonomous shuttle systems, the Group is taking a leading role in the future development of public transport. In the run-up to the mobility trade fair Move 2023 in London, the technology group announces that ZF Services UK is now taking its first steps to introduce its ATS to the UK market, after winning a Centre for Connected Autonomous Vehicles (CCAV) grant to conduct a feasibility study for projects in Solihull.
As a full-range supplier for autonomous transport systems, ZF will work closely with industry leaders, including Transport for West Midlands, Solihull Metropolitan Borough Council, Syselek (UK) Limited and OVE Arup and partners, to develop driverless shuttles in the area, with the project aiming to establish passenger routes.
The project, which started in the second quarter 2023, builds on an existing business case for a Metro route in the West Midlands, while developing an independently verified case for a segregated transit corridor. This will be achieved by substituting the initial, light rail solution with the capabilities of driverless, remotely supervised, rail-less services, utilising autonomous, emission-free Shuttles on segregated lanes.
Crucially, the study will consider the traditional rail-based requirements, and associated capital and operational costs, that can be removed, as well as the new requirements and costs that will be required for an automated system, alongside demonstrating the feasibility of delivery.
The study looks to address two fundamental transport needs: Growth as a result of HS2 Curzon Street in Birmingham, as well as the arrival of HS2 Interchange in Solihull, and deprivation, addressing the lack of high-quality public transport connectivity within the communities along the proposed route, which has left these areas isolated from employment opportunities and local services.
The routes identified, linking the commercial centres of East Birmingham and 'The Hub' in North Solihull, connects some of the country's most deprived communities. These have been identified by political leaders as required for over two decades but to date, based on traditional transport technologies, have been considered too expensive to deliver.
The possibility of running shuttles between Birmingham International Station, Birmingham Business Park and the NEC is also being considered, as the government continues to invest in future transport technology.
The bid was launched by CCAV, the government body responsible for connected autonomous vehicles, as the UK continues with its goal to embrace opportunities around self-driving transport technology.
"We're delighted to have won the bid to work on such a fantastic and forward-thinking project. It's clear that this is an emerging sector, and that transport industry is heading towards an autonomous future, ensuring a cleaner and safer option for passengers and the environment."
ZF has more than 25 years' experience working on ATS technology, with its autonomous and fully electric shuttles covering over 62 million miles, as well as carrying more than 14 million passengers since going operational in 1997.
What's more, ZF offers whole-life support from planning to implementation, operation and after service, working closely with its clients to provide a tailor-made package to meet their requirements and ensure the process is as seamless as possible. So ZF is a full-range supplier for autonomous transport systems.
ZF's next-generation shuttle will be capable of SAE Level 4* autonomous driving and thus, where the local legislative framework permits, is capable to maneuver in mixed traffic without a safety steward.
With this, ZF is enabling the operation of autonomous transport systems also in densely populated areas with no need for segregated or dedicated shuttle lanes, making an important contribution to decarbonisation.
Benefits of its latest ATS vehicles include: a faster introduction time, lower installation, infrastructure, and system costs in comparison to traditional rail offerings.
The hardware in the shuttles is designed specifically for automotive applications. ZF manufactures many of the high-end automotive grade components, offering enhanced reliability, quality and repeatability. The shuttles are equipped with state-of-the-art sensor technology consisting of lidar, radar, camera, and audio systems that provide precise environmental detection. This is complemented by other technology such as the ZF ProConnect connectivity platform, which enables communication with the V2X infrastructure and the cloud,
The Virtual Driver – ZF's AD software – processes the expansive volumes of information, derives safe driving strategies using artificial intelligence, and passes them on as input to the on-board actuators. It replaces the human driver and thus makes the steering wheel and brake pedal superfluous.
The software stack consists of two major parts: the performance path and the safety path. Together, both enable an operation of Level 4 shuttles or other transportation carriers in a safe and reliable way. The safety path monitors comprehensive situations under safety aspects, defines virtual guardrails for the performance path, and intervenes if necessary to help mitigate critical situations. Meanwhile, the performance path enables smooth driving in complex scenarios. ZF developed this in partnership with Oxa (previously Oxbotica), a global leader in autonomous vehicle software for businesses.
"At ZF, we invest heavily in research and development to ensure we can bring future technologies to market, ensuring customers have access to support at every level and receive a complete commercial offering."
More information on ZF's ATS range can before here: Autonomous Transport Systems – ZF
* SAE J3016 defines six levels of automation for road vehicle driving operations (Level 0 to Level 5). Level 4 states: The vehicle can autonomously handle all traffic situations under certain conditions. No driver is required.
This article was originally published by ZF Group.