On 16 March 2022, the Antelope Valley Transit Authority (AVTA) and the California Air Resources Board (CARB) celebrated AVTA's achievement in becoming the first all-electric transit agency in North America.
AVTA most recently put its 20th electric MCI coach into service on its commuter routes to finalise its transition to a 100% zero-emission transit fleet.
AVTA's complete zero-emission transit fleet consists of:
57 BYD zero-emission buses
10 GreenPower EV Star Microtransit vans
20 MCI battery-electric commuter coaches
Portions of this all-electric fleet were purchased with the help of state funding, including 28.5 million USD from the Transit and Intercity Rail Capital Program.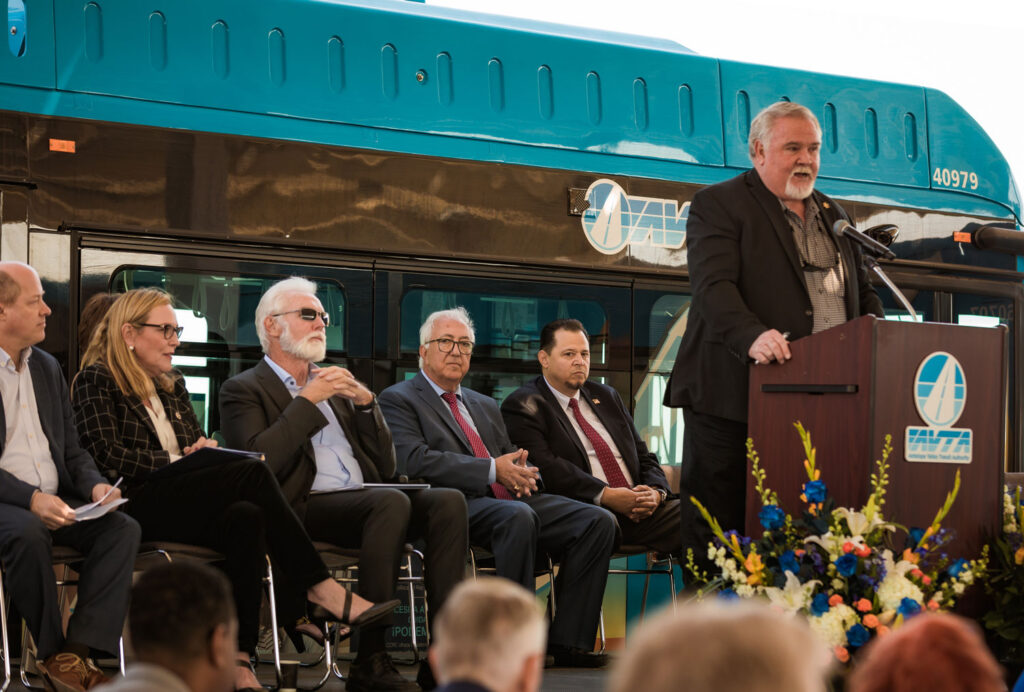 At the celebration, California State agencies, CalSTA, CEC and CPUC joined CARB Chair Randolph in congratulating the AVTA Board of Directors for fully electrifying AVTA's fleet 18 years earlier than the requirement identified in California's Innovative Clean Transit regulation.
"The Antelope Valley Transit Authority, together with the cities of Lancaster and Palmdale and Los Angeles County, has shown California and the world how local growth can coexist with clean transportation, low-carbon energy, and new local job opportunities. Their accomplishment underscores the fact that committed and visionary communities are key to our clean air and climate solutions as well as a strong California economy."
The first AVTA all-electric zero emission buses were purchased from BYD in February 2016. AVTA has since celebrated seven million miles driven by all-electric buses, resulting in over 1,750,000 gallons of diesel fuel avoided, 41.58 million pounds of CO2 reduced, and 130,900 pounds of particulate matter reduced as of January 2022.
"Long before we saw an electric bus rolling down the streets of the Antelope Valley, the AVTA Board envisioned a future with a greener and technologically superior transit system serving the citizens of Lancaster, Palmdale, and the rural northern Los Angeles County communities. The Board cast a vision and the AVTA staff, working together with BYD and many other electric vehicle and system providers, brought that vision to life."
Los Angeles County Supervisor Kathryn Barger also joined the AVTA Board of Directors at the event to congratulate AVTA for the achievement, having previously worked alongside local leaders to fund the agency's initial pilot project for all-electric buses.
"Today is a proud moment for the Antelope Valley community. The fact that the nation's first fully electric transit agency is anchored here sends a clear message: the pioneering spirit continues to thrive in the AV. The reality of today's over the top gas prices is a stark reminder that we must continue investing in eco-friendly mass transit. It's no longer become a choice – it's more of a necessity."