BYD has delivered 10 double-decker BYD B12C01 electric buses to Chile to operate as part of the RED Mobility system in Santiago.
These units are the first double-decker electric buses to be delivered to Chile. In addition, this order also marks the first time that BYD has delivered double-decker electric buses to the continent of South America.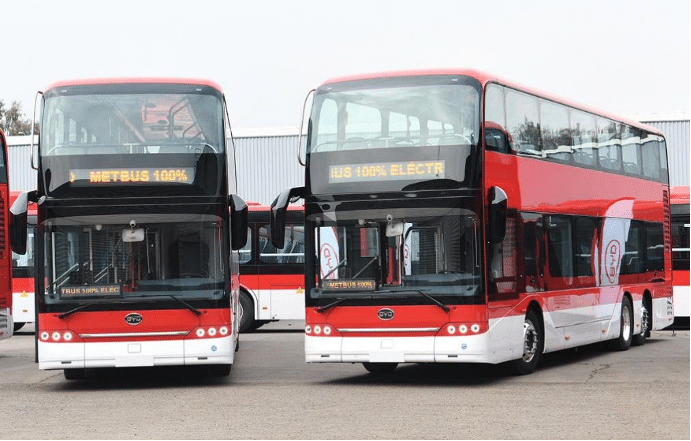 The new models can be fully charged in less than 2 hours and can then travel over a range of 280 kilometres.
They are each equipped with Wi-Fi, air conditioning and USB ports in the passenger area.
"In Chile we have been pioneers in the implementation of electric buses for public transportation. This new and important milestone of bringing the first double-decker electric buses to the country positions us once again at the forefront of electromobility throughout the region and the continent. At BYD we are proud to be able to continue contributing to improving the quality of life of Chileans through the electrification of transportation."
The new vehicles have been specifically designed for operations in Chile. They are 12.128 metres long and 4.170 metres high, with an approximate weight of 16.5 tonnes.
The double-decker electric buses are fitted with 69 seats across two floors, as well as 6 priority seats, an XL seat and an area for wheelchairs. In total, they can each carry up to 97 passengers.
"BYD Chile has established itself in the country as a leader in the electric bus market. We were the first to bet on electromobility in public transportation and today we are the first to bring the electric double-decker buses. The success of what we see today is also due to the fact that we have generated alliances to create an ecosystem around electromobility, with a charging system, with infrastructure from the hand of an energy supplier and, of course, thanks to an innovative and reliable operator that takes the risk of testing and advancing."
BYD provided the first two electric buses to Chile in 2017. These 10 newly delivered vehicles will now increase the nation's fleet of fully electric buses to 800.