​The Santa Barbara County Association of Governments (SBCAG) and Caltrans have debuted a zero-emissions intercity bus to serve commuters in Santa Barbara County.
The 45-foot battery-electric intercity commuter bus has joined the Clean Air Express fleet, making SBCAG the third agency in the US to deploy a long-distance zero-emission service, following Los Angeles Department of Transportation and Antelope Valley Transit Authority.
The battery electric bus has a 220-mile range that easily meets the longest Clean Air Express round trip of 150 miles. The bus will be charged at SBCAG's Transit Facility in Goleta with 100% renewable electricity.
Compared to a diesel model, its use is expected to eliminate 450 tons of CO2 annually.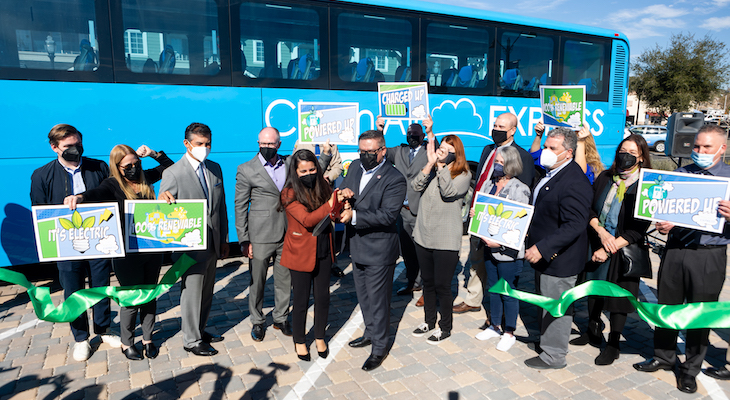 "We know that transportation is one of the largest contributors to greenhouse gas emissions in the United States. A switch to cleaner, quieter, and smoother public transit options is a switch in the right direction, one that is imperative for our future – for our children and neighbours. Today we see just how the zero-emission vehicle industry's evolving technology is changing the game for long-range transportation options improving the efficiency, experience, and commuter benefits to save energy and the environment."
The Clean Air Express operates nine weekday round trips, serving more than 7,000 passengers each month.
The commuter bus service supports residents in North Santa Barbara County who travel to jobs in Goleta and Santa Barbara. The service was created by the Santa Barbara Air Pollution Control District in 1990 to improve regional air quality and reduce the number of commuters driving these routes alone.
"All-electric buses serving long-distance commuters are the way forward to cleaner and healthier transportation options for all Californians. I am proud that Santa Barbara County is among the first communities in the nation to provide an all-electric commuter bus as California transitions to zero-emission public transportation vehicles."