First Bus to Invest over £35m in Green Transport for Glasgow with Help from SULEB Funding from Transport Scotland
First Glasgow has been awarded £24.3m in SULEB funding and will deliver 126 new electric vehicles for the city
First Bus will invest a further £35.6m to accelerate low-carbon fleet ambitions
With addition of new electric vehicles, nearly 20% of the First Glasgow fleet will be electric
Low-emission progress in Glasgow demonstrates First Bus' credentials as leaders in sustainable mobility
First Bus are delighted to announce that over £59million will be invested in new fully electric and zero emission 'green transport' vehicles for the city of Glasgow. These new buses are scheduled to be introduced to the Glasgow city bus network by December 2022, thanks to a successful bid in Transport Scotland's latest round of Scottish Ultra Low Emission Bus (SULEB) funding.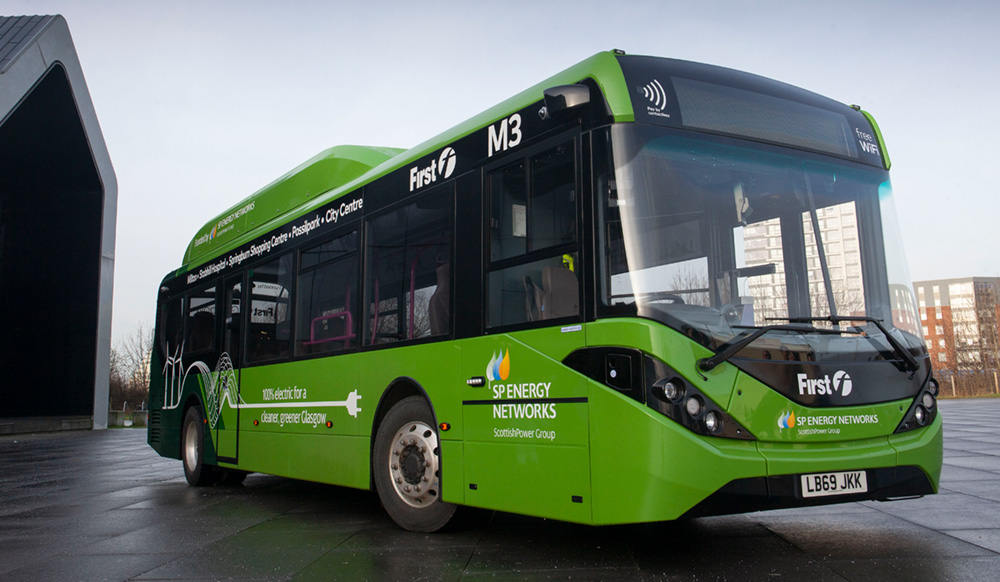 The successful bid awards First Glasgow, the city's largest bus operator, £24.3m, and First Bus has committed to spend a further £35.6m. The investment will bring a further 126 electric single and double decker vehicles to the city, adding to the 22 new electric buses that are scheduled to hit the streets of Glasgow before the city hosts the UN's annual climate change conference, COP26, this November. The addition of 126 new electric vehicles will take the total number of electric vehicles operating in Glasgow to 150, nearly 20% of the total First Glasgow fleet.
Last year First Bus announced its commitment to operating a zero-emission bus fleet by 2035, as well as pledging not to purchase any new diesel buses after December 2022. This commitment goes above and beyond current regulations, solidifying First Bus's position as a leader in the transition to a low-carbon future.
"As leaders in sustainable mobility, we are fully aligned with the Government's ambitions for a net-zero carbon transport system, including zero-emission bus fleets. We have already committed to achieving this by 2035. We will continue to ensure that our progress doesn't just exceed national guidelines, but that it also puts the expectations of our customers front and centre."
The SULEB scheme funding aims to help bus operators bridge the gap between the cost of diesel and zero emission fleets. The ambitious collaboration with Transport Scotland will not only help First Glasgow replace 126 of the oldest buses in its fleet with new zero emission buses; it will also help transform their Caledonia bus depot on the south side of the city centre. Already the UK's largest depot, the investment will see it converted into one of the UK's largest electric fleet charging stations, with the potential for over 150 vehicles to be recharged at a time.
Working closely with Local Authority partners is another key focus for First Bus. First Glasgow has demonstrated a strong track record in this area, collaborating effectively with Glasgow City Council for several years. Sustained investment over the last three years in new vehicles, retrofit of existing vehicles and the new plans to introduce even more electric buses mean that First Glasgow is well on the way to achieving the city council's Low Emission Zone standard by the end of 2022.
"We have led the way with bus operators in Glasgow as a key partner of Glasgow City Council for the country's first ever Low Emission Zone rollout and this latest announcement helps us to deliver shared objectives and make up lost time due to the pandemic.
"Across Scotland our collaborative working has been central to accelerating the transition to zero emissions, both in Glasgow with the investment for our electric fleet and in Aberdeen where our sister company introduced the world's first double decker hydrogen buses earlier this year. Our ambitious approach to transitioning our fleet for our customers and communities will continue to be the driving force for our investment and united approach with local stakeholders."
The 126 new electric buses announced today follows the news in February that First Glasgow's 22 new electric buses have entered production as part of a £9m investment from the first round of the SULEB scheme.
Further demonstrating First Bus's commitment to the communities it serves, the 126 new vehicles for Glasgow will be built by Scottish bus builder Alexander Dennis Limited (ADL) with their partner BYD. Their Scottish base in Falkirk will play a significant role in delivering these vehicles over the course of the next two years.
"We are delighted to have been awarded this funding, which will allow us to rapidly ramp up our plans to deliver more zero emission vehicles to the city of Glasgow. Cleaner air and lower carbon emissions are vitally important for all of us, and we are committed to continuing to improve air quality in the communities that we serve. This is a significant step forward on our journey to operating a zero-emission fleet by 2035."
This article was originally published by FirstBus (North) Limited and FirstBus (South) Limited.