NJ TRANSIT and the North Jersey Transportation Planning Authority (NJTPA) are advancing progress on seven projects that will improve bus services in New Jersey with the allocation of 43.6 million USD in federal funding.
The Coronavirus Response and Relief Supplemental Appropriations Act (CRRSAA) funding will be made available to NJ TRANSIT as part of NJTPA's Fiscal Year 2022–2025 Transportation Improvement Program.
This will help the agency progress with sustainability, bus garage electrification and first/last mile transportation solutions.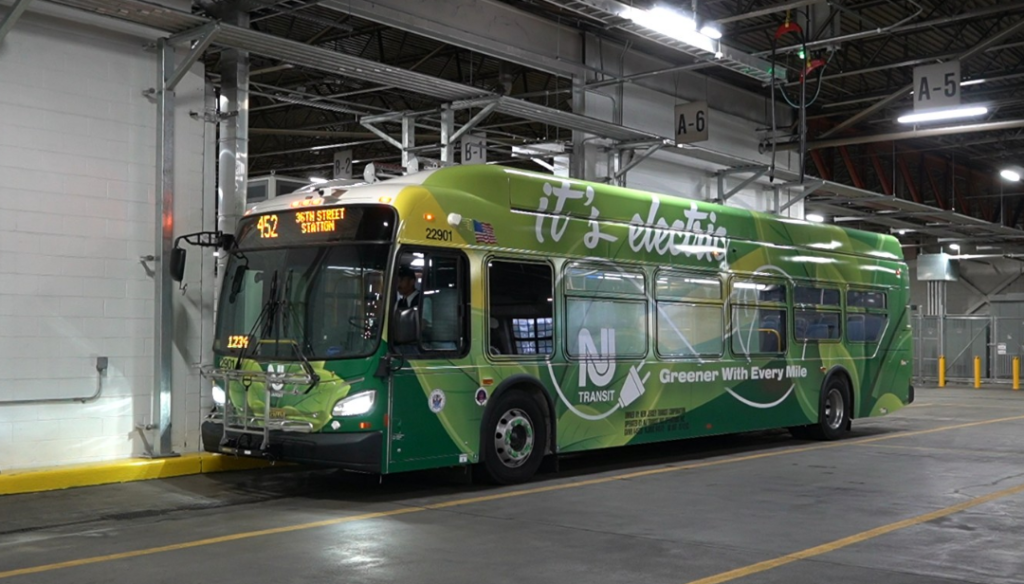 "By working together at a regional level, we can identify, prioritise and advance critical projects to make the transit system more accessible and sustainable. The projects selected are exciting opportunities to continue promoting the electrification of buses, using solar power in bus shelters and modernising our bus network to meet future transportation demand."
Seven projects are included in the funding allotment:
Hilton Bus Garage Electrification Project
The Hilton Bus Garage Electrification project will receive 24.5 million USD to progress NJ TRANSIT's transition to a fully zero emission bus fleet.
The CRRSAA funding will pay for the an overhead pantograph charging system that will be hands-free for increased safety and scalable for mass-charging use.
This project aims to develop a system that will provide simple and efficient charging infrastructure that can be quickly implemented throughout the majority of NJ TRANSIT's bus garages.
Microtransit Shuttle Pilot Routes
7 million USD will be used to create community shuttle services to improve first/last mile access to transit hubs. This will extend the reach of transit to areas where traditional fixed route service may be infeasible or ineffective.
The CRRSSA funds will support a multi-year shuttle pilot programme in the NJTPA region using smaller, accessible minibuses that will be hailed by an app.
Solar Bus Shelters
The Solar Bus Shelters project will receive 6 million USD to retrofit and construct low-maintenance, solar powered bus shelters.
This project aims to improve safety through the use of solar powered lighting.
Throughout a pilot project, NJ TRANSIT will retrofit up to 10 percent of existing bus shelters in the NJTPA region. It will also design a new shelter that would be incorporated into the existing bus shelter programme.
Bike Sheds
NJ TRANSIT is preparing an RFP for a service provider to build, operate, and maintain bike sheds at its transit hubs.
The sheds will be funded by a 2 million USD CRRSSA grant.
They will be durable, secure, and accessible to users 24/7 to encourage non-motorised first/last mile access to and from transit hubs.
Electric Minibuses
1.5 million USD in funding will assist NJ TRANSIT in deploying electric minibuses as part of its Access Link paratransit service.
This CRRSSA funding would allow NJ TRANSIT to purchase up to five battery electric minibuses and chargers, potentially through a cooperative purchase with another state.
These units could then become a 'living laboratory' to demonstrate how to operate, maintain, and schedule electric paratransit services.
Local Electric Vehicle Minibus Transition Study
Small transportation providers are currently hindered in transitioning to an electric fleet due to challenges with cost, procurement, charging, maintenance and safety, driver training, and adjustment of routing and scheduling.
To help overcome this, 1 million USD in CRRSSA funding will support a study led by NJ TRANSIT to explore existing knowledge gaps.
NewBus Hudson Study
The NewBus Hudson bus network redesign project aims to better understand ridership trends and barriers to mass transit usage in Hudson County.
The study will include a market assessment to determine the effectiveness of adjusting and expanding the local bus network.
Using the data collected, NJ TRANSIT will create service and capital plans that will include strategies and solutions for addressing a regional decline in bus ridership.
This project will be supported by a 1 million USD federal grant.