Bus Garage Modernization
Infrastructure is a critical component of NJ TRANSIT's zero-emissions bus program, and that begins with bus garage modernization. The goal of the garage modernization project is to completely renovate and transform existing bus garages to handle future zero-emissions buses.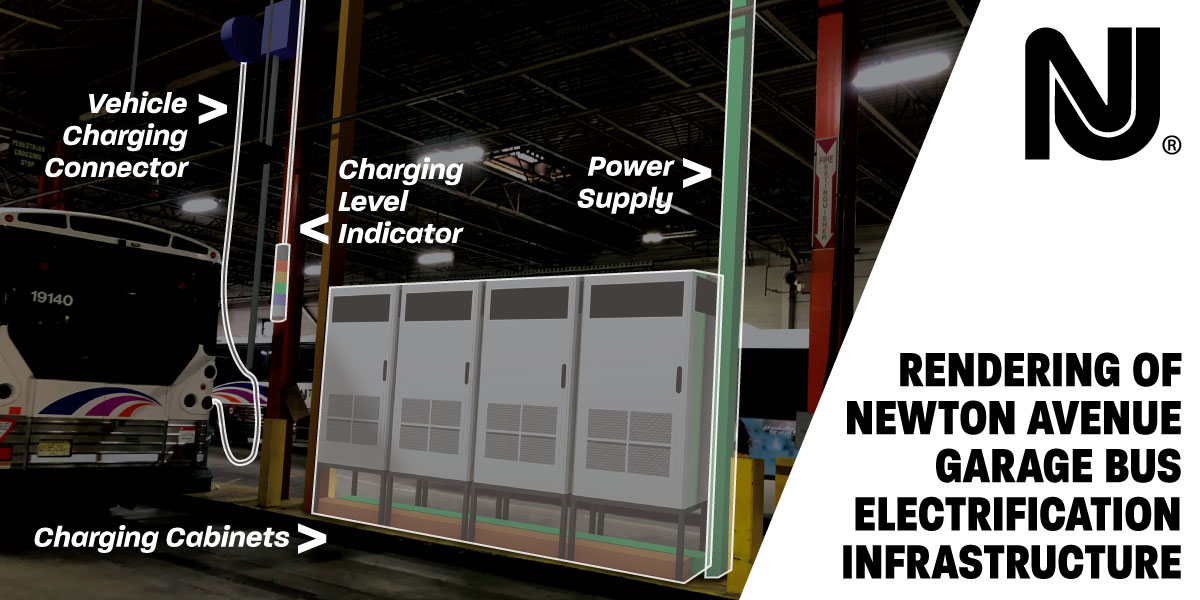 NJ TRANSIT is requesting proposals from qualified consulting firms to conduct Conceptual Design, Preliminary and Final as well as Engineering and Construction Assistance services for the Bus Garage Modernization Program.  The proposed upgrades involve the transitioning of the garage infrastructure to support battery electric buses and other zero-emissions technologies.
The Program will be completed in three major stages:
Stage 1 includes 100% design for eight charging stations at Hilton garage, 10% design at all other garages as well as a systemwide survey of all 16 garages to document existing conditions.
Stage 2 includes additional modernization design at Newton Avenue Garage and modernization design of the following four garages: Wayne Garage, Hamilton Garage, Hilton Garage and Greenville Garage
Stage 3 includes final design for Hamilton, Hilton, Newton, Greenville, Wayne Garages and the development of the Operations & Maintenance and Technology Plan
The submission deadline for the RFP is July 13 with a selection to be made later this summer.
The complementary efforts to modify bus garages and acquire new buses fold into the overarching statewide Energy Master Plan. In January 2020, Governor Murphy signed legislation that included aggressive zero-emissions bus procurement goals that
NJ TRANSIT remains on track to meet:
By December 31, 2024: at least 10 percent of new bus purchases will be zero emissions buses
By December 31, 2026:  at least 50 percent of new bus purchases will be zero emissions buses
By December 31, 2032:  100 percent of new bus purchases will be zero emissions buses
Application for Federal Funds
NJ TRANSIT has applied for a federal grant to purchase eight articulated electric buses that would be based out of Hilton Garage and would serve a route in Newark and Irvington.
On April 12, NJ TRANSIT applied for a grant from the Federal Transportation Administration's Low or No Emissions Grant Program. The FTA will award a total of $180 million in grants nationwide under the program. Should NJ TRANSIT be awarded the federal grant, the State of New Jersey, through the Transportation Trust Fund, would contribute an additional $4.5 million, for a total grant award of approximately $15 million.
The articulated electric buses would replace eight 40-foot diesel vehicles operating on the No. 25 line, which runs through Newark and Irvington. As noted on the application for the funds, the affected communities are considered environmentally overburdened and the new buses would enable NJ TRANSIT to increase service with the larger buses without negatively affecting air quality.
This year's grant money would build on an initiative already underway to add zero-emission vehicles on the No. 25 line. In 2020, NJ TRANSIT received more than $7 million from the FTA for the procurement of battery electric buses, which was partly matched by $3 million in state Transportation Trust Fund funds. Additionally, the state Board of Public Utilities has already committed approximately $10 million for supporting infrastructure upgrades such as charging equipment at Hilton Garage.
In a letter of support for last year's grant application to the FTA, Joseph Fiordaliso, president of the New Jersey Board of Public Utilities, noted that battery electric buses can be up to eight times more efficient to operate than a diesel bus and can provide a critical source of electric power in the event of an emergency.
The transition to zero-emissions vehicles advances NJ TRANSIT's goal outlined in the 10-year Strategic Plan to "Promote a More Sustainable Future for Our Planet."
About NJ TRANSIT
NJ TRANSIT is the nation's largest statewide public transportation system providing more than 925,000 weekday trips on 253 bus routes, three light rail lines, 12 commuter rail lines and through Access Link paratransit service. It is the third largest transit system in the country with 166 rail stations, 62 light rail stations and more than 19,000 bus stops linking major points in New Jersey, New York and Philadelphia.
This article was originally published by NJ TRANSIT.